Good Monday morning! It is a good one, right?
Mondays have never bothered me as much as Tuesdays. I feel like Mondays pass by in a blur and Tuesdays draaag. So tomorrow is gonna be horrible, but today should be great. Good news!!
I hope all of you had wonderful weekend. In case you are like me and tend to not read blogs much on the weekends, I headed to Jacksonville for a weekend at the beach with Ryan, my sister and her boyfriend.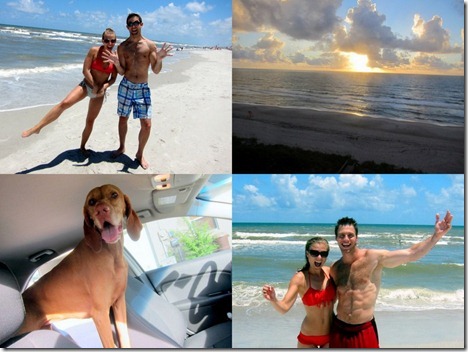 It was a laid back weekend, but one of the best weekends of the summer so far thanks to a perfectly sunny day at the beach on Saturday and good times with some of my favorite peoples in the world. I want to go back!
Workout
Today's workout was rather sluggish. I slept like a rock last night after two nights of less-than-stellar sleep this weekend. Had it not been for Ryan getting up and getting dressed for the gym at 5 a.m., I definitely would've kept sleeping.
Even a sluggish workout has a way of making me feel more energized and I left the gym wide awake and ready to tackle the day.
My workout began with 20 minutes on the elliptical before I completed a leg workout that included the following exercises:
Squats
Deadlifts
Step ups
Lunges
Hamstring ball curls
Breakfast
Breakfast this morning included scrambled eggs with broccoli, onion and shredded mozzarella cheese, served with a toasted whole wheat English muffin.
Rather basic, but rather tasty, too!
Question of the Morning
Just for fun…
What was the best thing you ate all weekend?
I'd have to go with the cannoli dessert I shared on Saturday night. Something sweet will almost always win top prize for this girl.