Wanna know a secret? Ryan and I have yet to remove at least 30 percent of our wedding gifts from their boxes.
They're stashed in a bathtub in our apartment. I don't want to use them in our current place because I don't trust our dishwasher (it leaves a film on things!) and we have a little problem with some unwelcome guests at the moment, so I want all of our nice, fancy kitchenware to remain safe. In the bathtub.
I'd show you a picture but I'm afraid someone would see their wedding gift unused in the tub and be sad. So, if you are one of our friends or family members who attended our wedding and gave us a gift, thank you! We love it and use it every day!  (Or at least we will one day… hopefully soon! Get me out of this shanty!)
Over the weekend, I went sorting through our bathtub of gifts in search of the coffee maker we received. Ryan and I registered for a nice, standard coffee maker and loved the one we received, but during my time at my previous job, I began to fall in love with the coffee makers that brew coffee from little pods. I'm not really a coffee connoisseur and typically like mild, flavored coffee best and the pod coffee makers allow me to brew one little cup of the coffee I enjoy!
I exchanged our previous coffee maker for the Keurig Elite coffee maker.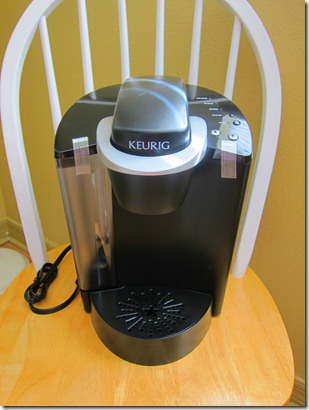 I finally took it out of its box today and was excited to see that it came with 12 different K-cup pods to sample.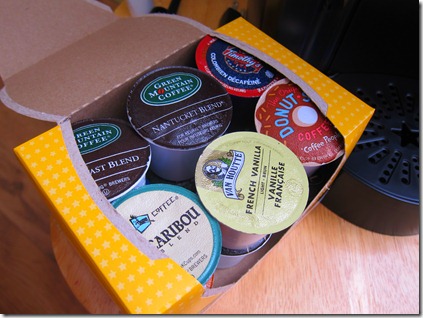 I have my eyes on the French vanilla to try tomorrow!
I was tempted to give the machine a go tonight and brew up a cup of coffee, but then I realized it was 5,000 degrees outside and drinking a cup of coffee would probably cause me to go to bed sweating my face off.
I rethought my plan and decided to make a hot dinner instead. Because that makes sense, you know.
Dinner
Dinner tonight was another simple yet simply delicious meal.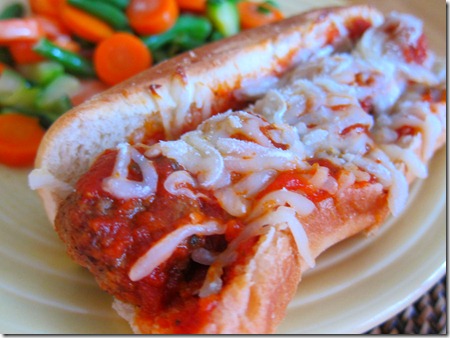 Meatball subs with melted mozzarella!
Enjoyed with a side of Green Giant healthy vision veggies, these subs were seriously tasty.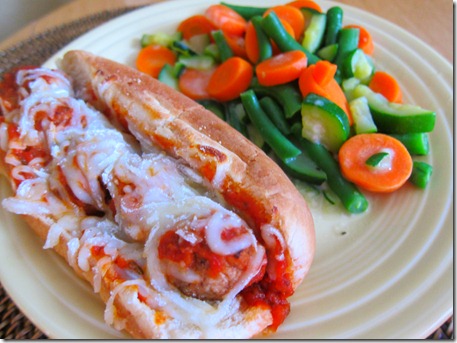 Now Ryan and I are about to pop some popcorn for movie night! He DVRed Taken the other day and is telling me it's a must-see. I'm a little apprehensive about this one, as suspenseful movies make it very hard for me to sleep at night. Let's hope this one isn't too intense!