Early this evening, I sent out this tweet:

Replies varied, but for the most part people seemed to think that the combination had potential!
I remember seeing barbeque salmon on menus at various restaurants over the years, but I never ordered it or tried making it myself. Tonight I figured why not give it a go?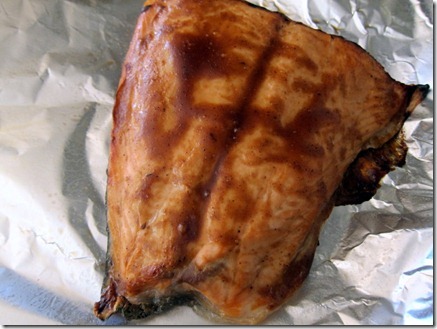 The verdict?
Delicious!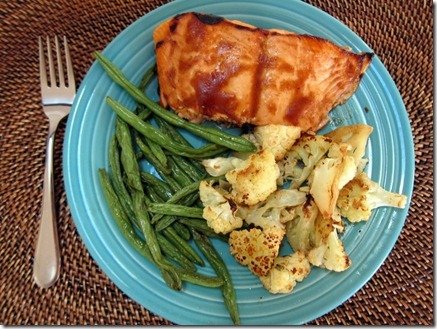 BBQ Salmon
Serves: 2
Prep Time: 2 minutes
Cook Time: 8 minutes
Ingredients
3/4 pound salmon
1/4 cup barbeque sauce
Directions
Preheat broiler
Line baking sheet with foil and spray with cooking spray
Place salmon on top of foil and spread barbeque sauce on top of the fish
Broil for approximately 8 minutes or until fish flakes with a fork
Such a fast dinner!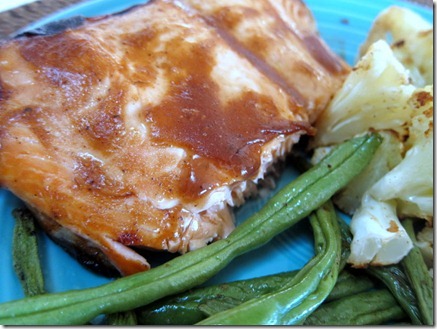 We enjoyed our BBQ salmon with a side of roasted green beans and cauliflower, both tossed in olive oil and sprinkled with seasoned salt.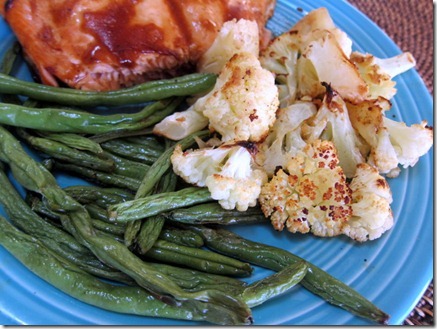 Other favorite salmon recipes:
And now it's time to unpack my bag from this weekend before settling down to watch The Sing Off with Ryan.
In case you're an a cappella fanatic like me and are watching this season of The Sing Off, I'm loving The YellowJackets and Pentatonix and Ryan is all about Pentatonix. How cool was their rendition of "Video Killed the Radio Star" last week!? You better believe their version of that song will be on my next workout playlist.
Hoping for some good performances tonight!