The day finally arrived!
I've been anxiously awaiting this morning's blogger boot camp class since the idea first popped in my mind a month or so ago.
A little before 9 a.m. a small group of Orlando bloggers (me, Katy, Meghann and Carolina) and PBF readers (Erica, Melissa, Amanda, Ashley and Merri) gathered at my friend Ben's brand new fitness facility, Saperia Fitness.
We arrived ready to dive head first into a circuit-style boot camp workout that Ben created by putting us through 11 different stations three times.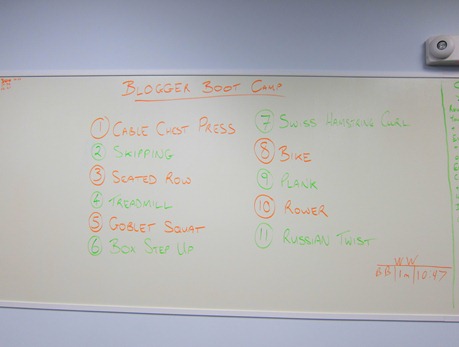 We began with a 10 minute warm up with Dave, a trainer who trains clients at Ben's gym.
The warm up had us alternating from "hopscotch" style exercises to biking to jumping though a ladder on the floor for 45 seconds, with a rest in between each for some stretching.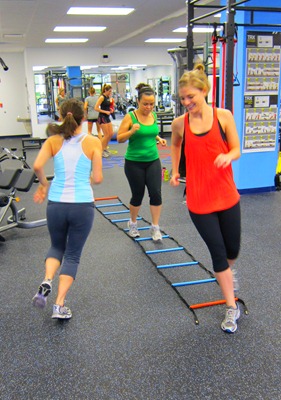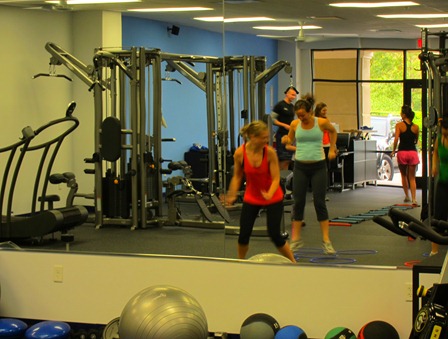 After a quick demonstration of the circuit from Ben and Dave, it was time to start sweatin'!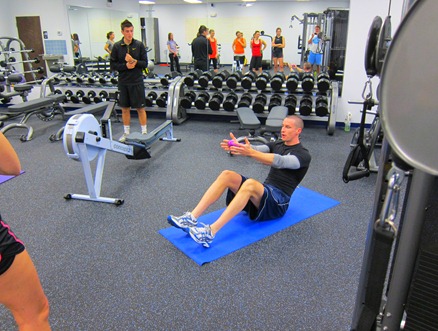 The techno music started blasting and we got to work!
One of the stations had us running on a self-propelled treadmill for a minute. That thing was so cool!
It took me a while to get the hang of it and feel secure because I'm so used to the typical treadmills found in gyms where you plug in the speed. This treadmill still told you how fast you were running, but you were the power and you propelled it. Meghann also seemed to enjoy it, which says a lot since she's a running superstar!

After three times through the 11-station circuit, we completed a bit of stretching before the boot camp officially concluded.
I just want to say a BIG thank you to all of the bloggers and readers who came out to participate in the blogger boot camp this morning. I had such a great time and loved meeting new friends and getting all gross and sweaty with you guys!
In case you live in the Central Florida area and are interested in participating in another blogger boot camp class, Ben and I are talking about organizing another one in a month or so. Be on the look out!
Post Workout Reese's
Ryan came along to this morning's boot camp class to get in a quick workout while our group completed our circuits. He was also our official photographer and my official treat-buyer.
We stopped by 7-Eleven after the boot camp class because Ryan wanted to pick up a snack before we ran some errands. He came out of the store with a little treat for me!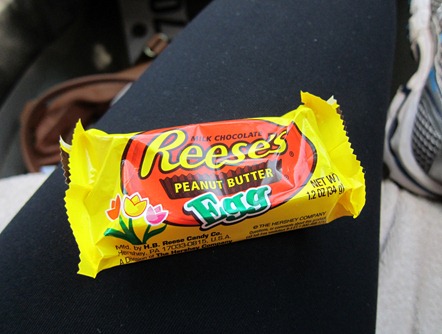 A Reese's egg!!! He knows me so well.

Reese's eggs are the best because they have a lot more peanut butter filling that typical Reese's cups. More peanut butter = a very good thing!
The candy fueled me through a quick shopping trip at our local outlet mall…
More on that in a bit! Now I'm hungry for lunch!