Today's lunch was a bowl of secret sauce with whole wheat ziti, broccoli and meatballs (no picture since I assume you guys are over all the saucy pics and I was feeling lazy).
Instead I thought I'd present you with a new smoothie recipe since I made myself a delicious smoothie for a snack around 10 a.m.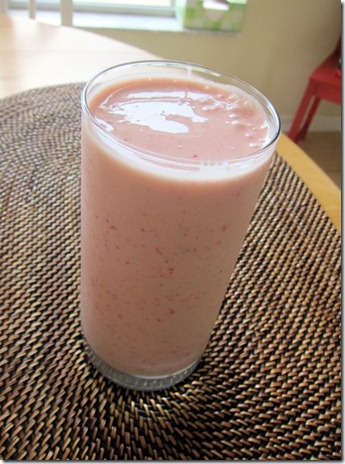 In the mix:
2/3 cup orange juice
1/2 cup milk
Splash of half & half for creaminess
1 cup frozen strawberries
1/2 packet vanilla Instant Breakfast
1/4 pint raspberries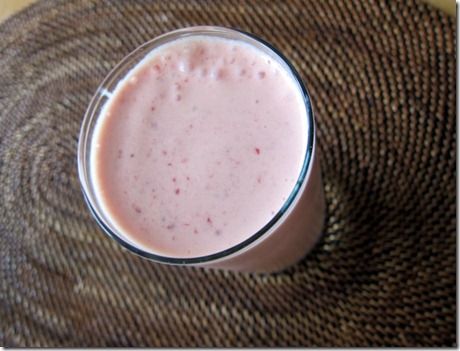 This one was a winner! Definitely not substantial enough to constitute a meal, but it was a great snack.
Bob Barker
It's no secret on this blog that Sadie cracks me up every day. Her antics never cease to amaze me.
A lot of my laughter stems from Sadie's lack of courage. She's easily spooked by the most random things.
Her current arch nemesis is this little guy that's floating around in our pool.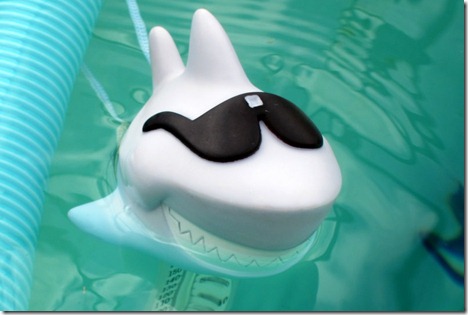 She hates him and is convinced he is going to cause her serious harm.
We named the sunglasses-wearing shark thingy Bob Barker, in reference to Adam Sandler's line in Happy Gilmore where he says, "I hate that Bob Barker," since we're pretty sure that's what Sadie says every time she sees him.
Occasionally I'll let Sadie out on the porch when I'm right inside the kitchen and inevitably, within five minutes, she's barking up a storm, clearly trying to rip Bob Barker apart with her nasty words and trash talk.
Apparently I should put her in a Thundershirt every time I let her on the porch.
Irrational Fears
Sadie's fear of Bob Barker got me thinking about some of my irrational fears.
I am claustrophobic. 
I've never particularly liked small, enclosed spaces, but I didn't realize just how much enclosed spaces affected me until a trip to Epcot with Ryan a couple years ago.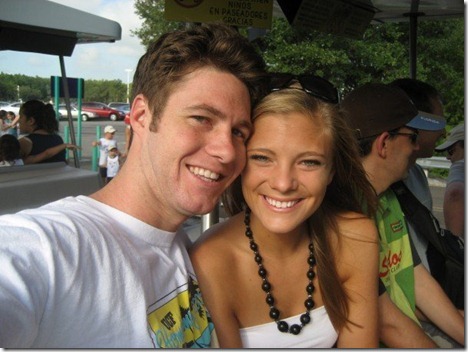 (Throwback pic! Tram ride to Epcot in 2007.)
The first line we waited in at the park was for Mission Space, a motion simulator thrill ride. I saw signs warning riders about motion sickness as we waited, but nothing about small spaces.
We got into the little "cabin" (I don't what what you'd actually call it) and were strapped in as the screens came in close to our faces (closer than in the below picture).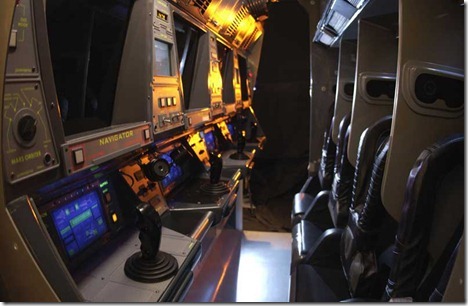 The side doors locked us in completely.
The ride didn't start. I started to feel trapped. I couldn't get out of my seat and I began sweating and breathing heavily.
"I want to get out," I said to Ryan.
"It's okay. It's going to start in a second," he said.
It didn't. It was delayed.
"Seriously, I need to get out of here. How do I get out?" I said, my voice becoming breathy and more panicked.
Ryan knew then that I was serious. He told me there was an emergency exit button he could press.
"PRESS IT!" I yelled.
"Okay, there isn't a button, I just told you that so you'd feel better. I don't know what to do."
(We laugh hysterically about this now, but at the time I was freaking out.)
Right after that, the ride began and air started blowing in my face. I closed my eyes and breathed my way through the experience.
I honestly couldn't shake the feeling for the rest of our day at Epcot. I knew I was acting completely irrationally, but I just couldn't stand feeling trapped in such a small, enclosed space with no way out.
I now really hate most small, enclosed spaces and really dislike elevators. When they take too long to start, I feel incredibly antsy. (It doesn't help that my sister and I got stuck in one for a few minutes during our trip to Europe.)
I think this fear is similar to the ones certain people have with heights or flying in an airplane. You know in your head that your fear is irrational and logically you know you have no reason to be scared, but you just can't talk yourself out of your panicky feelings.
Question of the Afternoon
Do you have any irrational fears?