This morning's breakfast tasted like it was straight out of a diner!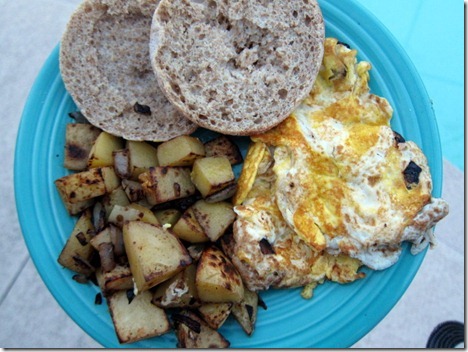 I think it was the breakfast potatoes. I've made hash browns before, but I used a package of shredded, frozen potatoes. This was my first attempt at real breakfast potatoes and they were pretty darn easy to make.
I used some of the peeled, chopped potatoes that I had leftover from last week's shepherd pie and sautéed them with diced onion in a bit of olive oil, seasoned with garlic salt.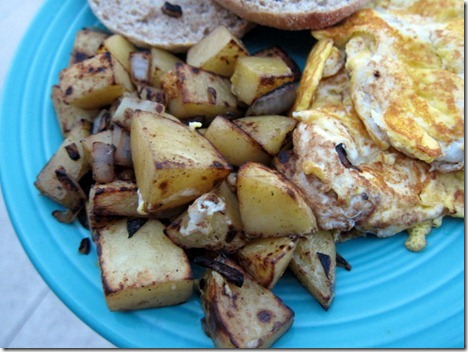 Two fried eggs and a honey wheat English muffin rounded out the meal.
Workout
Today's breakfast was the perfect post-workout fuel.
I worked up quite an appetite at the gym. Once again I set out to conquer 100 squats in a row and powered through until I finished the very last rep.
I loaded up a 45-pound bar with 30 pounds of weight and was nice and sweaty by the end.
I like having mini strength-training goals to work towards. I am not really a big-time goal setter in the gym (I blame it on my lack of competitive drive), but it is a great feeling to reach mini milestones. For some reason I have it in the back of my head that I'd like to be able to do 100 squats in a row at 100 pounds. I know that will take a lot of time and work to build up to that weight, but it's something to strive for in the future.
Today's leg workout included the following exercises:
100 squats
Deadlifts
Lunges
Step ups
Hamstring curls
One-legged leg press
Split squat with exercise ball
The Return of Blog Talk Tuesdays
I took two weeks off from Blog Talk Tuesdays but plan to post one tomorrow. To be honest, I've been putting off some of the later topics because I feel like they're more intense and involved and I want them to be very thorough, so if you have any questions you'd like to see addressed, please feel free to ask away.
Here are the remaining topics I have on my list to cover:
Blog readership
Blogging organization
Blogging and money
Freelancing
If I'm leaving out a topic that you'd like to see featured, just let me know!