While I absolutely love my life now, sometimes I want to take a month off of work and slip back into the good ol' days… Days where my biggest worry was an AP history test (I got seriously worked up over those dang DBQs).
Back then, I knew that if I was really stressed out, I could curl up on the couch with my family to watch one of our favorite movies together (most likely Father of the Bride) and my worries would subside.
Running around with my family today reminded me of my childhood. It felt good to be together again!
Car Shopping
After lunch this afternoon, my family and I headed out to check out some cars at the Toyota dealership. My mom and dad are considering purchasing a new car and wanted to test drive some vehicles.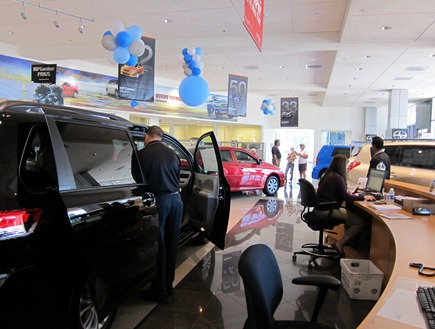 What we figured would be about and hour-long trip turned into a three hour adventure. It was definitely a high-pressure sales environment that really got to all of us by the end of the experience.
In one of my marketing classes at UCF, I think I remember learning that car salespeople have monthly quotas and at the end of the month you can get a good deal because they're often desperate to sell. Boy-oh-boy did we feel the desperation.
The whole experience really tried our patience. In the end my mom (who would be the primary driver of the new car) decided she just isn't ready to sell her beloved mini van just yet. Our trip wasn't in vain though because she was able to rule out the Toyota Highlander as a potential option in the future.
Plus I got a cookie and a latte!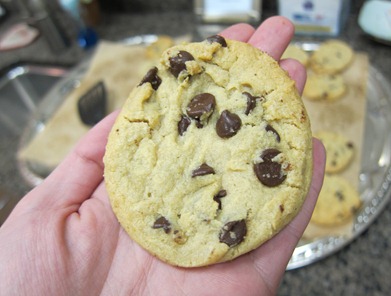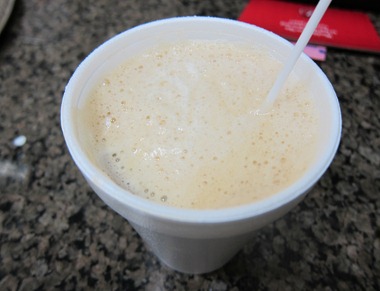 While over in Clearwater looking at cars, we met up with the photographer from our wedding, Gina, to pick up a box of prints of all of our wedding day photos from her.
I loved flipping through the amazing photographs and can't wait to look at them in more detail with Ryan when he arrives home tomorrow. (Woo!!! I've missed him a lot.) 
Gina is even using our wedding photos in her sample album to show future couples. It was neat to see which images she selected for her album. If you're getting married in the St. Pete/ Tampa Bay area, I cannot recommend Gina enough. She's amazing!
Bread Pudding
Once we arrived home after being out for several hours, I was hungry. It was still too early for dinner and my sweet tooth was running rampant, so I decided to get a little creative in the kitchen.
When I spied a loaf of Italian bread in the kitchen, I figured I would make my first attempt at homemade bread pudding. I searched around on the internet until I felt like I had a pretty decent handle on standard bread pudding recipes.
Then it was time to do a little experimenting!
I was really apprehensive about my creation because it seemed pretty soupy. I didn't want to mess with it too much and threw it in the oven, crossing my fingers for a good result.
That whole "cross your fingers" business must work, because the end result was wonderful.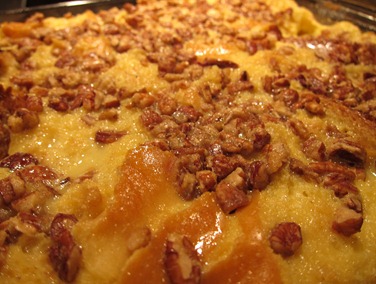 My whole family loved it and we all agreed it had a custard-like flavor to it.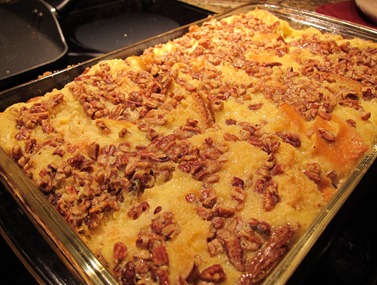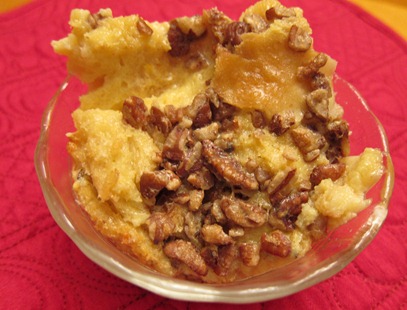 I ended up eating several bowls… a couple before dinner (we went out for sushi) and one small bowl after. I love how it tasted almost buttery without even a trace of butter in the whole recipe. Sweet deal!
Bread Pudding
(Serves approximately 16)
Ingredients
1 loaf Italian bread, torn into pieces (about 6 cups)
2 c. skim milk
2 c. sugar
4 c. egg beaters (or 8 eggs) 
2 tsp. vanilla
3/4 c. pecans, chopped
1/2 c. brown sugar
Directions
Preheat oven to 350 degrees.
Spray a 13 x 9 in. baking dish with cooking spray. Throw bread pieces into dish.
Combine milk, sugar, egg beaters and vanilla in a bowl. Pour over bread pieces and let sit for 10 minutes.
Sprinkle pecans and brown sugar over top of the bread mixture, coating some of the pecans in the eggy liquid.
Bake for 50 minutes, or until pudding is set.
Now it's time for bed. My eyelids are closing at I type…