The weather was cloudy most of the day yesterday except for a wonderful two-hour reprieve where Sadie took full advantage of the summer weather and broke in her kiddie pool!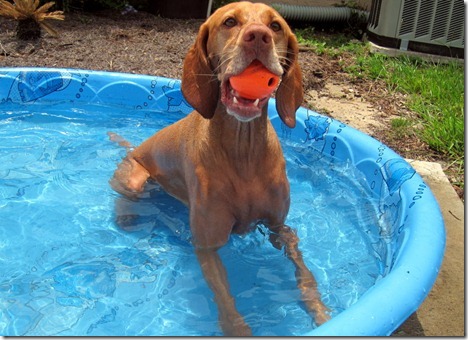 Ryan and I got Sadie her $12 kiddie pool last year because she gets really overheated after several rounds of fetch in the nearly 100-degree weather. We had to be patient with her and show her that the pool wouldn't hurt her, but eventually a serious love connection formed and now she hops in the pool after nearly every time she fetches a ball.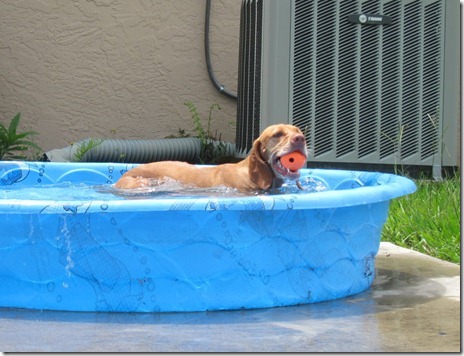 Before all the kiddie pool fun, we took Sadie on a short two-mile hike on some nearby trails. It was rather unadventurous except for the moment when Sadie chased two raccoons up a tree.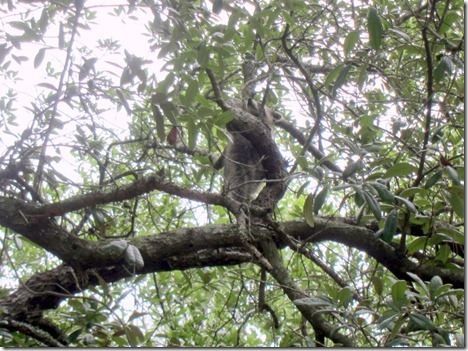 From a distance I thought they were squirrels! Raccoons are surprisingly agile when it comes to scampering up a tree when they think their life is in limbo.
Backyard Sun
Post hike, we came home, ate lunch, changed into our bathing suites and lathered on the sunscreen to take advantage of the sunny weather outside in our backyard.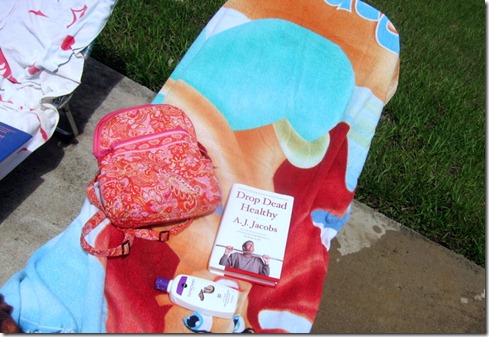 Yes, that would be Ariel on my towel, with the voice of an angel and hair that 8-year-olds everywhere envy.
I spent about 30 minutes wrapping up the June Book Club selection for the month.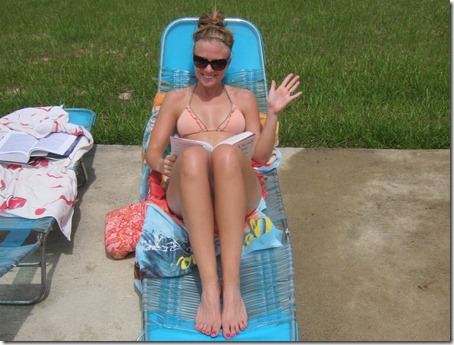 I really liked the book, but it took me a while to get through because it didn't have a gripping plot and wasn't really a page-turner. I must say that while I wasn't riveted, I was very entertained and the author is a hilarious writer. I really enjoyed the book! (Just a reminder that we'll be discussing the book on the blog on July 2!)
Ryan read his book with me for a while, but eventually Sadie coerced him into puppy playtime.
After about an hour, it got too hot in the backyard for those of us that didn't have a kiddie pool, so Ryan and I took our first dip in the big kids pool!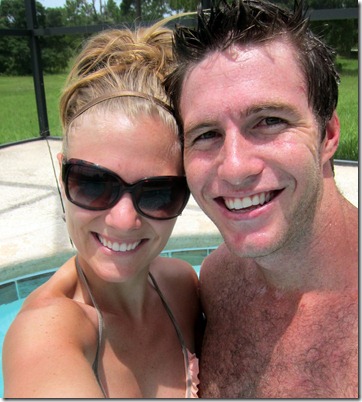 Then it was time for showers and a movie date!
Rock of Ages
Ever since I first saw previews for Rock of Ages, I've been dying to see the movie.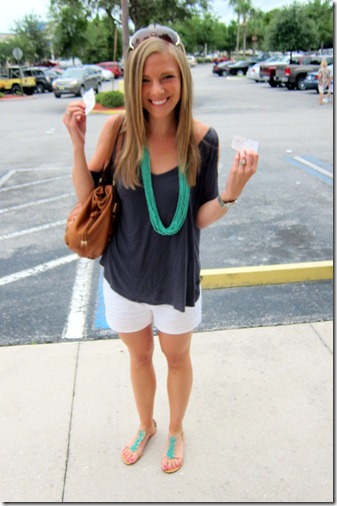 I love musicals, so the movie seemed right up my alley and Ryan and I caught a late afternoon showing.
While I enjoyed the movie, I can't say I loved it. Ryan and I both agreed that it was fun to sit through mainly because we both really like classic rock music. If I didn't love classic rock, the movie would've been a rough one. The script just wasn't that strong, but since I knew every song, I had a good time watching the music come to life.
We got out of the movie feeling a little hungry and decided to head out for an early sushi dinner.
I started with a ginger salad…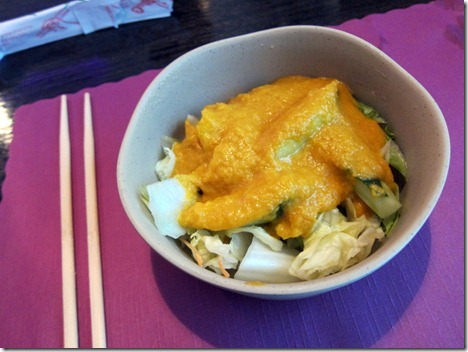 And a bonsai roll…
And ordered the rainbow roll as my main course.
I was a happy camper with these selections!
Since Peachwave frozen yogurt was within walking distance of the Japanese restaurant, you know Ryan and I popped in for some dessert.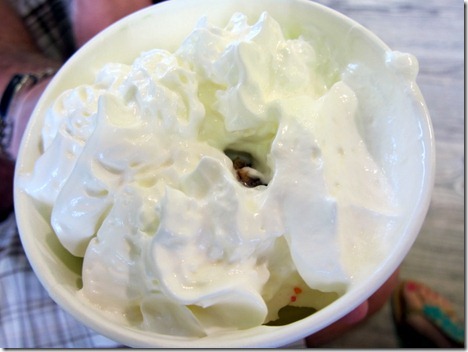 Underneath the excessive whipped cream topping would be cheesecake and cake batter frozen yogurt and rainbow sprinkles. A great way to wrap up a Saturday!
Now I'm off to make breakfast before changing for church. Enjoy the rest of your weekend!