Unfortunately my travel to Chicago got off to a bit of a rocky start and I ended up throwing up on the plane. I'm beginning to think it's physically impossible for me to fly when I'm pregnant without getting sick since puking on planes was a bit of a regular occurrence when I traveled when I was pregnant with Chase.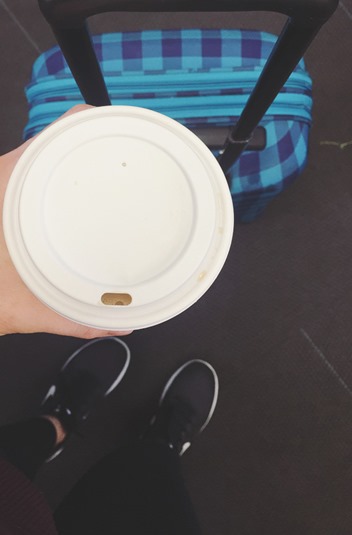 I made sure to pack my trusty Quease Ease which helped a lot, especially after I was sick and needed to focus on breathing and trying not to puke again, and I sipped on some ginger ale which seemed to help settle my stomach as well.
I began to feel a lot better once I was on the ground and got some crackers in my stomach and thankfully the distraction of reuniting with my friend Leah helped a lot, too! Leah and I put our heads together to try to plan something fun for Carrie to kick off her bridal shower weekend on Friday and had such a great day together!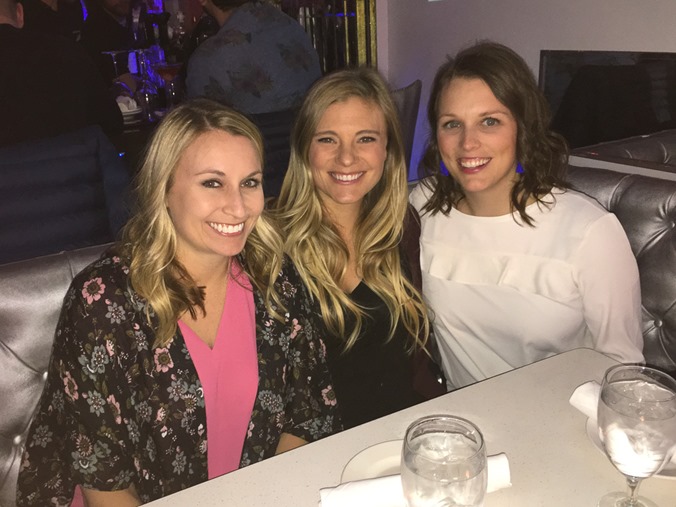 We assembled a little bride-to-be gift bag for Carrie complete with lots of pampering goodies and sweet treats and once Carrie joined us after a manicure date with her mom, we headed off to a local blow dry bar for blow outs.
I've only ever had one blow out before during a trip to San Francisco years ago and while I love the feeling of someone doing my hair, I often feel like my request for beachy, romantic waves ends up looking more like stringy, flat hair within an hour of leaving the salon. (See above photo!) At least the experience is fun, right!? (I think I need to bring along a giant bottle of of my tried-and-true Big Sexy Hair Volumizing Hairspray to any future blow out appointments because I'm beginning to think that's the only way my hair holds any kind of wave or curl. Would that be frowned upon? Probably…)
We left the salon and made our way to Aroma Workshop to create our own fragrances later that afternoon which was such a blast! It was kind of a quirky activity but the perfect mid-day spot to do something unique together before dinner.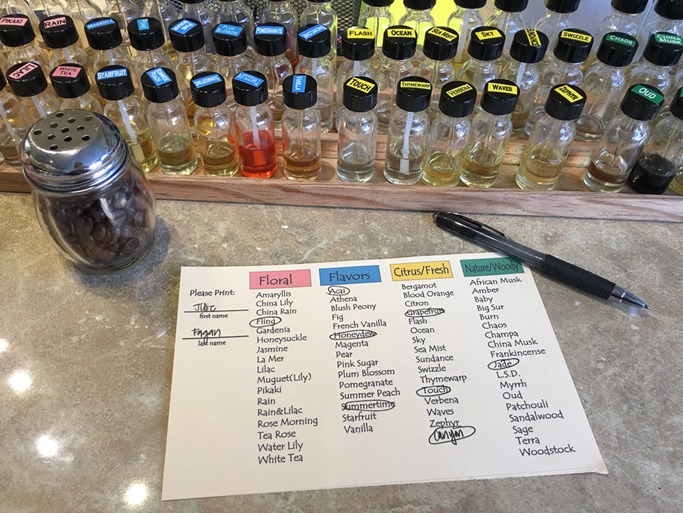 The shop was small and cozy and allows you to bring your own drinks and food. While Carrie and Leah sipped on their champagne, my growing baby and I had some LaCroix and loaded up on the yummy snacks we brought along. While we snacked, we smelled a myriad of fragrances before circling the ones that appealed to us most and then two of the women working there combined a few of our favorites to make four different signature scents.
Once we selected our favorite scent from the four new creations, we could pick a way to enjoy the scent, whether it be in massage oil, room spray, hydrating mist, body butter or a simple perfume spray. I opted for a thick and creamy body butter and loved the citrusy combination of scents I selected. So bright and fresh!
With our new goodies in hand, we walked back to our car but made a quick pit stop at lululemon since it was close by and Carrie wanted to pick up a little something. I remembered several of the recommendations I received from a number of you guys on my last pregnancy post that highly recommended I try lululemon's Align Pants as a comfortable bump-friendly legging that will work throughout the remainder of my pregnancy and still be a favorite postpartum, so I tried on a pair in the store and an immediate love affair began! The pants are smooth, soft and flattering but so forgiving and stretch enough to comfortably pull over my belly. I bought a pair and have a feeling these bad boys will be worn a ridiculous number of times in the coming months. Thank you for the recommendation!
We dropped off our purchases in our car before making our way to the Kit Kat Lounge where we met up with a few more of Carrie's friends for appetizers and drinks.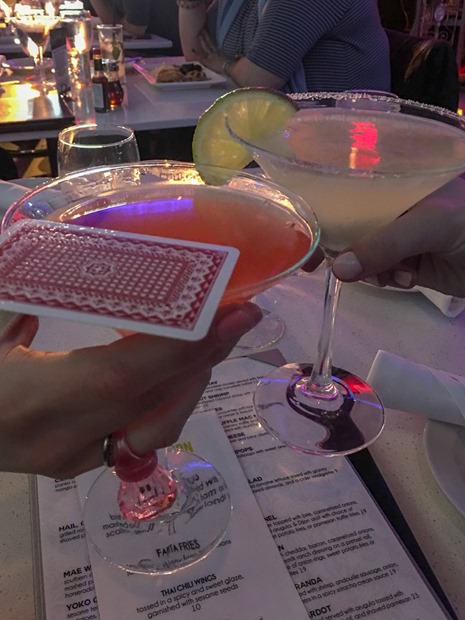 The Kit Kat Lounge was such a great spot with the best energy, upbeat music and a super fun vibe! We stayed there for nearly two hours which passed by in a flash before we decided to head off to Summer House for a late night dinner and more fun!
With Carrie's bridal shower on the agenda the next morning, we didn't want to stay out too, too late and I crashed hard once we were back at Leah's house a little after 1 a.m.
Bridal Shower
The day of Carrie's bridal shower was beautifully sunny and chilly and I arrived at Francesca's Tavola restaurant a little before the shower to help with set up though Carrie's mom clearly thought of everything and did such a wonderful job!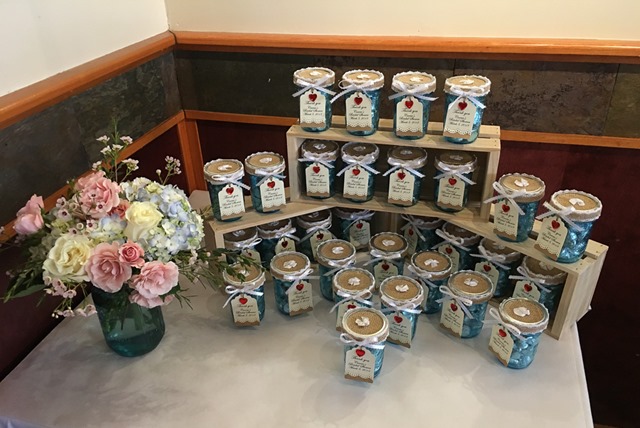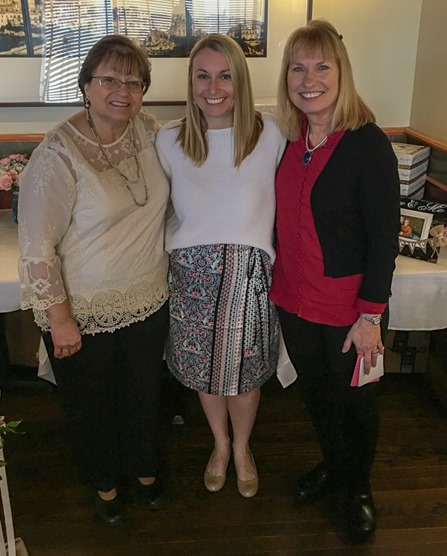 She was clearly in her element as mother of the bride and did a fantastic job with everything from the gorgeous floral centerpieces to the food selection and games.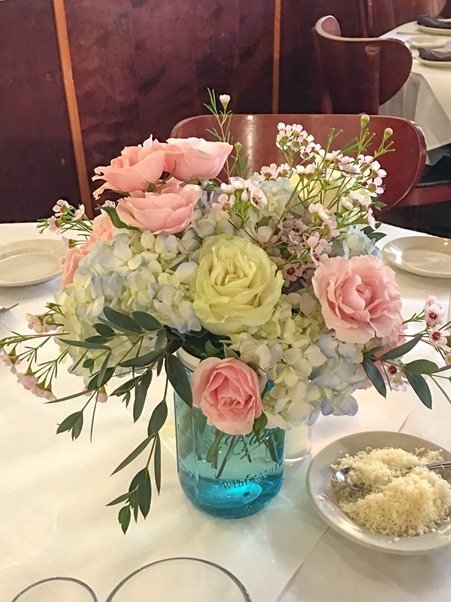 I loved celebrating Carrie, meeting members of her extended family and her in-laws and was just sad I had to head back home directly from the shower and didn't have more time with the bride-to-be. Our time together is always too short!

I am now feeling like I could sleep for 5,000 years so I think all of my recent travels are finally catching up to me but I had such a nice time with my friends and family over the past week. I must admit it feels so, so nice to be home and reunited with Ryan and I'm looking forward to a rather routine week ahead.

I hope you all had a wonderful weekend!!

Hi friends! I'm happy to have a minute to sit down, catch my breath and blog after lots of back-to-back travel and a whirlwind trip to Illinois. I caught the first flight out to Chicago on Friday morning because I wanted to take full advantage of spending as much time as possible with two of my childhood best friends. Carrie is getting married at the very end of May this year and her mom planned a beautiful bridal shower in her honor on Saturday and I didn't want to miss one moment! (Please forgive the limited number of rather grainy pictures in this post. I didn't want to lug my DSLR camera around and ended up keeping my iPhone tucked away for a large part of the weekend because I really hate being on my phone during special trips and occasions.)