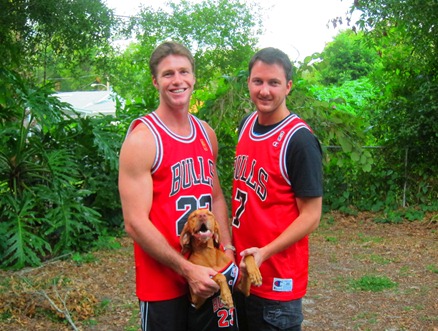 Game night!
The Chicago Bulls are playing the Miami Heat in the Eastern Conference Finals and Ryan, his cousin Daniel and Sadie are suited up to cheer on the Bulls.
When Ryan and I first started dating in college, he was living with Daniel and I quickly learned that these two were big Bulls fans. As a former Chicago girl myself, I fit right into the mix and followed the games with Ryan and Daniel when the team was terrible. And when I say I "followed" the games, I mean that they had two side-by-side televisions in their apartment and would put The Real World on one for me to watch while they watched the games on the other one. That counts, right?
Well, now the Bulls are killin' it and Ryan and Daniel are ecstatic. Cross your fingers for a win tonight!
Dinner
Before the big game tonight, we enjoyed an easy dinner of cashew-crusted salmon with corn on the cob.
I couldn't stop eating the package of raw cashews we had in our apartment, so I knew I had to use them up before I devoured all of them in one day. I remember once loving a cashew-crusted mahi mahi dish and figured I could revamp the idea a bit and apply it to salmon.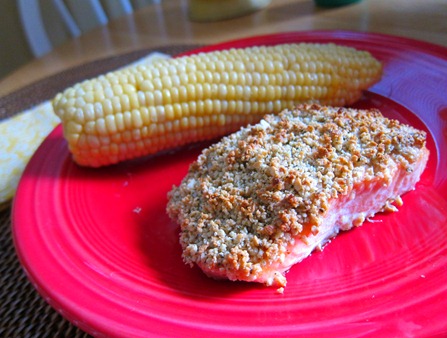 Cashew Crusted Salmon (Serves 2)
Ingredients
3/4 lb. salmon filet
1/3 c. raw cashews
1/3 c. parmesan cheese
1 tsp. basil
3/4 tbsp. olive oil
Directions
Preheat oven to 450 degrees.
Combine cashews, parmesan cheese, basil and olive oil in a food processor and pulse until mixture is fine.
Top a cookie sheet with foil and place salmon on top of the foil.
Top salmon with cashew crumbs and place another sheet of foil over the salmon, sealing the fish within the foil.
Bake for 12 minutes before removing foil and baking for another 3 – 5 minutes, until topping is slightly brown and fish is fully cooked.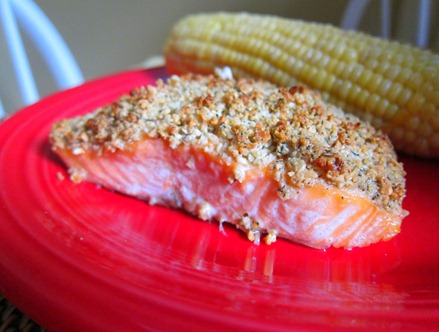 This salmon was awesome! To quote Ryan, "This is right up there with the jelly salmon!"

Gotta go watch the game! Every time the two boys yell and cheer aloud it sends Sadie into a tailspin of excitement and I want in.

Enjoy your night!

Guess what tonight is?