With tons of Christmas-themed recipes popping up on PBF over the past few weeks, I thought it might be fun to highlight some delicious recipes enjoyed by those celebrating Chanukah right before the special holiday kicks off tomorrow!
The fabulous Kat is here today to share two of her favorites with all of you.
Enjoy!
Guest Post: Balance and Spice
G'day mates and Happy Chanukah!
My name is Kat, and I blog at Balance and Spice, which covers my adventures in travel, yoga, healthy eating and exercise and the ridiculous fun I have along the way.
I am so honored to be able to write this guest post for Julie, as I'm a huge fan of Peanut Butter Fingers (both the blog and the food group).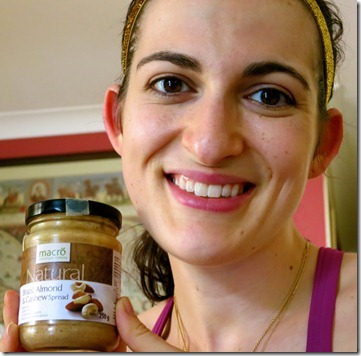 Ok, so it's not quite peanut butter, but it's almost as good!
Right now, I'm in Australia with my partner, Anthony, and his family.  We're moving here in April after a whirlwind tour of Europe (tough life, I know) and this trip is both a test run and an excuse to visit his absolutely wonderful family.  It's been amazing here, and we've gotten to do everything from visit Olivia Newton-John's retreat site to snuggle a koala.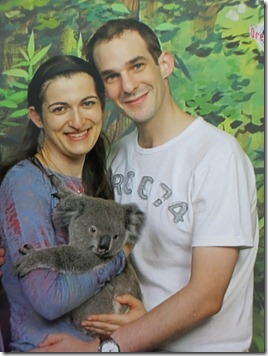 Best family photo EVER.
The only thing that has saddened me is to be away from my beautiful family this Holiday season, and especially to be gone for Chanukah, which is quite special in my home.
Quick History of Chanukah for any non-Jewish but Jew-curious readers out there:
Chanukah is an eight-day festival that celebrates the joyful miracle of light succeeding over darkness.  Historically, it celebrates a small band of Jews, the Maccabees, who defeated the Greeks in Israel and reclaimed the Holy Temple in Jerusalem after it had been taken over. When they tried to relight the temple's menorah, there was only enough oil to keep it burning for one day, but miraculously, the lights burned for eight days, until new oil could be prepared. To celebrate, we light menorahs each night for eight nights, spin dreidels, and of course, eat copious amounts of deep-fried, oil-drenched foods, such as doughnuts, and latkes (potato pancakes.) Gotta celebrate that oil!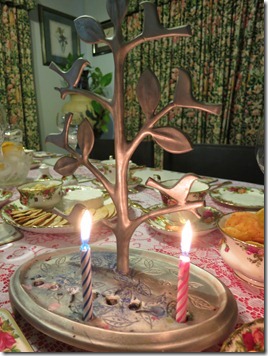 My menorah. I brought it 9,364 miles to pose for this photo.
One of our most precious (and awesome) traditions comes from my sister and brother-in-law, who started throwing Vodka and Latke parties when they lived in L.A. 
Last year, Anthony and I threw our own Vodka and Latke extravaganza, New York City style, and it was a total blast. We had a potato pancake bar with various toppings, such as sour cream, caviar, and apple sauce, served with a ginger-tini.  SO YUM!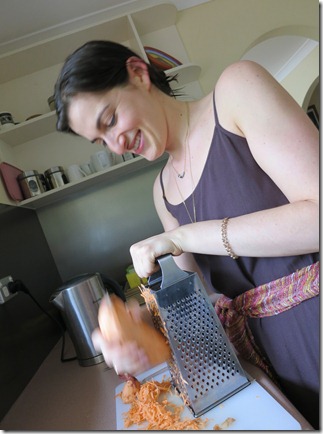 Making Latkes. Oooh yeah.
This year, I feel so lucky to be able to introduce Anthony's family to this very special tradition with latkes and a Australian inspired cocktail that I've come up with. Last year's biggest hit was actually a modern (and healthier) twist on the traditional dish; baked sweet potato latkes, so I've decided to make them again this year.
Also, to honor my new favorite locally grown fruit, and the fact that in Australia, it's summertime and ridiculously hot, I've made a refreshing lychee mint cocktail. I hope you enjoy!
Gingered Sweet Potato Pancakes
Inspired by a recipe from Erincooks.com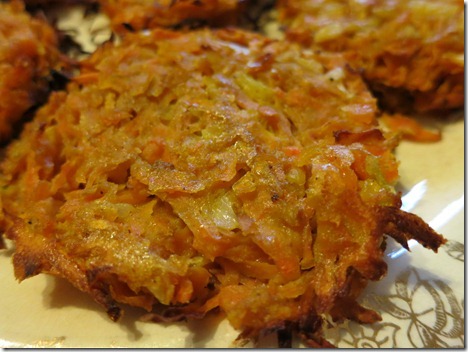 Makes approximately 18 (I forgot to count before I ate some. Oops.]
Ingredients:
2 lbs. sweet potatoes (approximately 1 kilo)
2 eggs, beaten
1 grated onion
1/4 cup gluten-free plain flour (or regular)
1 big pinch baking powder
1 big pinch salt
2 teaspoons ginger
1 teaspoon cinnamon
1/2 teaspoon nutmeg
1/2 teaspoon cloves
Optional toppings: For sweet, apple sauce or stewed fruit. For salty, Caviar of any kind. For creamy, yogurt, sour cream or creme fraiche.
Instructions:

While you grate the sweet potatoes and onions, pre-heat the oven to 400 degrees farenheit. (200 degrees celcius, if you're curious. I was. Because that's how the ovens work here.)
In a large bowl, combine all ingredients. Dish out onto aluminum foil-lined and oil-sprayed baking sheets into about 18 big spoonfuls. Flatten with the back of your spoon.
Bake for 25 minutes, then flip and bake for 15 more. Make sure they aren't burning. Not that that happened to me.
Serve and enjoy with the topping(s) of your choice.
Lychee-Mint Cocktail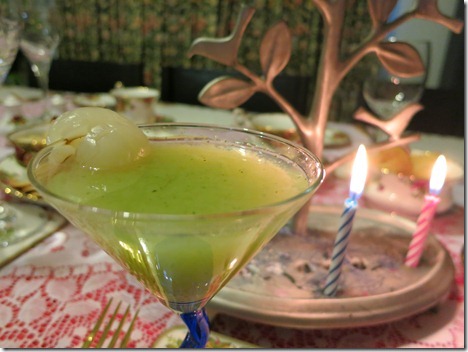 Serves 4
Ingredients:
6 ounces vodka
15 lychees, peeled and chopped
1/2 bunch mint, peeled and chopped
Club soda, lemon-line soda, or champagne
Instructions:
In a blender, mix lychees, mint, and vodka
Shake (or stir, if you don't have a shaker)
Strain into a pitcher.  Add the bubbly of your choice, and additional ice.
Garnish with a lychee and a mint leaf and serve 
Note:  If it's -17 degrees where you are, and the idea of a refreshing cocktail sends chills down your spine, check out my blog tomorrow for a more warming ginger-tini recipe sure to fit the wintry bill.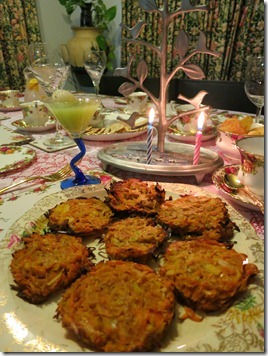 Both the latkes and the cocktails were a hit with Ant's family! 
We lit the candles and had a great time celebrating the festival of lights. It was such a special experience to share Chanukah with my "Australian Family" and I am so grateful for the opportunity to share one of my traditions with you!
Happy Holidays everyone!