Good morning! I hope your Monday is off to a good start.
I had a wonderful weekend at the beach with some of my favorite people.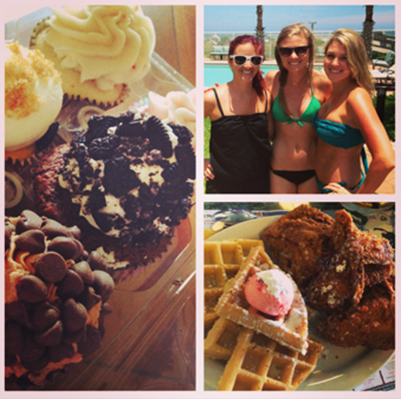 We celebrated my friend Laurel's birthday and had a great time catching up in the sun. We ate cupcakes and I also had my first chicken and waffles experience at Metro Diner (um, delicious)! They top the Belgian waffles with strawberry butter and mix a little hot sauce into the syrup, so it's sweet and spicy.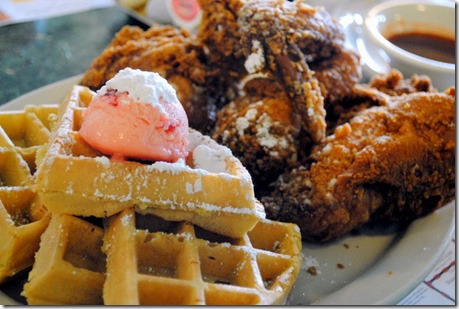 Today
I have a bunch of early shifts on my work schedule this week, which is a bit of a bummer. I ended up falling asleep for two hours in the middle of the day yesterday and as someone who never naps, I was so happy I had a chance to catch up on some sleep. (To those of you who work the night shift or have little ones who need your attention at all hours of the night, I tip my hat to you!)
I am having a hard time falling asleep when I get into bed early at night and waking up at 4:20 a.m. leaves me feeling more than ready for a normal wake up time by the time the weekend rolls around. I'm hoping I'll be able to get a good night sleep and fall asleep right when I crawl under the covers tonight!
I arrived at the gym before 5 a.m. to open and worked through the morning. Now I have a super short break before it's time to work again. I'm teaching a functional class today and spent some time creating an upbeat playlist and six quick, sweaty circuits last night. I hope the class likes it!
Breakfast
Breakfast this morning included a bowl of overnight oats that I prepped last night. I polished off the last of a container of freshly ground almond butter from Earth Origins yesterday and mixed the oats in the container to get the very last of the almond butter.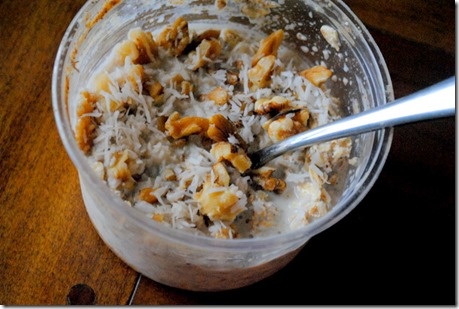 Topped with walnuts and shredded coconut!
I hope you have a great week!
Question of the Morning
If you could create your own hours at work, what hours would you work?
Have you ever had to regularly wake up ridiculously early for work or work the night shift? How did you handle it?