Christmas has come and gone and the post-holiday blues are setting in a bit for this girl. I hate knowing that there are 362 days until my favorite day of the year, but they always seem to fly by and knowing we'll have Christmas with a little boy who will be walking over to the tree to open his presents next year is a pretty neat thought!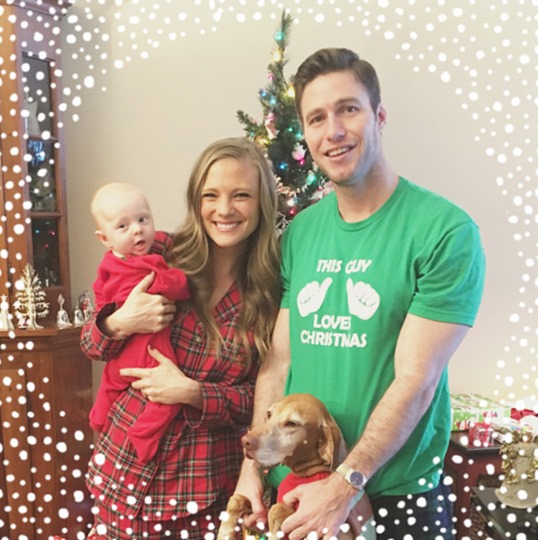 Our Christmas this year was filled with family, food, fun and lots of baby love! Ryan and I made the 6-hour drive to Jacksonville on Wednesday after he got off work and arrived at my parents' place late in the evening. We were a little concerned about how Chase would handle it, but planning the majority of the drive during his bedtime actually worked out well and he slept like a champ in his car seat for most of the drive down south. (My fingers are crossed our drive home goes as smooth.)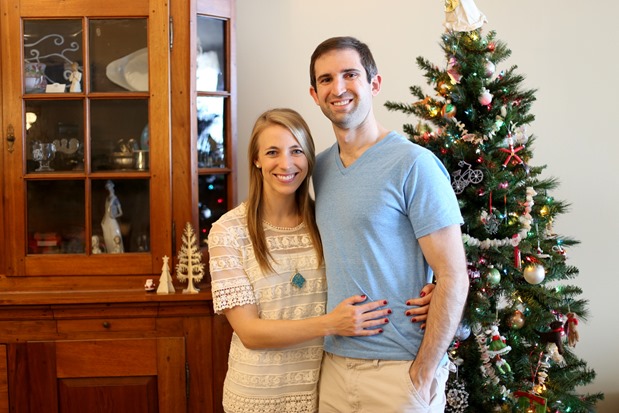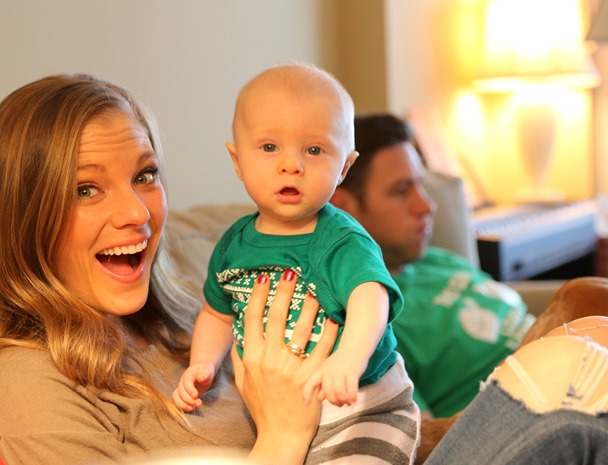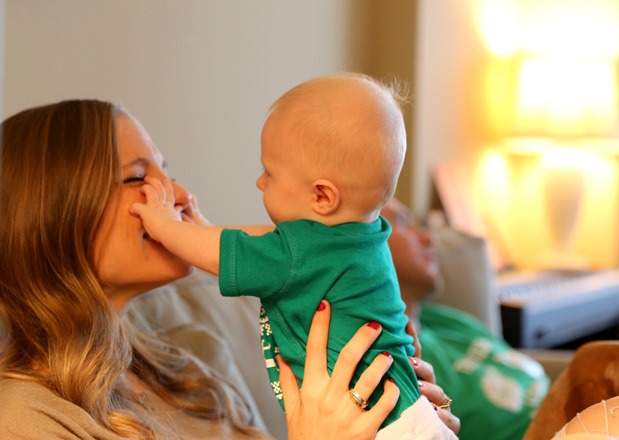 When we arrived, my parents, sister and brother-in-law greeted us and we stayed up talking way too late so I felt like a bit of a zombie on Christmas Eve after a few middle-of-the-night nursing sessions with a restless baby. We weren't sure how the sleeping arrangements would go and we've shuffled things around a few times, but now we have Chase sleeping in the entryway bathroom in his Pack 'n' Play which seems to be working well. I remember friends telling me their babies stayed in walk-in closets in the Pack 'n' Play during holidays, so I guess you just do what you have to do when it comes to a little one's sleep when you're away from home!
Christmas Eve
We spent our Christmas Eve around the house and on the beach! With temperatures eclipsing 80-degrees on both Christmas Eve and Christmas Day, it didn't feel overly festive in Florida but we embraced the warmer temperatures and spent a lot of time outside in shorts and tank tops.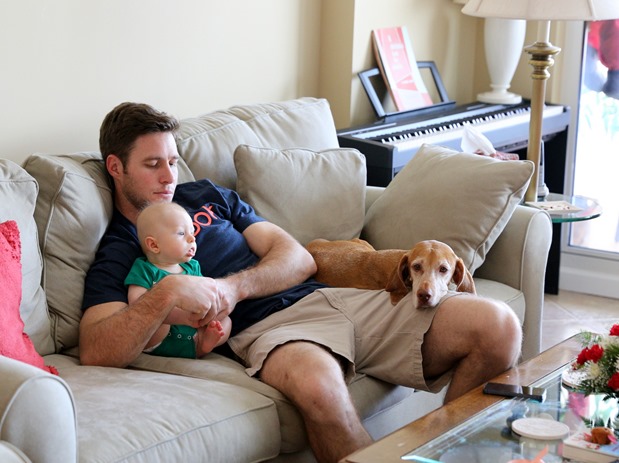 My family also made it out to an early afternoon Christmas Eve church service (complete with complimentary cups of hot cocoa!) before heading back home for a delicious dinner followed by one of my favorite Christmas traditions.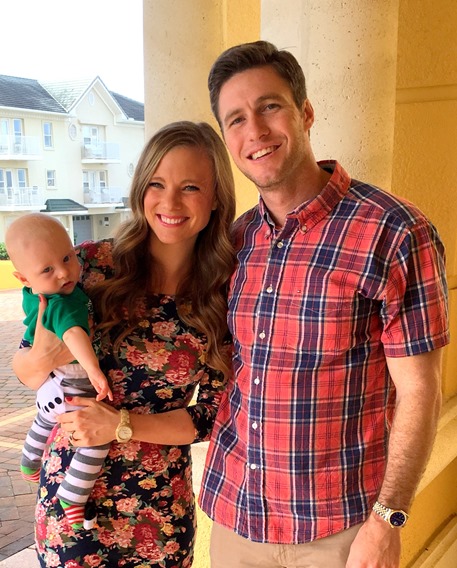 (Chase has been working really hard at perfecting the Judgmental Baby Face.)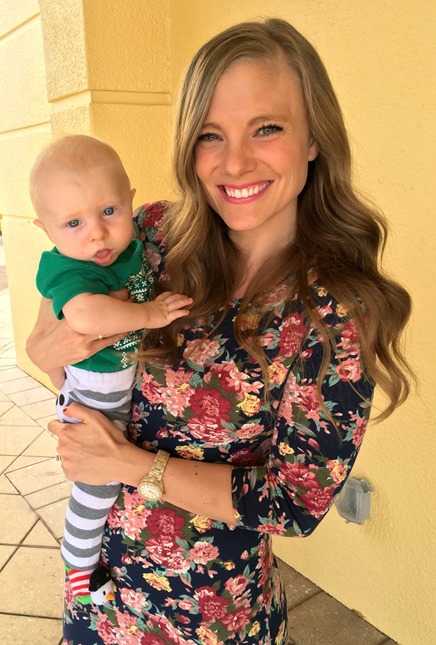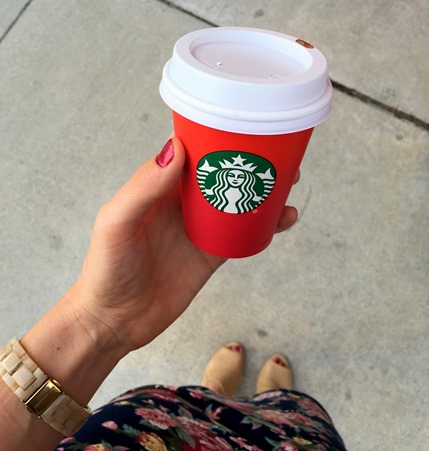 Every year for as long as I can remember, we've opened new Christmas pajamas on Christmas Eve and this year, my mom had matching red flannel pajamas wrapped up for the women of the family!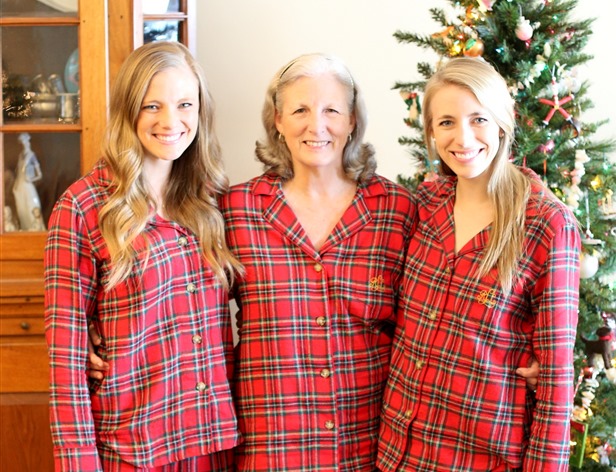 After dinner and big bowls of peppermint ice cream for dessert, we curled up on the couch to watch Home Alone. I made it about 20 minutes into the movie before I started to fall asleep, so I put myself to bed nice and early which ended up being a good decision since Chase had us up at 5 a.m. on Christmas morning.
Christmas Day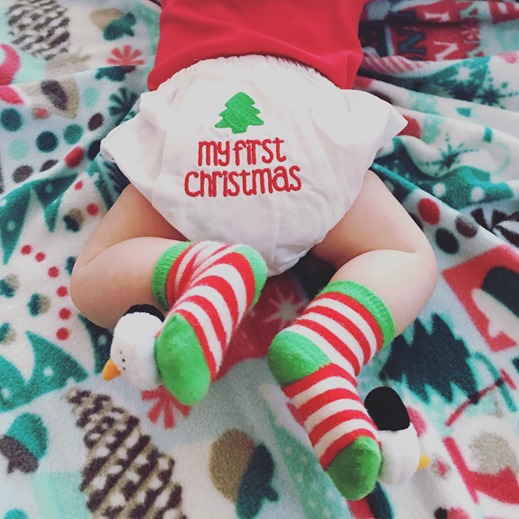 Ryan and I hung out with him in bed while he cooed, squealed and kicked up a storm. He was quite a vocal little Christmas elf! Ryan and I have a tradition to exchange our stockings and gifts to each other before everyone else is up and apparently Chase knew about this plan and had us awake with plenty of time to spare.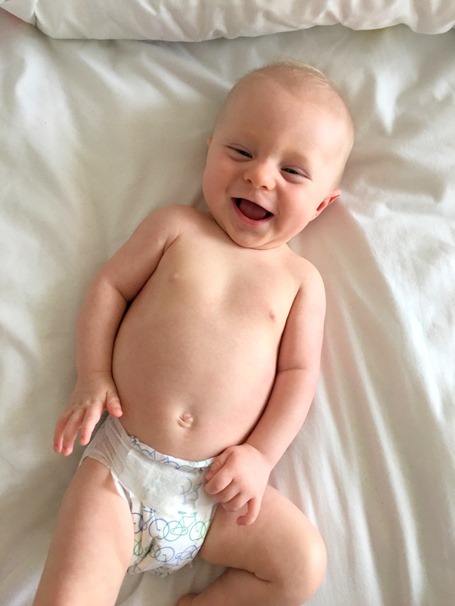 Eventually everyone else was up and about around 7 a.m., so Christmas officially kicked off with monkey bread, cheese puff casserole and hot coffee. We dug into our favorite Christmas morning dishes while we opened our stockings before transitioning into the living room to exchange gifts by the tree.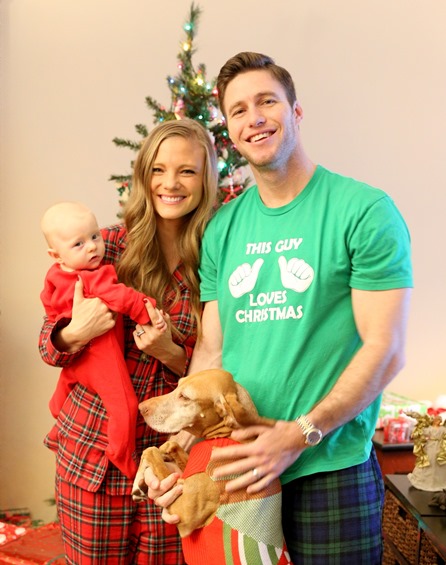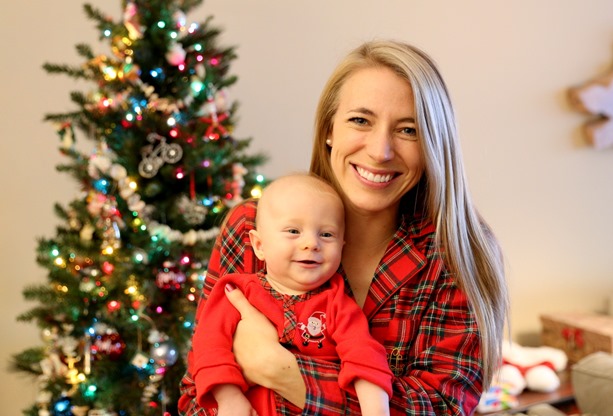 Sadie found a pretty good spot to soak up all the Christmas cheer…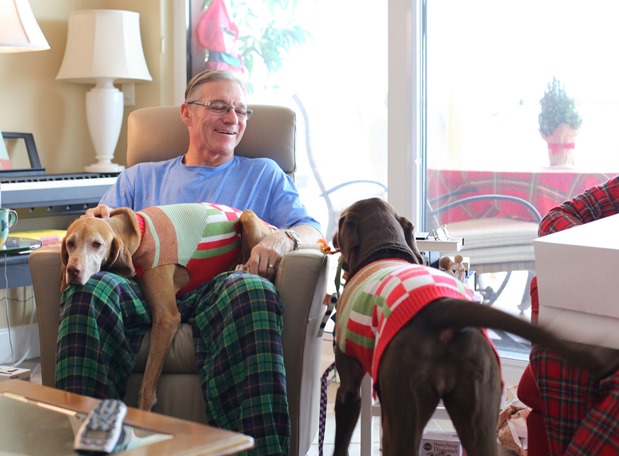 Chase had a lot of thoughtful gifts to open from his grandparents, aunt and uncle and I helped him out with the unwrapping since his skills are limited to drooling and squealing at the moment. I think I was even more excited than Chase was for his Eric Carle-themed gifts since I loved his books as a kid.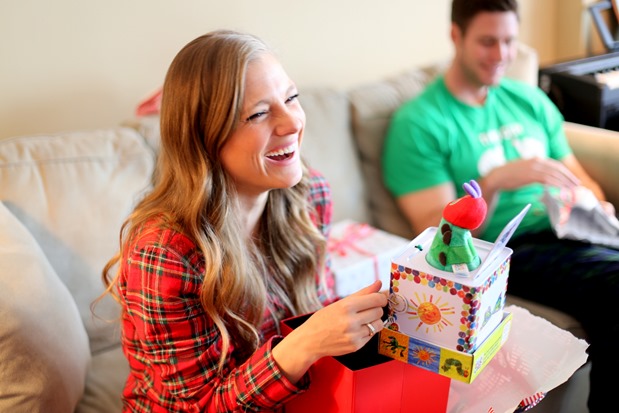 So far the stuffed Taggies Monkey and Baby Einstein Octopus seem to be Chase's favorite Christmas gifts!
The biggest surprise gift of my family's Christmas went to my mom. My dad surprised her with a beautiful new mint green beach cruiser bike!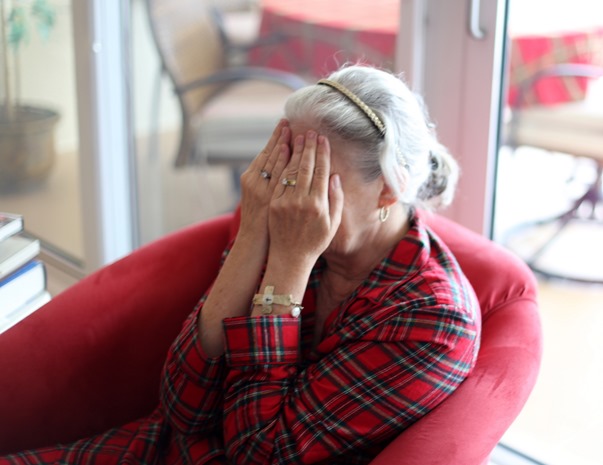 She was thrilled and already took the bike down the beach in search of shark's teeth. (She found three on her first trip out!)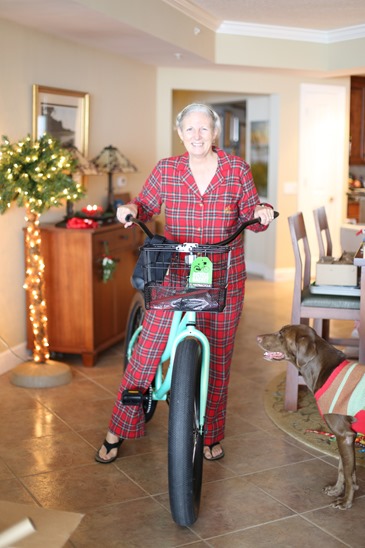 Before all of the present-opening fun was over, we had one more tradition to uphold! The Pickle Present! Every year, my dad hides a pickle ornament on the tree and my sister and I rush to see who can find it first. Whoever finds it first receives the pickle present!
I've been the pickle champ for four years running (and I think I was a little TOO proud of this fact), but this year my sister beat me!
In my defense, the pickle ornament shrunk significantly in size this year which had all of us cracking up when Leslie plucked the tiny ornament it off the tree.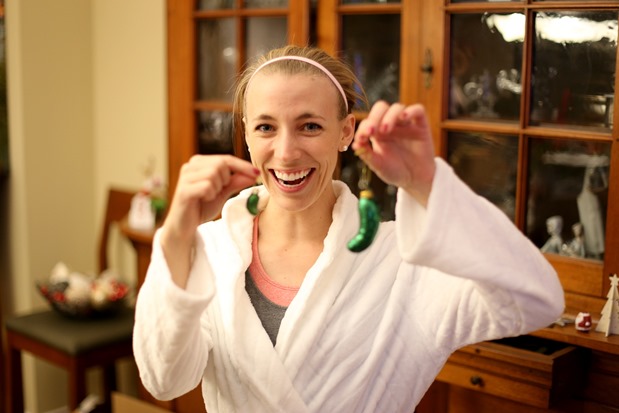 I'm planning to make my comeback next year, so you better watch out, Les!
The rest of our Christmas was pretty low key and involved a walk with the dogs around the neighborhood, an incredible beef tenderloin dinner (I must share the recipe with you guys in the future!) and dessert on the couch followed by a viewing of Christmas Vacation, our family's favorite holiday movie.
I hope you all had a lovely weekend and a wonderful Christmas if you were celebrating on Friday! I am still in Jacksonville this week so my blogging may be a bit sporadic as I try to fit it in while also enjoying time with family and friends. I hope to check in when I can! Thanks so much for stopping by and enjoy your Monday!