Though the smell of this evening's dinner made my mouth water, I made sure to take Sadie outside for some exercise before digging in.
We headed out on a chilly walk around the neighborhood.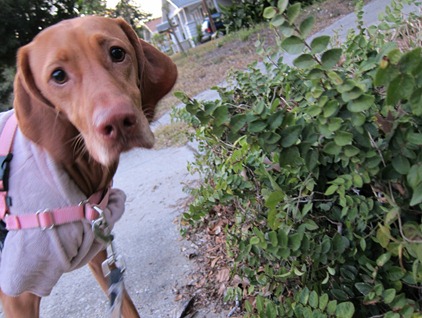 I'm not sure if the cold weather changed the scents on our typical loop, but Sadie had her nose glued to the ground and was sniffing like crazy during our entire walk.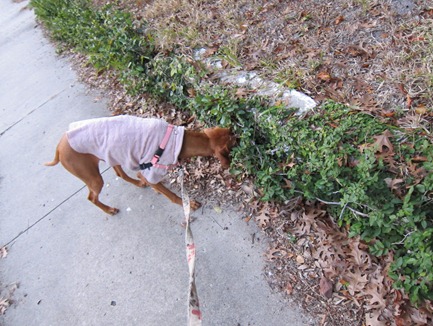 I have a theory about dogs and their sniffing.
I think that when a scent come across their nose radar, they get a vision of what animal left the scent in their minds. Sort of like super-fast scent television. Don't you think that would make smelling things a lot more interesting?
Once our walk was over, we came back home to the warmth of our apartment, ready for dinner.
Dinner
Fortunately dinner tasted just as good as it smelled.
Thanks to a little prep work this morning, all I had to do was scoop some chicken and veggies out of the crock pot and dinner was on the table.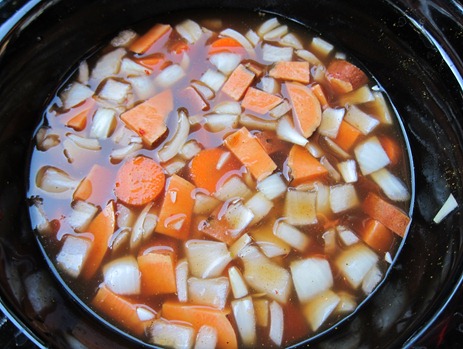 Before work, I sliced a sweet potato, onion and two carrots and threw them in the crock pot with soy sauce, chili paste, curry powder, chicken broth and two chicken breasts.
After cooking on low for 8 hours, the chicken was fork tender and the veggies were soft and ready for eatin'.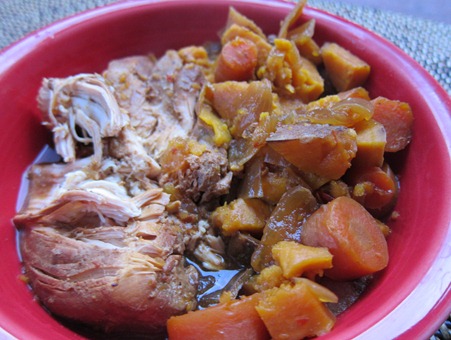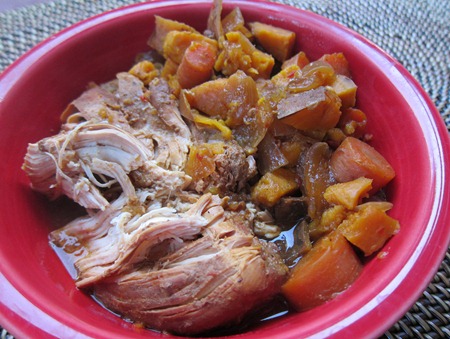 Dinner was very good! Ryan and I think it would also be great with beef, mushrooms or other veggies of your choosing.
The broth flavor was very unique and a nice change from simple chicken broth. If you give it a go, I hope you enjoy it as much as we did!
Crock Pot Chicken with Sweet Potatoes and Carrots
(Serves 2)
Ingredients:
1 large sweet potato, cut into thick pieces
2 large carrots, chopped into large pieces
1 onion, chopped
2 chicken breasts
1 can reduced sodium chicken broth (may add another 1/2 can if you prefer a more stew-like dinner)
1 tbsp. chili paste with garlic (plain chili paste will also work)
1 tbsp. soy sauce
1 tsp. curry powder (optional)
Directions:

Combine chicken broth, chili paste, soy sauce and curry powder in the bottom of a crock pot. Add vegetables and chicken and cook on low 6 – 8 hours until chicken is fork tender. Enjoy!

I love being hit with the scent of a delicious dinner the instant I walk through the door to our apartment. The smell of a homecooked meal elicits a feeling of comfort and home and makes me feel warm and cozy inside.