As the crock pot challenge continues, I am finding myself loving my crock pot more and more. It makes dinner so incredibly easy that I am now looking at every recipe I come across and wondering whether or not it could be converted into a crock pot recipe.
When I asked you guys about your favorite Indian dishes last Sunday, a bunch of you encouraged me to try chicken tikka masala. Yesterday I found a recipe for the dish on Gina's blog and figured it could be a crock pot contender.
I combined everything in the crock pot (I used light coconut milk in place of the milk) and let it cook on low for about six hours yesterday. When it was done, I shredded the chicken and put it back in the crock pot with the sauce. Ryan and I ate it over brown rice and thought it was delicious. (I know you're not supposed to shred the chicken in traditional chicken tikka masala, but I wanted it to get as much flavor from the sauce as possible.)
It also made for a flavorful lunch when I reheated the leftovers this afternoon.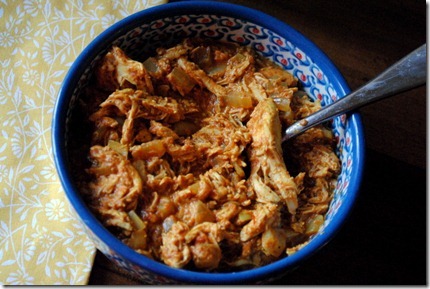 I would love to try this dish at a real Indian restaurant because I have a feeling it would be fantastic.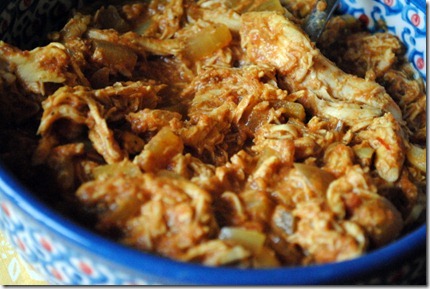 Yum!
Question of the Afternoon
Have you ever successfully transformed a traditional recipe into a crock-pot friendly recipe? Feel free to link to any favorites in the comments section of this post!