Then you make it and find yourself weeping into your sangria when everyone gravitates toward the store bought cupcakes?
Everyone except your husband, that is.
He knows by the death watch you have on the dessert table that he should have some of your dessert.
He's a smart man.
Oh. That's never happened to you?
Me neither.
But just in case it has happened to you, I have a solution. Bring something homemade, but easy to make.
Bring Easter Rice Krispie treats!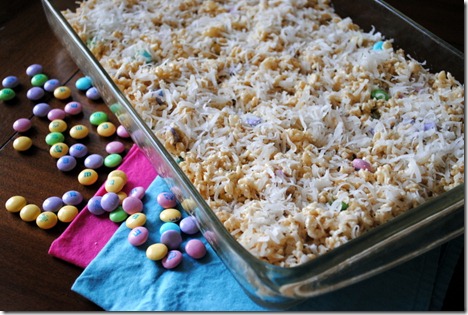 I'm pretty sure everyone likes Rice Krispie treats, but if they don't, you only wasted about 10 minutes of your life on these fantastic marshmallow squares.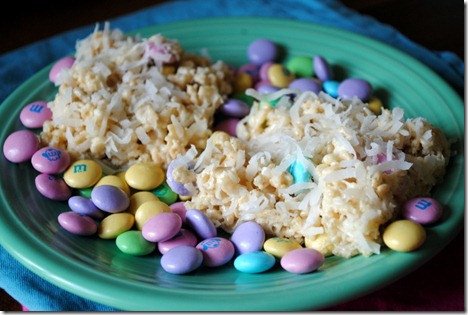 These Rice Krispie treats aren't your basic marshmallow treats. They're packed with coconut, white chocolate and pastel M&Ms to give them an extra festive flare.
Coconut!
White chocolate!
M&Ms!
And completely ready to eat in no time at all!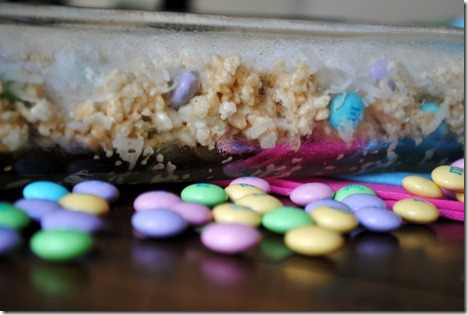 Easter Rice Krispie Treats
(Adapted from standard Rice Krispie treats recipe)
Ingredients
5 cups crisp rice cereal (Rice Krispies)
1/4 cup (1/2 stick) butter
1 10-ounce bag large marshmallows or 4 cups mini marshmallows
1 1/3 cup shredded coconut (+ more for garnish)
1 teaspoon coconut extract (optional)
1 4-ounce bar white chocolate (I used Ghirardelli's white chocolate), chopped (or 1/2 cup white chocolate chips)
1/2 cup pastel M&Ms
Directions
Note: Measure all ingredients before you begin, as you will need to move very quickly once the Rice Krispies are added to the marshmallow mixture so it doesn't set.
Grease a 13 x 9-inch pan with butter or spray with cooking spray. Set aside.
Microwave butter and marshmallows on high for 1 – 2 minutes, stirring every 30 seconds, until everything is melted.
Pour Rice Krispies into marshmallow and stir quickly. Add coconut and coconut extract and continue stirring.
Add white chocolate and stir.
Add M&Ms and stir.
Using a buttered spatula, press Rice Krispie treats into pan and garnish with additional shredded coconut, if desired.
Cool, slice and enjoy!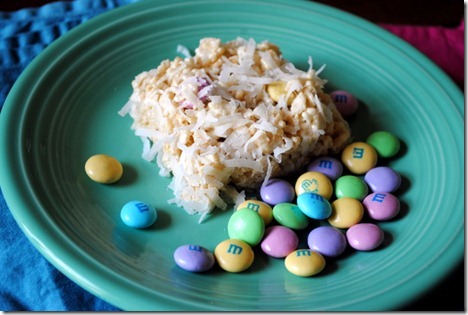 I must leave you with a warning:
Licking the bowl after patting these into the pan is a blast…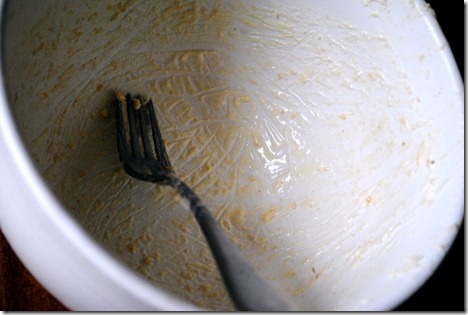 But scraping the remaining marshmallow goop of the of bottom of the bowl most definitely is not… especially since you cannot defer to your dog to do all of the dirty work for you since the recipe includes chocolate… which would be especially dangerous if that dog is pregnant and you have the health of future little puppies to worry about.

Still, it's worth it.

Do you ever have grand plans to make some completely elaborate and fancy dish to bring to holiday gatherings?