This recipe for a delicious and easy BBQ meatloaf is perfect for a quick and simple weeknight dinner. It's comfort food at its finest!
We are big-time meatloaf fans in our house. No, not Meat Loaf the "I'd Do Anything For Love" singer, though you know I can't resist belting out that song whenever I hear it on the radio. I'm talking about comforting, home cooked meatloaf that makes the whole house smell fantastic.
When I was a little girl, I would always pack a lunch on days when the school cafeteria would serve meatloaf, but right after I graduated from college I tried it again and discovered meatloaf can be one heck of a delicious meal that's also very easy to make. Though it's never the most attractive dish, it is tasty comfort food at its finest!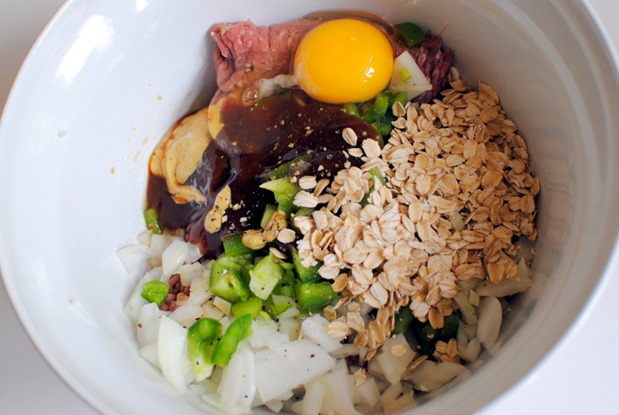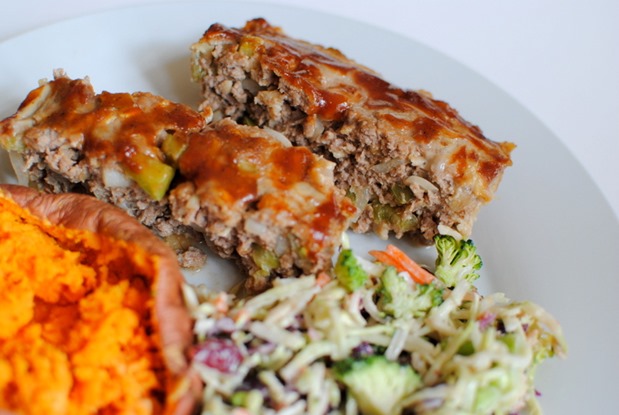 Meatloaf is a meal I'll prepare fairly often in our house because it's simple to throw together and tastes great reheated the next day for a hearty lunch or filling dinner. Just serve it with your favorite sides – a roasted sweet potato, green beans and slivered almonds, a fresh chopped salad.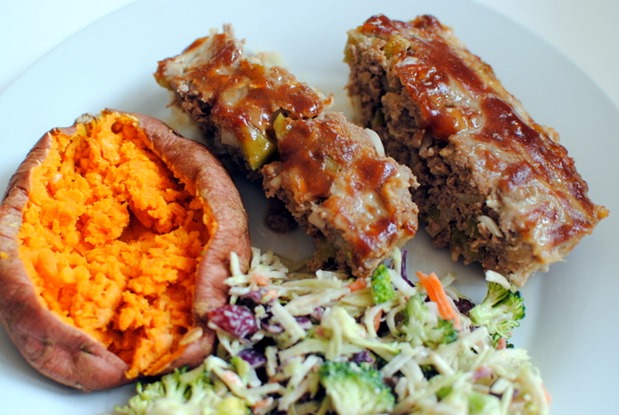 This recipe is full of tangy barbeque flavor and I incorporated some chopped veggies into the loaf as well for a nutritional punch. Ryan and I love thick, chopped vegetables in the meatloaf, but you can finely dice the vegetables or even pulse them in a food processor to make them a little less noticeable if that's more your style. Either way, I think you'll love this dish!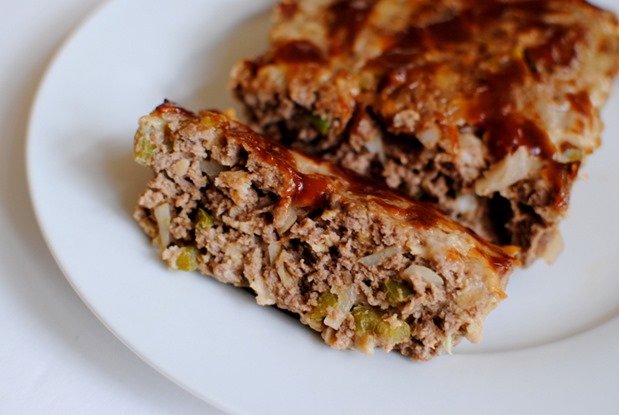 Easy BBQ Meatloaf
Ingredients
1 pound lean ground beef
1/2 large onion, diced
1/2 green bell pepper, diced
4 tablespoons BBQ sauce
1/2 tablespoon spicy brown mustard
1 tablespoon Worcestershire sauce
1/8 teaspoon freshly ground black pepper
1/4 teaspoon garlic salt
1/4 cup oats
1 egg
Directions
Preheat oven to 375 degrees
Combine all ingredients except for 2 tablespoons of BBQ sauce in a large bowl and thoroughly mix together
Press the meatloaf mixture into a loaf pan sprayed with cooking spray and top with remaining 2 tablespoons BBQ sauce
Bake in the oven for 40 – 45 minutes, until meatloaf is cooked through
Allow to rest for 5 – 10 minutes, slice and serve with your favorite sides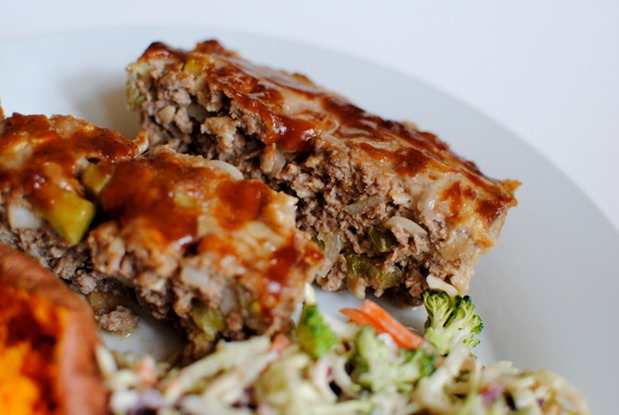 Enjoy!