This Easy Cilantro Shrimp Appetizer is the perfect light and simple crowd-pleasing dish to bring to your next party. It's a one-dish recipe that's easy to make and bursting with flavor thanks to cilantro and a squeeze of fresh lime juice. Thank you to ALDI for teaming up with me for this recipe! Find the ALDI nearest you and grab everything you need to make this dish by clicking here.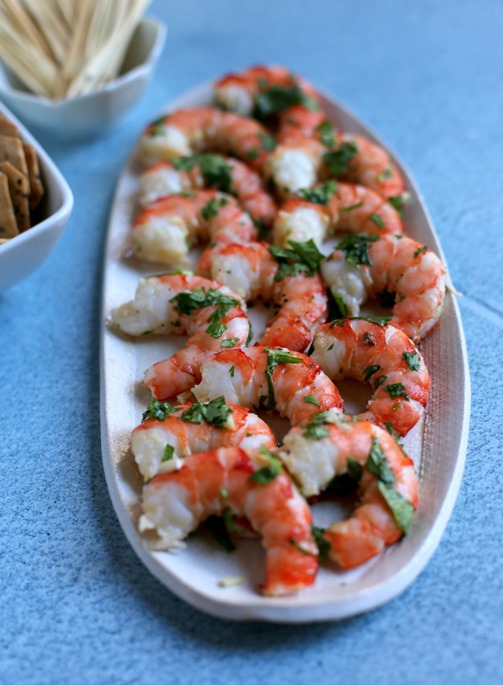 The holiday season is in full swing! Eeee! With parties popping up left and right this time of year, I'm always on the lookout for new recipes to try but so many recipes out there this time of year are heavy, heavy, heavy. We're talking super sweet, carb-y, buttery and, um, totally delicious.
But have you noticed that it's often the super simple protein-packed appetizers that go first? If you ever bring a shrimp cocktail or bacon-wrapped scallops to a party, they seem to disappear in 2.5 seconds and I totally get it. When a table or kitchen island is packed with sweets and overly creamy dishes, something to break up the richness is so needed and while a veggie platter is lovely and easy, something a little more exciting and savory calls to me.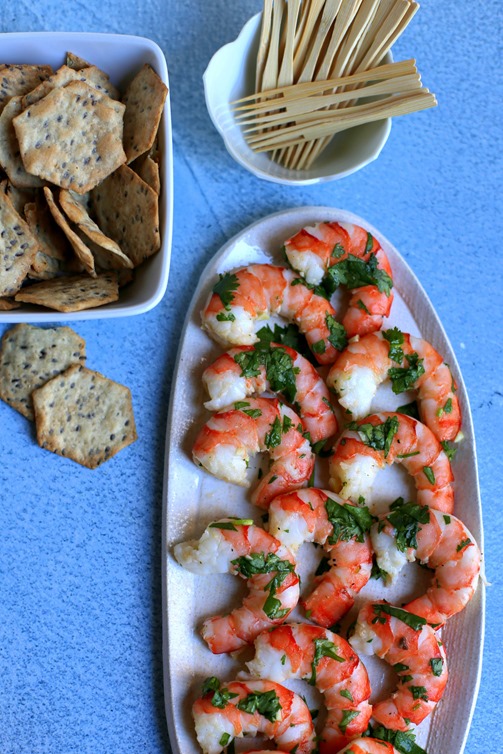 If you're in the same boat, I have a new appetizer you must try this holiday season. The best part? It can be prepped ahead of time (in fact, I recommend it!) and everything comes together in one dish. The effort level of this appetizer is minimal but the flavor is high! Just the way I like it!
I made this Easy Cilantro Shrimp Appetizer recipe for the first time this past weekend when I attended an ugly sweater holiday party. It's the kind of recipe you can play around with in terms of how you choose to serve it. The shrimp can be served as a salad, on top of crackers or even skewered if you'd like them to work more as an entrée to serve with other side dishes.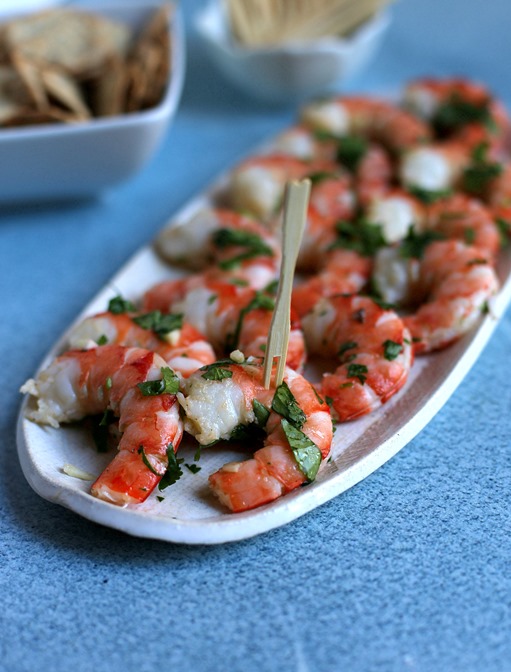 I got everything I needed to make this Easy Cilantro Shrimp Appetizer at ALDI, including the Specially Selected Black Tiger Shrimp (they're HUGE and meaty and SO good), fresh cilantro, garlic, SimplyNature Organic Extra Virgin Olive Oil, limes, Stonemill Pink Himalayan Salt (my latest ALDI obsession – I use it every single day) and the gluten-free crackers and cucumber slices I paired with the shrimp. I highly, highly recommend using the colossal-size black tiger shrimp in this recipe, as they hold up well and seem a lot more substantial than typical teeny cocktail shrimp.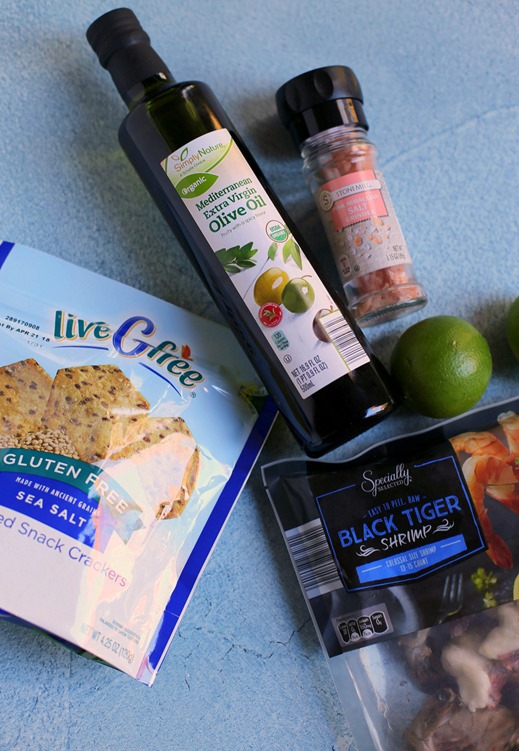 When I set out to make an appetizer for Saturday's party, I wanted to be sure I brought a dish that was both gluten-free and dairy-free. One of my closest girlfriends is currently breastfeeding and had to eliminate both dairy and gluten from her diet when her son began showing signs of intolerance to dairy and gluten whenever she would nurse. This Easy Cilantro Shrimp Appetizer fit the bill!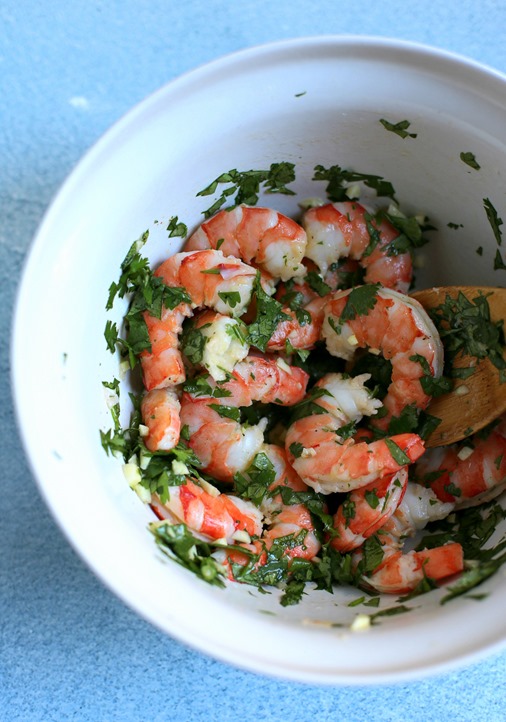 I opted to serve the shrimp with toothpicks so guests could eat them on their own or put them on top of a cucumber slice or liveGfree Gluten Free Sea Salt Multiseed Crackers (a third-place winner of the 8th Annual Gluten-Free Buyers Guide Gluten-Free Awards!). The whole platter completely disappeared within 20 minutes of our arrival at the party!
As far as prepping this dish ahead of time, I highly recommend it, as this will give the shrimp time to marinate in the cilantro and lime flavors. Even though making the entire recipe won't take you more than 20 minutes, it's really nice to be able to check one thing off your to-do list 24 hours before you have to attend or host a party, right!?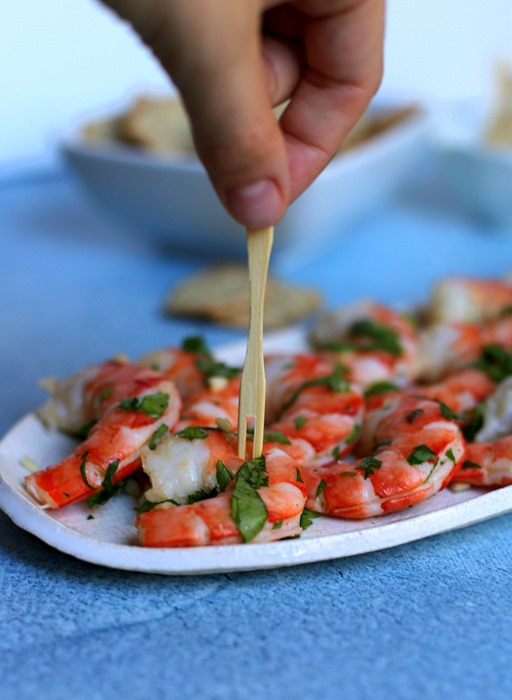 Question of the Day
What are you favorite appetizers to enjoy at holiday parties this time of year?
I'm not picky but I always love deviled eggs, shrimp cocktail, spinach artichoke dip, shrimp dip, baked brie and stuffed peppers or olives. Plus, any kind of party mix always calls to me!