When you're looking for a deliciously creamy dip that will be a hit at any party, this Simple Shrimp Dip is the perfect go-to dip recipe. Easy to make and packed with tiny shrimp, it's a dip that will have you going back for more after every savory scoop!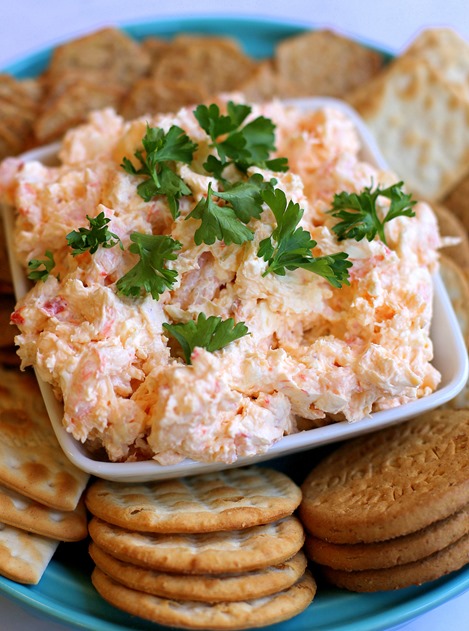 Is it just me or are there certain members of your family you always seem to associate with a specific recipe or dish? When I think of my grandma (Mimi) I think of her sugar cookies. When I think of Ryan's grandma (Bubbee), I think of glazed carrots and biscuits and gravy. When I think of my mother-in-law, I think of pineapple soufflé. When I think of my mom, I think of monkey bread, cheesepuff casserole and the best homemade stuffing in all the land.
When I think of my Aunt Laurie, I think of this simple shrimp dip!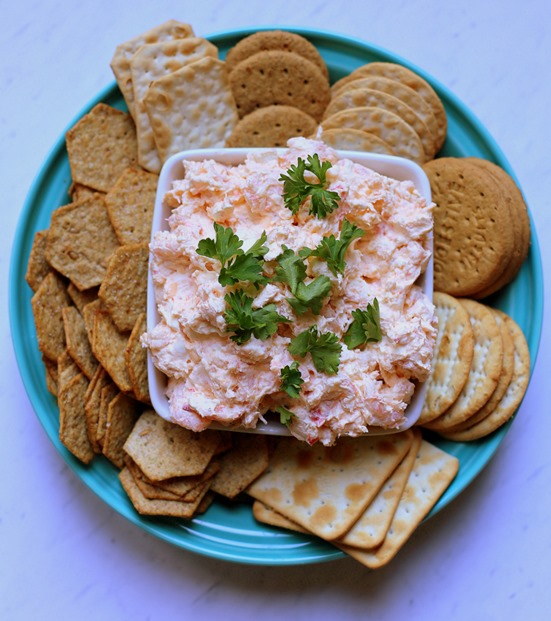 My Aunt Laurie's simple shrimp dip is a recipe she's been making for as long as I can remember after her best friend Rhonda introduced it to her years ago. It was such a hit within our family that the dip began surfacing at every family party. Now it's a staple family recipe I know I can look forward to anytime my mother's side of the family gets together.
With Easter right around the corner, I figured today would be a great time to share this crowd-pleasing recipe with all of you in case you are putting together a menu or planning to contribute an appetizer to a fun gathering with friends or family this weekend.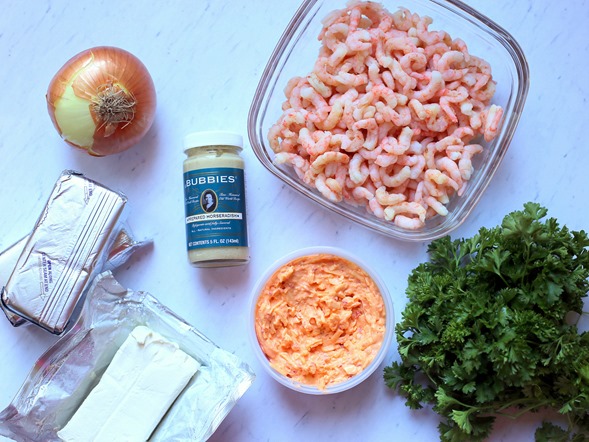 Aside from the sheer ease of assembling this recipe, the thing I love most about this shrimp dip is the fact that you can make it ahead of time. To be honest, I'd actually encourage you to make it ahead of time, as I think it tastes even better the next day. I don't know about you, but whenever I'm preparing for a party, I'm all about checking things off my to-do list the day before chaos ensues. This dip can be one of those things!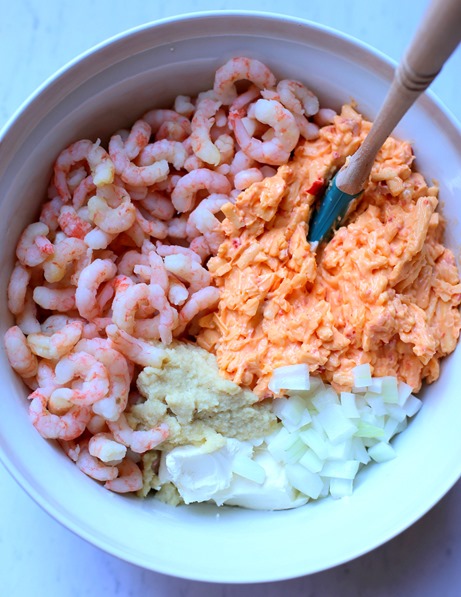 An added bonus? The only chopping you'll have to do to make this recipe is chopping up three tablespoons of onion. Aside from using a little muscle to stir through thick cream cheese, that's all the real legwork you'll need to do to assemble this dip. I didn't title this recipe Simple Shrimp Dip for nothin'!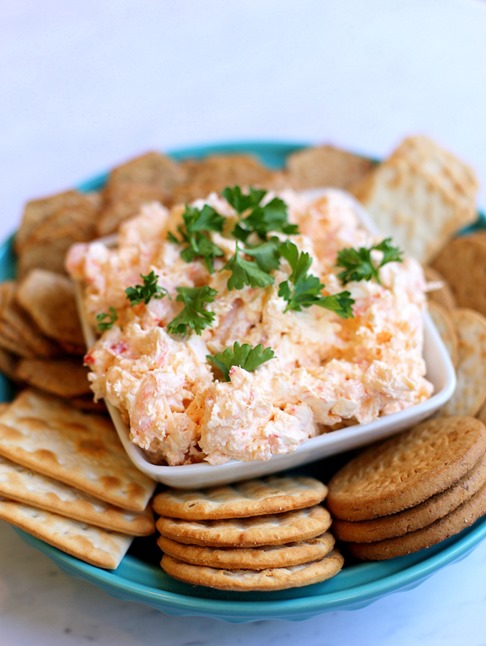 Simple Shrimp Dip
Ingredients
24 ounces cooked, deveined cocktail shrimp
3 8-ounce packages cream cheese
3 tablespoons horseradish
3 tablespoons chopped onion
1 1/3 cup pimento cheese
Directions
Combine all ingredients in a large bowl. Stir until everything is mixed together and place in the refrigerator for at least one hour.
Serve with crackers and enjoy!
Recipe Notes
This recipe makes a LOT of dip. We're talking a TON. It's perfect for a large party but if you're hosting just a couple of people and want to serve this dip as an appetizer, I recommend cutting the recipe in half.
We love to serve the dip with an assortment of crackers but it is also delicious on top of cold cucumber slices!
More Party-Friendly Recipes To Try
Question of the Day
What is your all-time favorite dip?
I know it's not all that creative, but it's hard to top guacamole for me! I also love seven-layer dip. That stuff if seriously addicting!