This easy deep dish quiche recipe is worthy of a special occasion but easy enough to make for a simple Sunday brunch with loved ones. Fresh spinach, breakfast sausage, onion and cheese make this savory dish a hit with the whole family.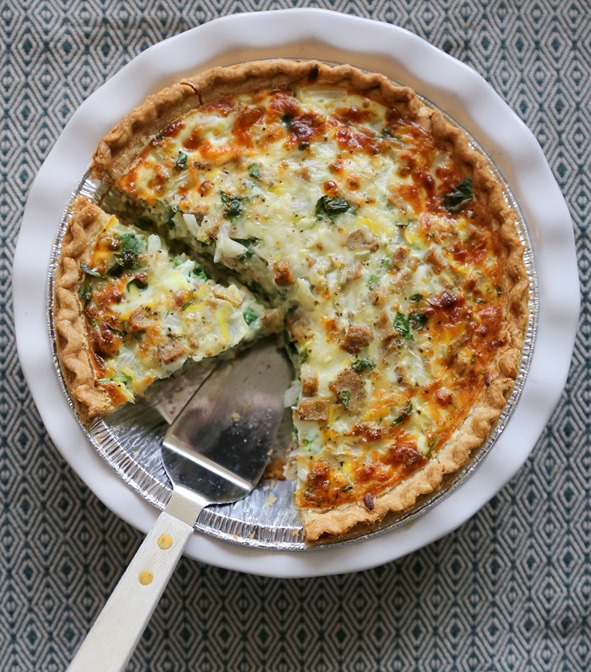 A little more than a year ago I fell in love with frittatas. I began making them regularly after Chase was born because they are an easy and filling breakfast I can prepare ahead of time and reheat in the morning. Plus, they make it easy to incorporate a lot of veggies into my morning meal in a tasty way. In my obsession with frittatas I somehow forgot about frittatas' indulgent cousin, the incredibly delicious quiche, until one of my girlfriends made one to share for breakfast the other week.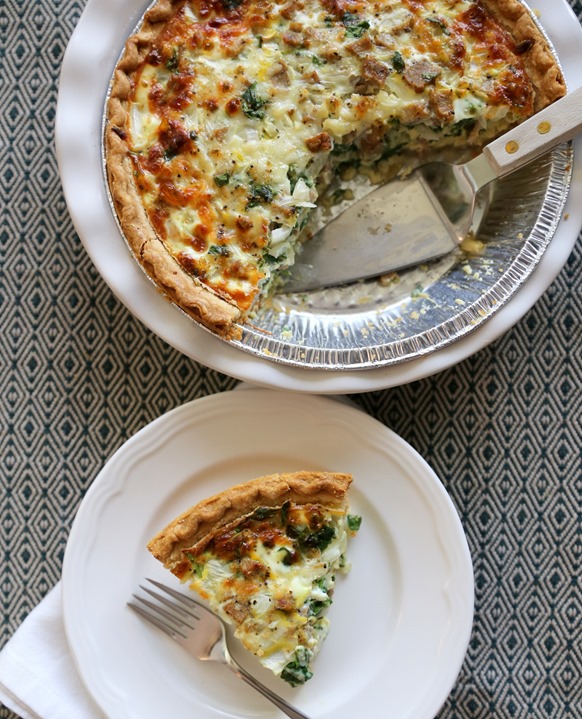 I can't believe I let my love for quiche fall to the wayside but thankfully it only took one bite of the flaky crust of a savory, cheesy piece of quiche to remind me of this special breakfast dish.
My friend's quiche recipe came from The Kurtz Corner blog and was absolutely incredible. I instantly asked her to send the recipe my way, determined to make it again as soon as possible. I revamped it a little bit to make it slightly less heavy, though it still tastes every bit as rich and delicious.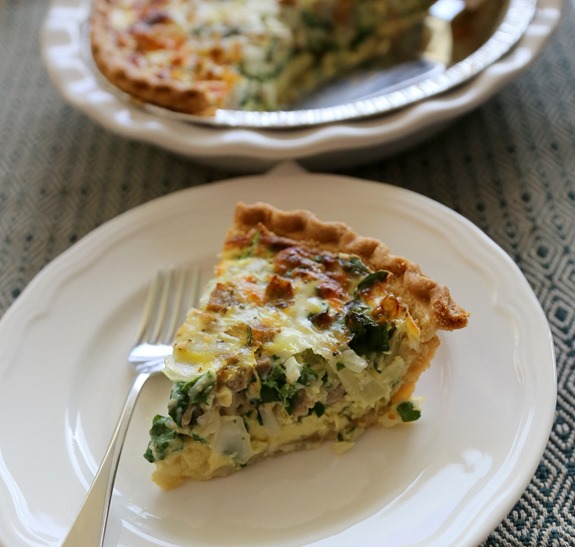 Quiche by nature is not exactly the world's healthiest breakfast option but it is a dish worthy of a special occasion brunch or breakfast. With the holidays on the horizon, keep this one in your back pocket to use when you have friends or relatives in town and want an easy, savory breakfast dish to share. I am also planning to make this quiche again this weekend as a hostess gift to give to friends who are hosting a chili cook-off on Saturday. I figured bringing breakfast for the morning after their party would be a welcomed treat!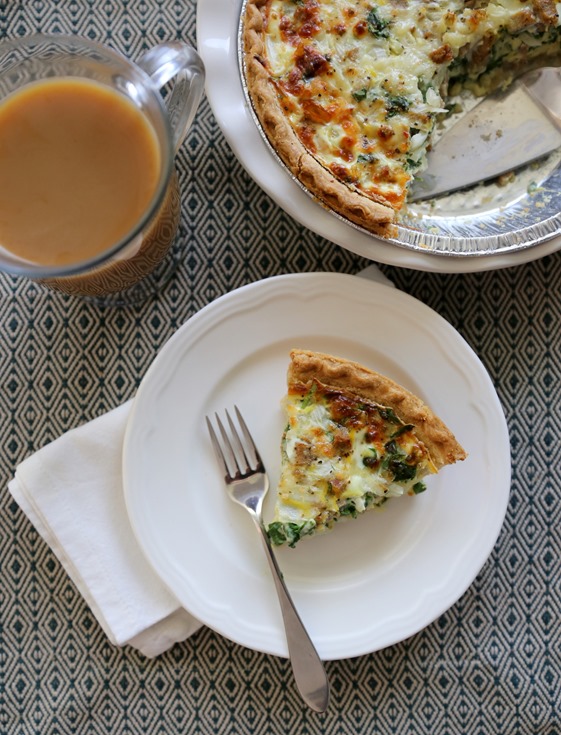 Easy Deep Dish Quiche
Makes one quiche
Recipe adapted from The Kurtz Corner
Ingredients
5 large eggs
1 cup whole milk
1/4 teaspoon salt
1/2 teaspoon pepper
1/2 teaspoon onion powder
1/3 yellow onion, minced
1 1/2 cups freshly chopped spinach
1 cup cooked breakfast sausage (ground sausage or finely chopped breakfast sausage links will work)
1 cup shredded cheddar or mozzarella cheese
1 9-inch refrigerated deep dish pie crust
Directions
Preheat oven to 375 degrees.
Whisk the eggs together. Add whole milk, salt, pepper and onion powder.
In the bottom of a deep-dish pie crust, sprinkle half of the chopped spinach. Top with half of the cooked sausage, half of the minced onion and half of the shredded cheese. Repeat the layers again, beginning with the rest of the spinach, followed by the sausage, onion and cheese.
Pour egg and whole milk mixture into the pie crust over the layered ingredients. Bake for 40-55 minutes or until egg mixture is firm and the top is golden brown.
Cut into wedges and serve warm.

Enjoy!
Note: You may substitute heavy cream for the whole milk for a thicker quiche. (Higher fat content in the dairy will yield a firmer quiche.) Cooking time may be slightly reduced.