Today is flying by! After spending the morning finishing a freelance piece, I hightailed it over to Marion Senior Services to deliver lunches to the seniors on my Meals on Wheels route before making it home in time for a quick lunch that I tried to subtly eat while on the phone for a conference call.
I wonder if they could hear me chewing as I polished off the end of a bag of chocolate-covered almonds?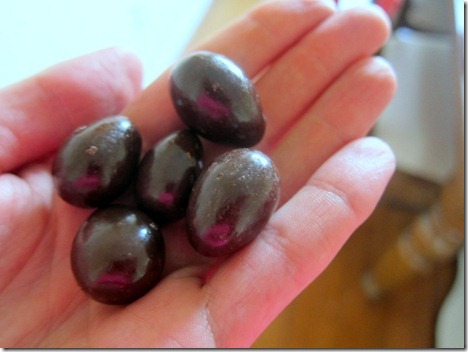 I tried to be discreet!
Lunch also included a MorningStar Farms spicy black bean burger sandwich with Dijon mustard and spring mix greens.
Plus two carrots that I washed and cut into rough pieces to eat on the side. 
November
I forgot to say Happy November to you guys this morning! I have a feeling November is going to absolutely fly by since the holiday season seems to kick into gear immediately following Halloween.
We'll be celebrating our first round of Thanksgiving with Friendsgiving at our house this weekend, but first we have to make it through an obstacle course run!
Ryan and I are getting excited about the Hero Rush, our first 5K obstacle course/mud run that we're doing with a group of Ryan's coworkers on Saturday morning. Having never completed an obstacle course/mud run before, I'm not really sure what to expect. I envision a race that is part run and part intense adult version of Field Day.
Please tell me you guys had Field Day in elementary school? It was the best day of the year and featured tons of different outdoor relay races and games. All of the students wore t-shirts representing their class and while I never remember winning a thing, it was always a blast!
Question of the Afternoon
What are you looking forward to in November?