One of the ways I motivate myself to workout on days when I don't know what I want to do at the gym is taking some time to browse my fitness board on Pinterest.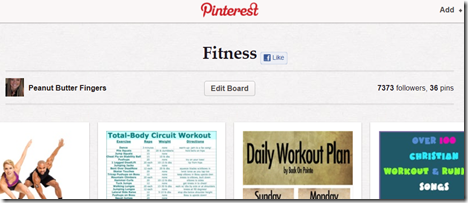 (You may click the above picture to check out my board if you're interested.)
I seem to gravitate toward pinning circuit workouts (surprise, surprise), quick strength workouts or cardio workouts that change things up. Perfect for days when I'm feeling less than motivated!
Today Annette's Outside Your Comfort Zone 50s Workout caught my eye. According to Annette, the workout mixes Crossfit with BodyPump (I miss you!!!) and boot camp-style workouts for one killer workout that takes you outside of your comfort zone.
Annette creates some of my favorite workouts because they kick my butt and fight boredom. A one-two punch!
The workout I did today was awesome. From pounding out 50 barbell squats to 50 mountain climbers, I felt like I was working hard and challenging my body in a good way. Thanks for the awesome workout, Annette!
Breakfast
I had high hopes to make spinach-packed scrambled eggs for breakfast this morning, but when I opened the bag of fresh spinach, the leaves were slimy and just plain gross. Bummer.
I ended up making scrambled eggs with shredded mozzarella cheese and an al fresco smoked andouille chicken sausage.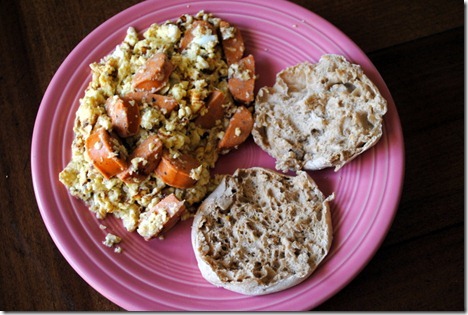 Though I missed the added pop of color and nutrition from the spinach, the eggs were still quite tasty.
I also had a hot mug of coconut crème coffee that hit the spot!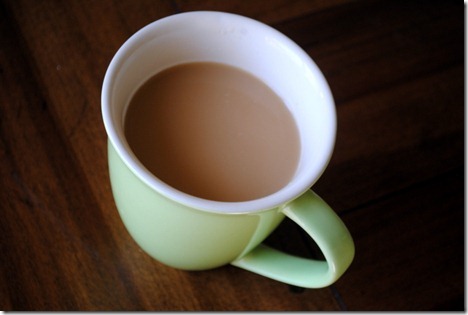 I'm hoping to take Sadie on a quick hike with Ryan before spending the rest of the day setting up for the Taste of Ocala.
See ya in a bit!