Ryan, our friend and house-guest for the weekend Ross and I woke up close to 9 a.m. this morning. As Ryan and I laid in bed, he suggested rounding up the dogs and going for a group hike on our favorite trail at Weikwa Springs.
After Ross responded enthusiastically to the idea and we ate a quick breakfast, our little five-some piled into Ryan's car and headed for the trail.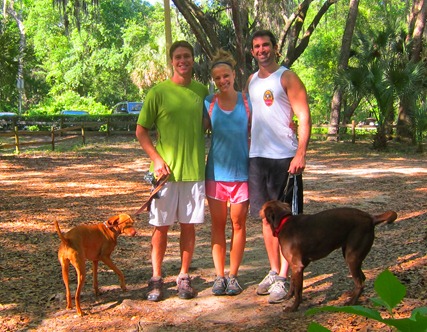 Ryan and Ross were anxious to see how Sadie and Ross' chocolate lab Kona would do hiking together since the dogs will be joining the guys on their big hiking trip at the end of May.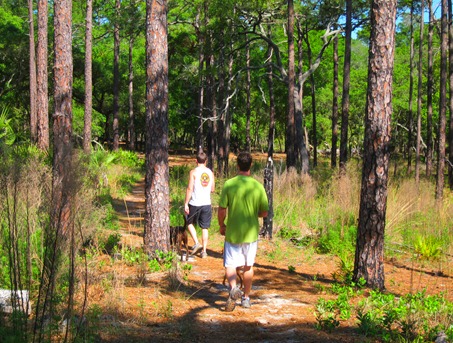 Sadie and Kona take the same approach to hiking. They like to be the line leader, sniff everything, sprint ahead and then sprint back to us just to make sure we're still truckin' along behind them. 
As usual, we followed the orange blaze trail and completed just shy of six miles.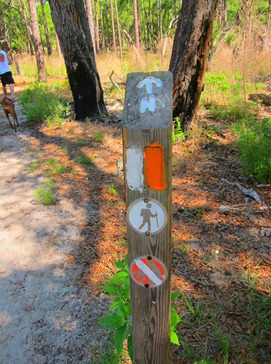 Are you ready for Where's Waldo: Hiking Edition?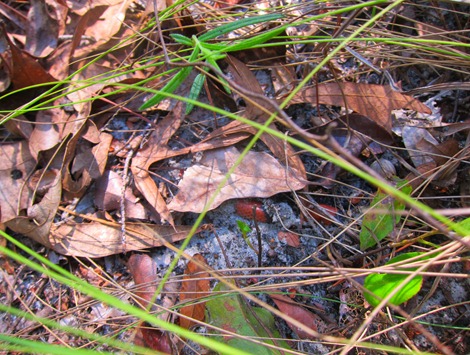 See if you can spot the reddish/orange and black kingsnake! It was non-venomous, but still freaked me out! Ryan, Ross and I spent quite a while trying to remember the rhyme about whether or not certain snakes are poisonous…
Red before yellow, kill a fellow.
Red before black, friend to Jack.
This one passed the test and is a "friend to Jack!"
After our hike, we hopped in the car and headed home, making a short pit-stop at 7-Eleven where the boys picked up some food.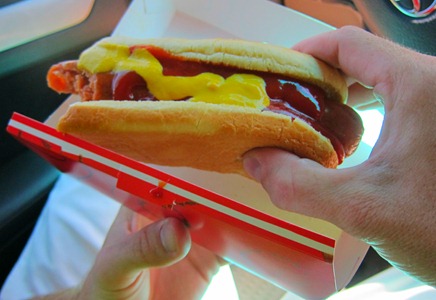 Ryan bought a 1/3 pound "Bahama Mama" hot dog that was unbelievably thick! After expressing my skepticism over convenience store hot dogs, I shared a couple of bites and must say I was quite impressed!
We also shared a Mountain Dew Slurpee because you have to buy a Slurpee when you go into 7-Eleven. It's a rule.
Sadie helped us polish it off.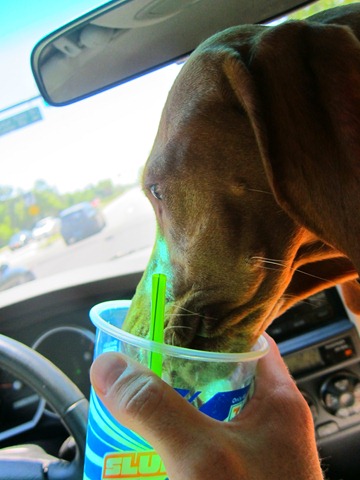 Just what she needs… caffeine.

When we arrived home, Ross wanted to shower before hittin' the road back to Gainesville, so I ate a quick peanut butter and jelly sandwich and left the boys to go to Publix to pick up our food for the week.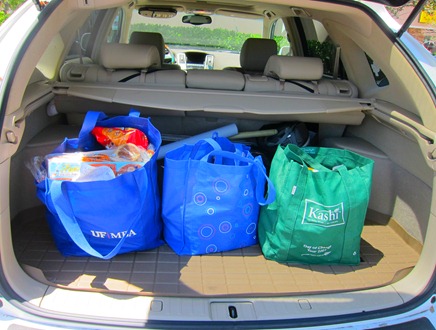 For some reason our grocery bill was significantly higher than usual. I think it's because it was a "restocking" trip where I had to pick up a lot of essential items that we ran out of simultaneously that we don't typically have to buy every week like olive oil, frozen fruit, certain spices, etc. 
Now I'm hungry again, so I'm off to make a snack before getting a head start on dinner. Veggie lasagna is sounding like a GREAT option…
P.S. The Fashion page was updated this afternoon!