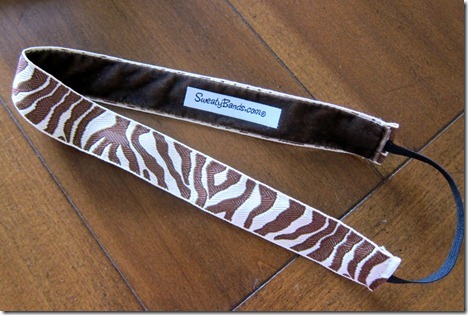 It's made by SweatyBands and I got it in the swag bag from the Fitness Magazine Meet & Tweet event in New York City last month. I think it's so fun!
Workout
I wore the snazzy headband to the gym late this morning after working for a few hours today. I wanted to try out my gym's Functional Training class and since it was taught by the instructor I love, I had high hopes.
I arrived a little early and spent 20 minutes on the elliptical jamming out to the songs that popped up on my iPod. I wasn't listening to one of my favorite workout playlists, but my iPod just seemed to sense what kind of music I felt like listening to today.
Two songs of note: Bills, Bills, Bills by Destiny's Child (you know I love my '90s music) and Whipped Into Shape from Legally Blonde: The Musical (yes, really).
(Side note: When I got home from the gym, I started listening to the Destiny's Child station on Pandora when I sat back down at my computer and I am in love.)
Onto the Functional Training class…
The class ended up being a circuit-style workout and we completed each circuit three times:
It took the class 30 minutes to complete, including a brief warm up and cool down. (This is exactly the kind of class I'd love to teach in the future! Baby steps.)
Lunch
Lunch today was a two-parter.
I started with a simple spinach salad topped with leftover glazed chicken from last night and an Asian sesame dressing.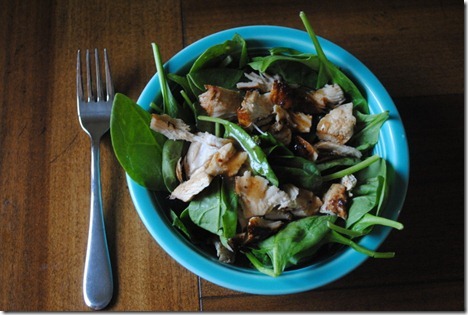 About 20 minutes later I assembled part two of my lunch.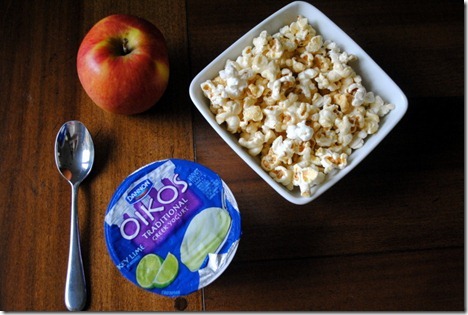 Oikos key lime Greek yogurt (which reminds me I need to make my key lime protein smoothie again!) + Kettle corn + Apple

And I'm off!

More work to do! I'm also hoping to make it out to Publix at some point today because a few of you let me know that you saw one of my freelance pieces in the summer edition of their GreenWise magazine and I still haven't seen it myself!

First things first, a bunch of you asked about the headband I was wearing in this morning's post…