Eating overnight oats for breakfast in front of the computer isn't quite as fun as sipping hot coffee with my grandma while scones bake in the oven.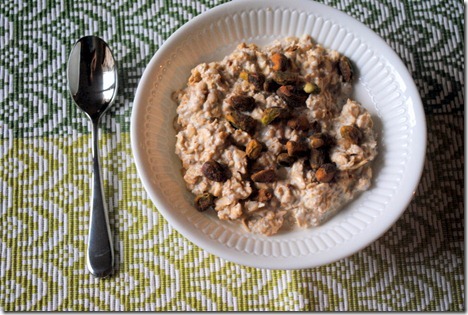 It's back to reality today!
I awoke with my to do list running through my head and, after a quick walk around the neighborhood with Ryan and Sadie, I sat down at the computer and dug into my overnight oats while responding to a few important emails.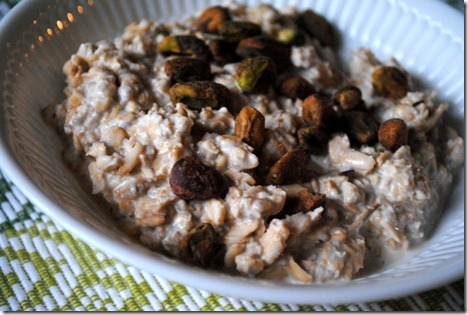 I topped my overnight oats with roasted pistachios and really liked the added crunch. I'm all about the texture!
Living Close to Family
The day after I return from a trip, I always feel a little frazzled. My inbox is out of control and my to do list is long, but it's good to be back home.
I am usually able to get some work done when I'm on the road, but I stayed far away from my computer (except for popping in to write blog posts) when I was in Gettysburg in favor of spending every moment I could with my family. I don't get to see my grandma or aunt very often, so it was a special trip!
Though my parents and sister live in Florida, my grandmothers, aunts, uncles and cousins live all across the country. I envy people who grew up with grandparents, aunts, uncles and cousins nearby.
As Ryan and I dream about the future, we flip flop a lot when we talk about where we'd like to live long term. While we both love the mountains and changing seasons, we really enjoy the ability to hop in the car and drive two hours to see our parents. Family is very important to us and when I think about the future and our desire to start a family in a few years, having family close by seems even more important.
I also realize that moves are often dictated by jobs (like our current move to Ocala!), so who knows where we'll end up. Since my job is flexible and Ryan is enjoying his job here, Florida is working out just fine for us at the moment!
Questions of the Morning
Do you live close to your family?
If you could live anywhere where would you want to live?
I get the best feeling when I'm in the mountains and absolutely love North Carolina. I love changing seasons and also fell in love with Colorado when I visited my friend Michaela in Denver back in February. Gorgeous!