The following post kicks off a series of PBF reader-submitted stories about their positive experiences out and about in the community with volunteer organizations.
Below you will find stories from Courtney, Jess, Jess (two Jess'!), Megan, Meg, Mary and Nollis about their work with Girls on the Run, a national organization that encourages preteen girls to develop self-respect and healthy lifestyles through running.
I couldn't believe just how many stories about positive experiences with Girls on the Run I received, so I figured I would kick off this series with one heck of a long post saturated with the stories of seven different women and their experiences with the organization.
You may visit the Girls on the Run website and learn more by clicking below:
Courtney's Story
I first started volunteering with Girls on the Run, as a team coach in 2010, and once I recovered from the pressure of 13 pre-teen girls staring at me expectantly, I absolutely loved it.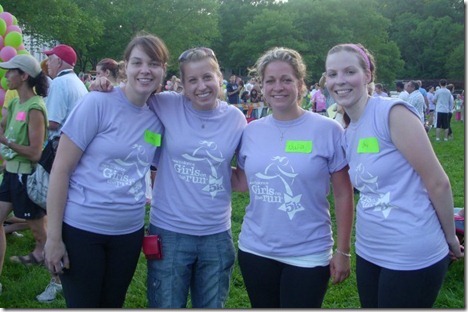 (I'm second from the left!)
Every practice includes running, but also activities that emphasize team work, healthy self-esteem, positive relationships and overall wellness – so important for girls that age.
While it was awesome to help these girls achieve their goal of running a 5K, the days that left the biggest impression on me were those where we just sat in a circle and let the girls talk. I found that being a younger coach encouraged the girls to be more open with me than they may have been with their moms or teachers.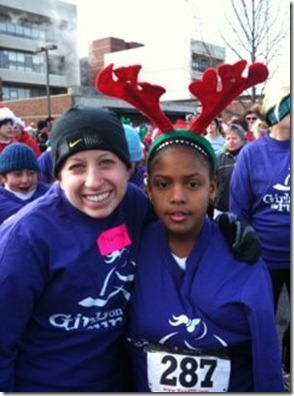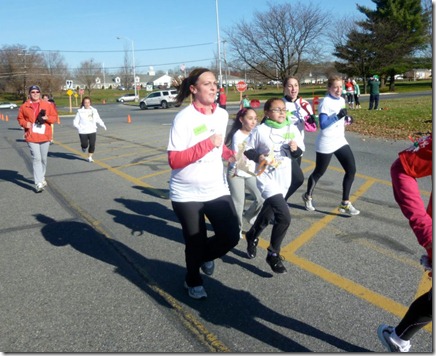 And watching those girls cross the finish line 12 weeks later is one of the most rewarding experiences I've ever had. One of our girls, Kailey, absolutely hated running and was not shy about letting us know! However, come 5k day, she crossed that finish line with the BIGGEST smile on her face. You could literally see the pride glowing!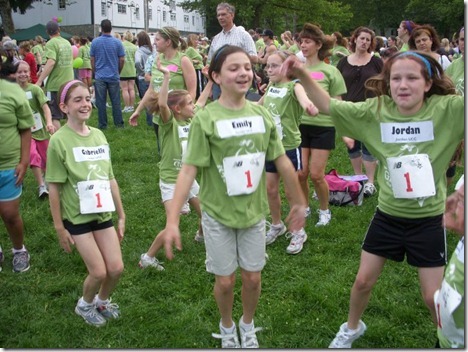 While coaching can be a big commitment,every girl needs a running buddy to accompany and encourage them during the 5k,so it's great to volunteer just a few hours to help a girl reach her goal. I could go on and on about this program, but definitely check out the website for more info or to find a local chapter near you!
Jess' Story
Hi, I'm Jess!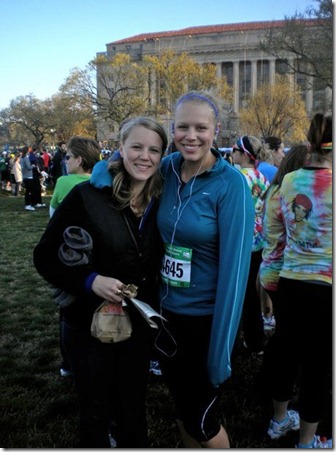 A couple years ago, a coworker of mine asked me if I would like to volunteer and help her with Girls on the Run. I had recently gotten into running myself, and when she told me about the program, I was immediately interested. I was 22 when I completed my first 5K, these girls were doing the same thing at 8!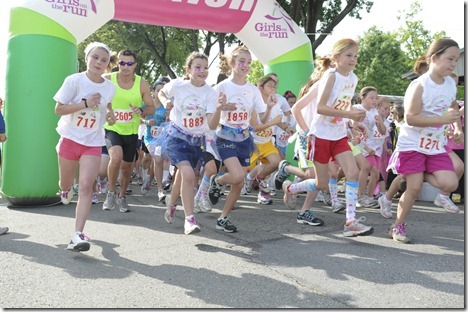 At my first race I was kind of overwhelmed by the enthusiasm of the hundreds of girls, but it was contagious. The whole event felt like one big party and I was hooked!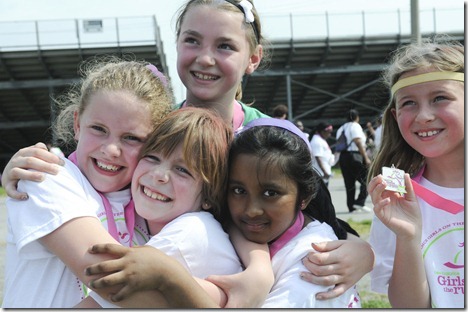 Now each season I serve as start/finish captain and work with the race committee to prepare for the event. On the day of the race, I oversee the race start and finish, coordinate volunteers, prepare the finish line and much more!
My favorite part of my role at the race is getting to see each and every girl finish! I've seen all sorts of heartstring-pulling finish line moments at marathons, but there has been nothing more inspiring to me than watching a young girl put everything she has into crossing the finish line of her first 5K, with all of her classmates cheering her on!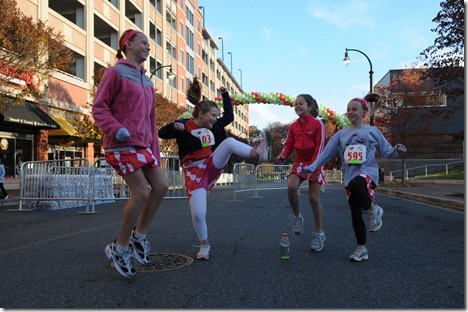 Volunteering with Girls on the Run has been an incredibly rewarding and FUN experience, and I look forward to continuing to be involved for years to come!
Jess' Story
I first heard about Girls on the Run from Caitlin of Healthy Tipping Point. Once I moved to Columbus, OH and settled in, I knew I wanted to get involved! Girls on the Run is a life-changing program for elementary and middle school girls that intertwines self-esteem and empowerment lessons with running and physical activities. It promotes self-awareness, happiness, and health. I can't think of a more positive and beneficial program to support that directly impacts young girls!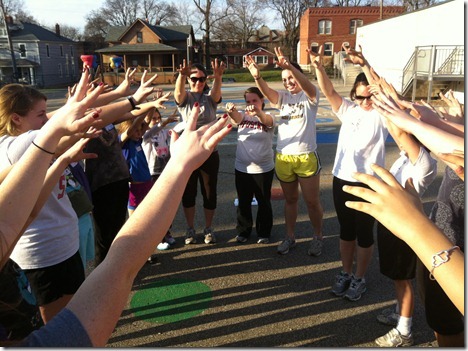 I'm so happy to be a part of Girls on the Run of Franklin County, as both a running buddy and a board member. Even if you're not a runner, you can get involved, so don't feel like you have to be a marathon runner. We come from all backgrounds, shapes, and sizes, and we love supporting the next generation of women. I've also met some of the most incredible and inspiring women involved with Girls on the Run, and it's definitely a great way to meet like-minded peers.
If you'd like to learn more or get involved with the central Ohio council, please stop by my blog, Curating Style, and drop me a line!
Megan's Story
Last year while I was searching for a volunteer opportunity that incorporated my passions for health and fitness, a friend suggested GOTR. I contacted my local chapter and found they were having a 5K and needed course monitors. Despite all of the races I've run, I've never been on the volunteer side, so I jumped at the chance. That day was life changing for me, and not only because I got to ring a purple cowbell and yell at small people.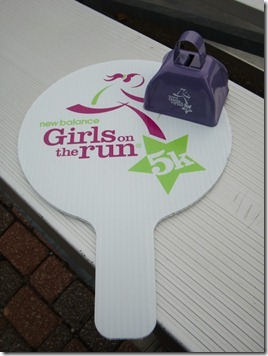 What I saw came in all shapes, sizes, colors, ages and speeds; each one beautiful and radiating pure joy. There was so much support for these young girls every step of the way in the form of sponsors, mentors, parents, siblings and volunteers.
The girls had set goals and were seeing them through, some I am guessing for the first time. They were challenging their minds and bodies, learning about healthy living and paving the way for a bright future. Right ON.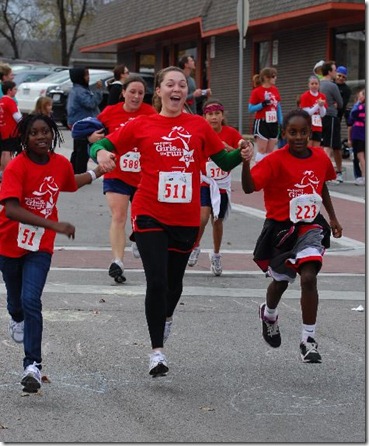 Volunteering that first day for GOTR affected me so much that I applied to be an assistant coach for the spring season. We've only just begun, but I have no doubt that what I will take away from these young ladies will FAR surpass what they will receive from me. Which I'm afraid might just be a whole lotta "You Go Girl," fist pumping Arseneo-style and spandex. I'm cool like that.
Meg's Story
When I moved to Washington, D.C., after graduating from the University of South Florida, I felt a bit lost. As I adjusted to a full-time work schedule, my lifestyle became anything but healthy. I gave up exercising (not that I did it that regularly in college) and thought I couldn't afford to eat healthy. After a year of this, I had gained quite a bit of weight, frequently suffered from colds and other illnesses, and allowed my self-esteem to take a beating. Eventually, I began running – a few miles a couple days a week. Amazingly, I stuck with running and it became increasingly important to me. Each time I achieved a new goal, I felt better about myself. My confidence improved drastically.
One day, while out running, I reflected on the positive impact the sport had had on me, now and back when I ran cross country in high school. I wondered if there was an organization that allowed young girls to experience these same emotions. When I got home from that run, I began searching the Internet and came across a nonprofit called Girls on the Run (GOTR). The organization's mission embodied exactly what I wanted: "to inspire girls to be joyful, healthy and confident using a fun, experience-based curriculum which creatively integrates running."
Immediately, I contacted my local chapter to learn how I could get involved. Since then, I regularly volunteer with GOTR in Washington, D.C. Unfortunately, due to the unpredictable nature of my career, I am unable to serve as a coach like many running bloggers. However, I have been able to stay active through different volunteer opportunities such as being a Running Buddy at the 5K races, helping spread the word about GOTR in the D.C. community (including handing out Georgetown Cupcakes to passers-by outside a local running store!), serving as a SoleMate while training for the Rock n Roll USA Half Marathon to raise money for scholarships, and supporting other activities throughout the year. Needless to say, there are countless ways to get involved with GOTR that allows it to work with many people's schedules.
Mary's Story
GOTR helps support young girls whose home-life situations are missing support, emotionally, physically or financially through a scholarship program. A few months ago, I spent a Saturday morning meeting some of those scholarship girls and getting them fitted for new sneakers.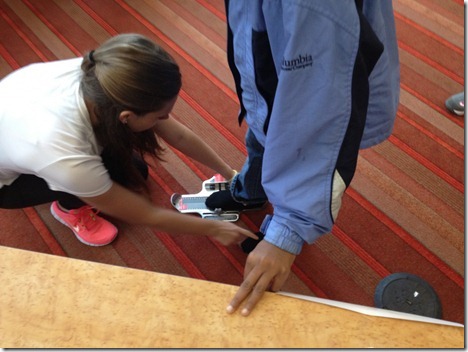 Pacers Running store volunteered their time to properly measure the girl's shoe size and to watch their gait for any needed stability. I spent my time meeting the girls, giving them some direction (stand in line here, take off your both your shoes, "Wow – check out those rainbow socks!," etc.) and finding out more about their experience with GOTR. Many of the girls had made friendships on their team and also across teams at other schools. Some of them would come up to my sign in sheet and ask if Jennifer or Mykia had been in yet to get their shoes. These 7-13 year olds impressed me with their politeness, inquisitiveness and desire to be involved.
In May and June 2012, I'll be back with GOTR to help organize and implement their end of season 5k race – putting together race packets and being a "running buddy" for one of the girls that needs some extra support during the race. I'd encourage any female runner to get involved with this organization – to enable young girls to feel good about themselves through physical activity. There is nothing better!
You may read more about Mary's experience on her blog.
Nollis' Story
I've been a volunteer for Girls on the Run for the past three years.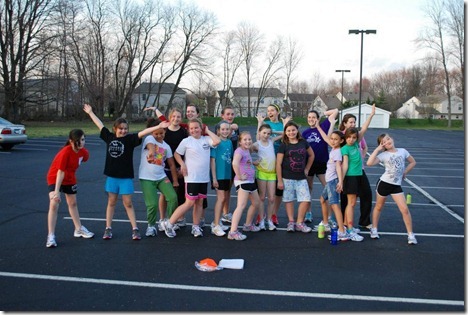 The program works with preteen girls, 3rd-8th grade, and is a character education program that encourages girls to develop self-respect and a healthy lifestyle through running, walking, and physical activity.
It addresses the girls' mental, physical, emotional, and social well-being. Teams meet twice a week for about 12 weeks for lessons, and the season ends with a 5k celebratory event that is open to the community.
I started volunteering when I was in graduate school studying school counseling. The program was perfect for me, combining my love for running and exercise with working with young girls at such a crucial time in their lives.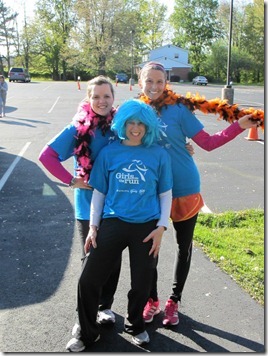 The lessons leave the girls feeling positive and uplifted, but often I feel that the coaches benefit more than the girls! These young ladies have taught me so much about myself and what it means to be a woman with a positive outlook on life, health, and fitness.The culminating 5k is such a celebration of hard work and learning. The girls have a blast, and so do I! I wouldn't trade my experiences for anything.