This post kicks off a go-go-go day for me!
After I publish this post, I have to quickly pack and drive two hours to Tampa where I'll be catching a flight to New York City. I'm jittery with excitement!
The good news is that despite my undying hatred for packing, it shouldn't be too bad since most of the activities on this trip require gym attire which takes absolutely no time to pick out.
Although someone does tend to make it a little more difficult…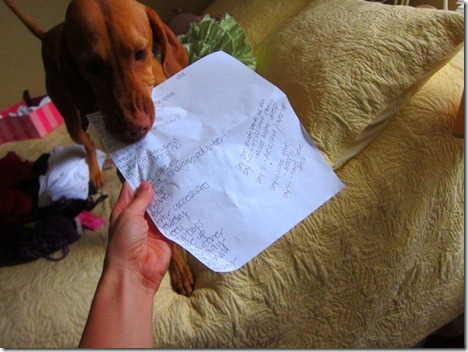 Workout
Today's workout was the exact same workout I did on Saturday and included a quick 20-minute warm up on the elliptical.
I spent my time on the elliptical quickly browsing through a small stack of magazines that I brought from home and planned to leave at the gym. I ripped out a few recipes and left three magazines behind. I'm assuming some of the gym-goers love seeing new magazines on the racks as much as I do, so hopefully they'll be a welcome addition to the racks that are currently stocked with Business Week and Motor Trend. No thanks.
Breakfast
Ryan and I were both feeling eggs this morning, so I made us his and hers egg sandwiches with two fried eggs, muenster cheese and strawberry jelly.
After breakfast, Ryan and I took Sadie on a one-mile walk around the neighborhood.
While walking, we noticed several trashcans in the middle of our neighbors' yards. They were tipped over and trash was everywhere!
Apparently the neighborhood bear struck again last night. It was a mess!
All this digging through the trash talk reminds me of this YouTube video of a very guilty looking dog (with the top of the trash can stuck on his head) that was caught after he went through his owner's trash…
Tank Caught After Digging Through Trash
It made me laugh because Sadie has the same guilty-looking expression when she knows she did something wrong.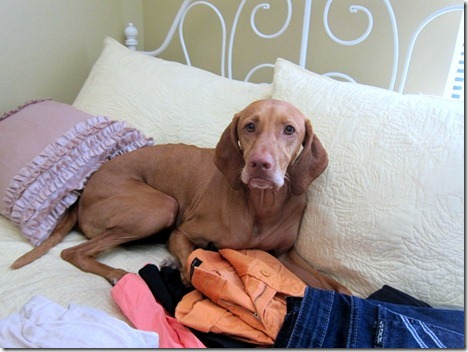 She then tries to parade all over your body, licking your face so you'll forgive her. I'm a sucker, so it works every time.
Question of the Morning
Do you think your pet knows when they've done something wrong? Do they have a "guilty face" or try to make up for their mistake?