Brrr baby! When I got off work today, there was a serious nip in the air!
I headed home, changed into warm play clothes and leashed Sadie up for a windy walk with my friend Carrie via cell phone. We wandered around our neighborhood for about 40 minutes while I caught up with Carrie and worked up an appetite.
I came home ready to prepare a HOT dinner.
Dinner
Late this afternoon I sent out a tweet inquiring about the use of goat cheese in risotto.
The resounding reply I received was "Yes, you may use goat cheese and risotto… and you should because it's delicious."
When Ellie tweeted this recipe for goat cheese and butternut squash risotto, I was immediately intrigued. 
I decided to take a stab at it and altered some ingredients while crossing my fingers for success.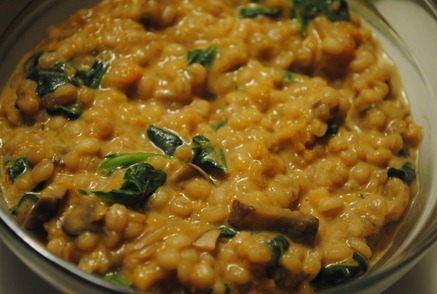 Apparently I didn't cross my fingers in vain, because my alterations turned out a-okay!
The risotto came out creamy and flavorful. It was the perfect meal to enjoy on a cold night.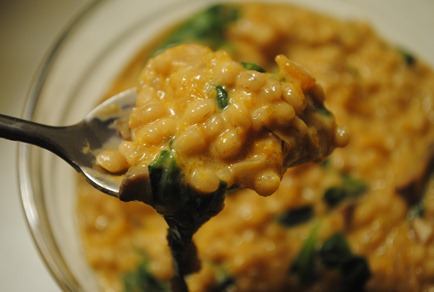 For the goat cheese in the recipe, I used a mild Chavrie goat cheese that I received in a package of different cheeses from Alouette about a month ago. (Remember the three-ingredient pumpkin cheesecake mousse? Nom.)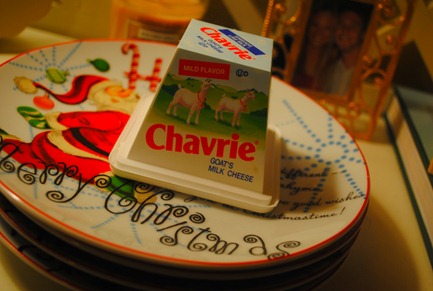 Though I am a big fan of goat cheese, I have found that including it in recipes can cause an entire dish to taste like the flavorful cheese. When I first bought Chavrie goat cheese back in June, I fell in love with the mild flavor that had that great goat-cheese taste without being too overpowering.
It was the perfect cheese for this risotto because it added a creaminess to the dish without totally taking over.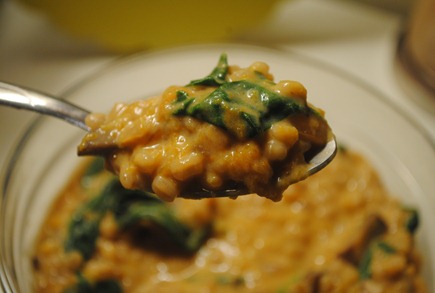 Both Ryan and I enjoyed this dinner muy mucho!
Now it's time to settle in for the night and fight with Ryan over whether to watch the Magic game or How the Grinch Stole Christmas (<—my vote). 😉
Goat Cheese and Butternut Squash Barley Risotto (Adapted from Waitrose.com)
Serves: 2 as a main dish, or 4 as a side dish
Ingredients:
1 tbsp. olive oil
1/2 large onion, chopped
1/4 butternut squash, peeled and cubed (approx. 150g)
325 ml beef stock
3/4 c. portobello mushroom, chopped
100g pearled barley
2 handfuls fresh spinach
60g goat cheese
Directions:
Heat the oil in a deep pan, then add the onion and sauté for 4-5 minutes until slightly softened. Add the squash and continue cooking for 4-5 minutes until it starts to color.
Add two-thirds of the stock, then cover and simmer for about 10 minutes until the squash starts to soften. Stir in the barley and mushrooms and continue to simmer gently for about 15 minutes. When the liquid has been absorbed, add the remaining stock. Stir occasionally until the barley is tender and the liquid is almost absorbed.
Remove from the heat and stir in the spinach, cover and allow it to cook in the residual heat.
Stir in goat cheese until fully incorporated.
Enjoy!