Hold on to your hats my friends, because tonight's dinner was fantastic!
Not only was it easy, but it required minimal ingredients and came together in less than 15 minutes!
Well, a little preparation was necessary since I placed two chicken breasts in the crock pot, covered them in one can of reduced-sodium chicken broth and let them cook on low all day (about 8 hours). But, if you're short on time, you could easily substitute rotisserie chicken meat in place of the slow-cooked variety.
Once I pulled the chicken breasts apart using two forks, I poured enough Bone Suckin' BBQ sauce on top of the meat to make it extra moist and flavorful. This step could easily be done ahead of time and would also make great use out of leftover chicken!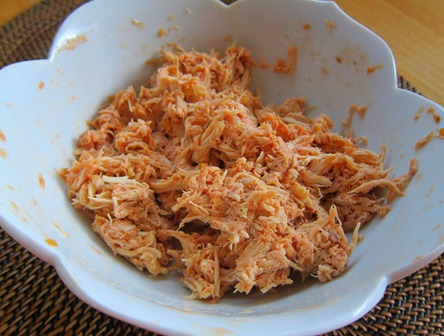 Once the meat was ready, I sprayed two cookie sheets with cooking spray and topped two Joseph's Lavash breads (one for Ryan, one for me) with a layer of BBQ sauce, sautéed onions, fresh spinach, the pulled BBQ chicken and shredded Mexican blend cheese to make BBQ chicken pizzas!
I then put the pizzas in a 350-degree oven until the cheese melted (about 5 minutes – watch closely so the Lavash doesn't burn!).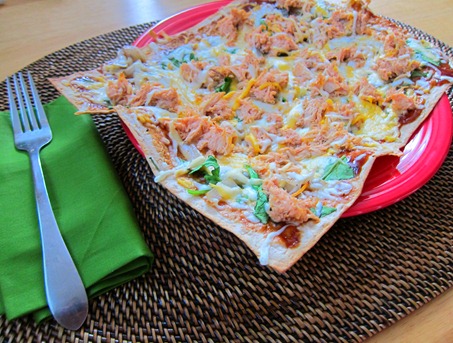 The pizzas were BIG and once Ryan and I saw the ooey gooey cheese, we couldn't wait to dig in!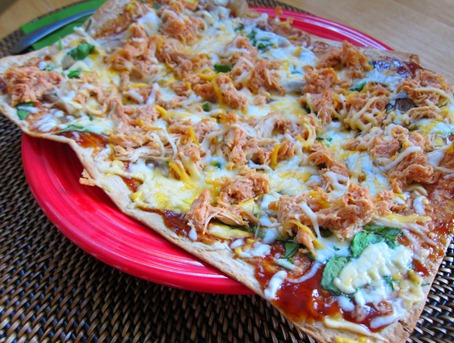 Yes, that's one pizza, and we both practically licked our plates clean.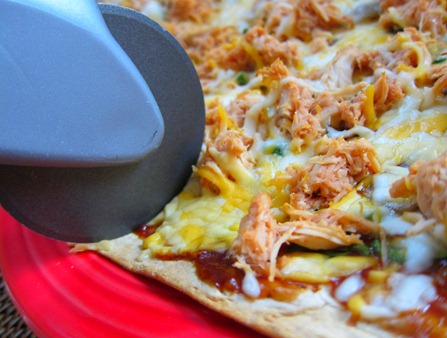 Such a good dinner!
I'm off to do some prep work on the blog because tomorrow morning the first FASHION-related giveaway will be debuting on PBF! I'm pumped about this one!!!