Today's Piloxing class was a good one! My favorite instructor taught the class and had me sweating in no time.
Group exercise classes can be so much fun. If you haven't taken a group exercise class that you've enjoyed and think it might be something you would really love, I highly encourage you to "shop around."
I initially thought I wasn't cut out for group exercise classes based on some of my previous experiences. After realizing that my inability to keep up with the instructor in a step aerobics class (especially when other participants are practically somersaulting over the flippin' step), doesn't mean that I can't hold my own in a different group exercise class like spinning or BodyPump. I love boot camp classes, strength-based classes and Jazzercise but feel like I might fall on my face in dance or step aerobics classes.
Indoor Triathlon
Before taking today's Piloxing class, I noticed a flier at the front desk at my gym that caught my eye.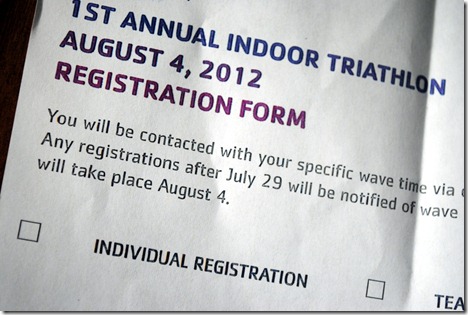 An indoor triathlon? (Pet peeve: Something cannot be "annual" without occurring at least one time before. I know my fellow PR and writing friends cringed at that one.)
The indoor triathlon includes a 15 minute run, 15 minute swim and 15 minute bike and the goal is to simply go as far as possible in the allotted time.
I don't own a bike, so the idea of competing in an indoor triathlon intrigues me a lot! I don't have any triathlon experience other than a relay-style triathlon that I did back in 2008 with two friends. It was a blast!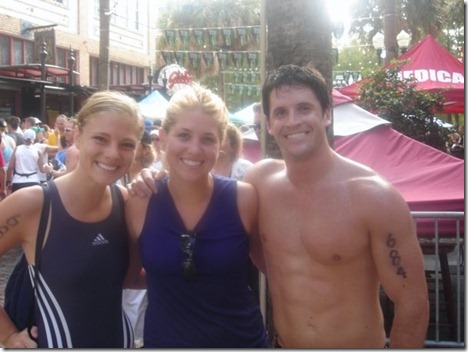 I swam, my friend Laurel biked and our friend Ryan ran. It was so much fun!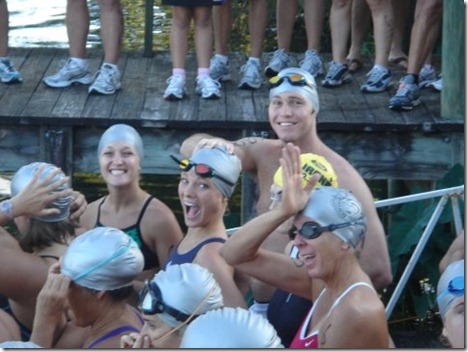 Sexy swim cap! (You can also see Ryan right behind me. He was the swimmer for a separate team that also competed in the triathlon. I think his team ended up getting third overall in the mixed male/female relay category!)
When it comes to doing a triathlon, I feel like I am the exact opposite from most people in that the swim is the part that excites me the most and the biking makes me most nervous.
I was a lifeguard and a diver and played water polo in high school and have always been very comfortable in the water, but hopping on a bike and pedaling around a ton of other bikers freaks me out.
Since the indoor triathlon eliminates the need for a fancy bike, I think it could be a lot of fun!
Lunch
Today's lunch was easy since it simply involved reheating leftovers from last night's dinner.
In the bowl:
Quinoa
Pork
Cauliflower
Spinach
Soy sauce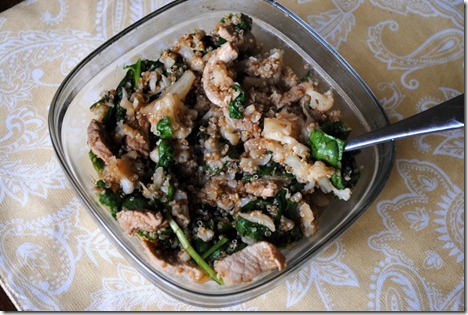 Yum!
Questions of the Afternoon
Have you ever done a triathlon before? Would you want to?
What part of a triathlon (swim, bike, run) makes you most nervous?