That hunky guy I told you guys I would be interviewing today?
That would be Dr. Travis Stork, co-host of the popular television show The Doctors!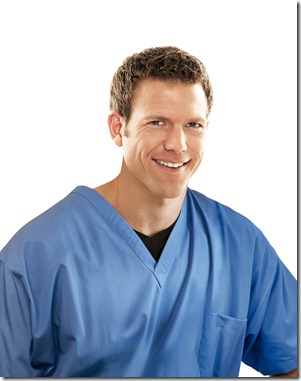 Heeey, hunky.
A couple of weeks ago, I received a press release from a public relations company, offering me the opportunity to speak with Dr. Stork thanks to General Mills. I pretty much freaked out and immediately emailed them back saying, "DUH, I'd LOVE to talk to Dr. Stud," in much more professional words, naturally.
I was given 15 minutes to ask him questions about healthy living and asked you guys what you'd like for me to ask him via the PBF Facebook page. I used your questions as well as a few questions I came up with on my own to interview him this afternoon.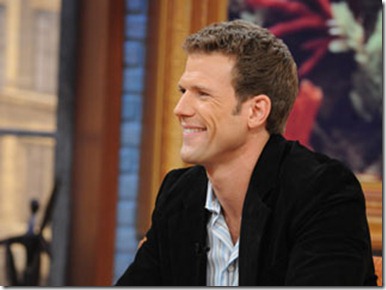 I typed my little heart out as he answered the questions, so the answers below are his answers, captured to the best of my ability.
And for those of you who were hoping that I'd ask him about his time on The Bachelor and his current relationship status (pretty sure he's engaged), believe me I wanted to, but I tried to maintain some level of professionalism between my giggles and stuck with healthy living questions. I'm sorry I've failed you.

Interview with Dr. Travis Stork
With such a crazy schedule, what tips to you have for staying healthy while living such a hectic, busy life?
I've learned that preparation and planning are key. If you're traveling a lot and don't think ahead and don't have healthy snacks in your carryon luggage, you're in trouble. If I don't pack mixed nuts, a whole grain snack or fruit, I'll be starving and tempted to make poor food choices. I try to always think ahead and come prepared. I don't have as much time to do formal workouts when I'm traveling, but I try to be on my feet a lot.  What I've been teaching people is that 30 minutes of walking a day can add three years to your life! Walk around the airport and make life a playground. 
What does a typical day of eating look like for you?
I eat five to six smaller meals. First thing in the morning I will typically eat whole grain cereal or oatmeal. My midmorning snack is often an apple or a banana with almond butter. For lunch, I'll have something revolving around whole grains. A sandwich with tomatoes, lettuce and avocado. I try to focus on lean proteins, healthy fats and good carbs.  Not overeating  and listening to my body is key. My afternoon snack is almost always mixed nuts. My dinner typically revolves around beans – high in fiber and high in protein!
I see you mentioned eating a lot of beans. Do you eat meat very often?
I am not a vegetarian and eat meat about one to two times a week. If I'm going to eat a burger, it will be a buffalo burger or grass-fed meat. I eat a vegetable-based diet, but one that is very hearty. If you don't enjoy the food you're eating, it will be much harder to maintain a healthy diet.
What is something many people in their 20s likely don't do but should do with regard to healthy living?
People in their 20s need to realize that chronic illness starts its progression in your younger years. Heart disease doesn't start in your 50s. That's why making healthy switches – like eating whole grains in place of refined carbohydrates – when you're young is so important. Switch to whole grains early on. Eat nuts in place of candy bars.  You may think you're immortal in your 20s, but now that I'm about to be 40, I know that the things you do in your 20s impact your heath in your 40s and beyond.
How do you feel about artificial sweeteners like Splenda and stevia?
I'm not a big fan mainly because once you grow accustomed to artificial sweetness levels, it's hard to appreciate natural sweetness found in whole foods like fruits. Just because something is processed doesn't mean it's bad for you – it depends on what's in it. Whatever you're eating, just read the ingredients. If you read ingredients and understand them, then you know what you're putting in your body. For example, make sure whole grains are number one, not refined carbohydrates.
As a doctor, what is a condition or disease you see repeatedly that is largely preventable? What is something you see frequently that makes you think, "Wow, this could've been prevented if only they…"
Type 2 diabetes. Eighty percent of type 2 diabetes cases are related to obesity. One in 10 people have type two diabetes, a statistic that is predicted to grow to one in three in the future. In many cases it's a preventable condition. Many people don't realize it can lead to serious conditions, including blindness and kidney failure. We can work to prevent type two diabetes by staying closer to our ideal weight. We CAN reverse a lot of the negative effects of type two diabetes by living a healthier lifestyle. We drink 450 calories a day in sugary beverages – if we cut back on that, the results would be tremendous.