Ryan and I initially planned to spend the first half of the day hiking in the Wicklow Mountains, but those plans unfortunately had to be scrapped due to weather. We were so, so bummed but since we have no control over Mother Nature, we rolled with the punches and shifted our loose itinerary around quite a bit.
Rather than setting out on a hike first thing in the morning, we checked out of the hotel right away and drove for a little less than two hours until we reached the adorable city of Kilkenny.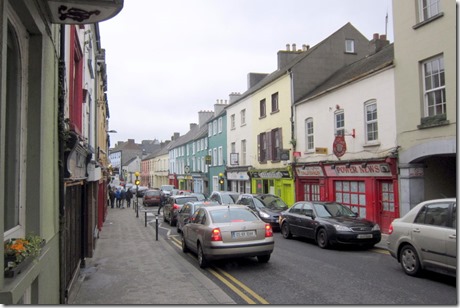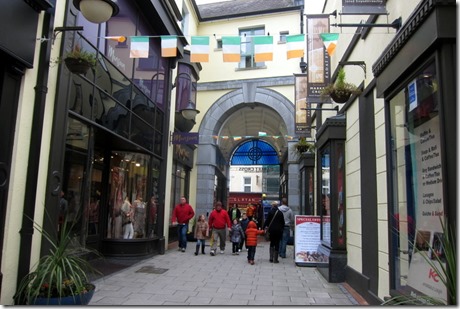 Tons of different shops, cafes and restaurants line the streets of Kilkenny and Ryan and I had no trouble spending several hours walking around and exploring.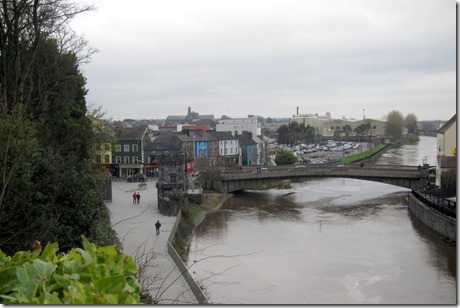 Of course we had to pay a visit to Kilkenny Castle, a stunning castle that is more than eight centuries old!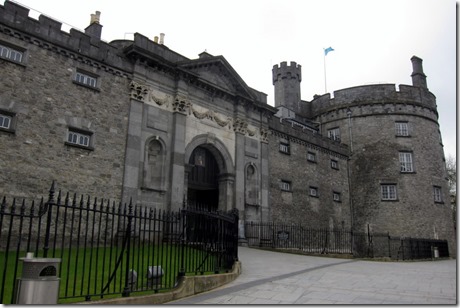 Everyone who told us to visit the castle before we left on our trip encouraged us to talk to the guides in the rooms and ask questions which was great advice. We learned a lot about the Butler family who once owned the castle and had a great time chatting with a few of the guides, especially the man who told us to be sure to let him know when we were ready to move in. Ha!
Unfortunately pictures were not allowed inside the castle, but I made sure to snap some photos of the gorgeous garden (sans roses since we're obviously not visiting during the right season for beautiful flowers).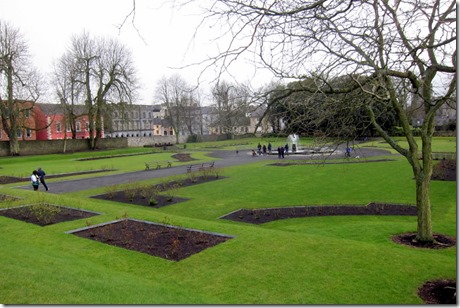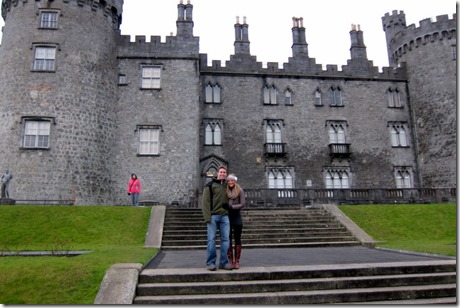 Everyone say hi to the lady in the pink jacket!
After our time in the castle, we walked around for a little longer until our stomachs told us to stop for food.
We passed by a small deli called Fresh… Pam's Deli and the glorious smells from inside beckoned to us and we knew we found our spot.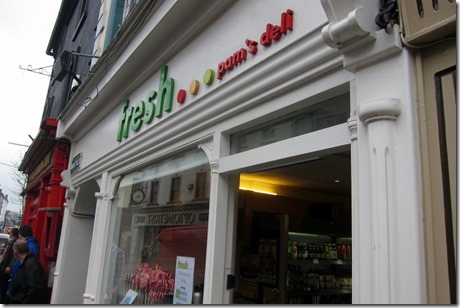 We both loved everything about this place.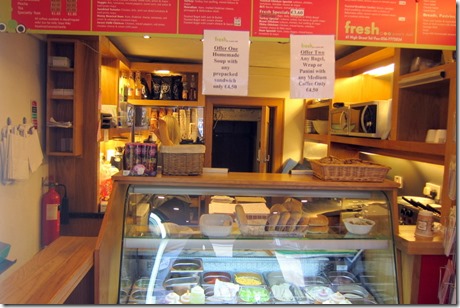 My latte was fabulous and though the woman who made it couldn't remember the name of the coffee, she said it was made locally and I couldn't stop raving about it.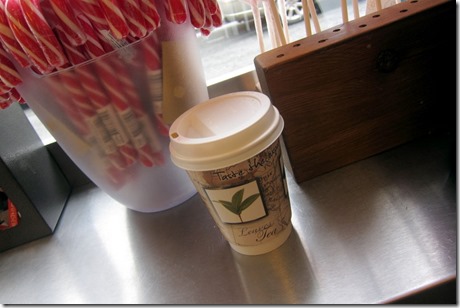 A perfect afternoon pick-me-up!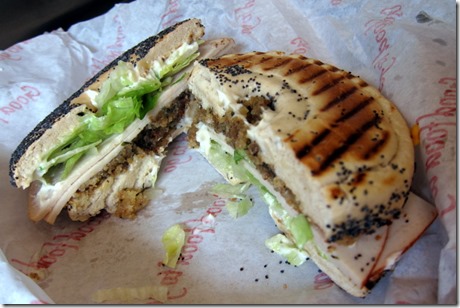 I also ordered a turkey bagel sandwich which immediately intrigued me when I saw that it was made with stuffing! Since stuffing is my all-time favorite Thanksgiving Day food, I couldn't resist and was very happy with my selection. It was also quite the filling sandwich and kept me full all afternoon.
After lunch and a bit more time in Kilkenny, it was time for another two-hour drive to our second castle of the day.
Recognize this one!?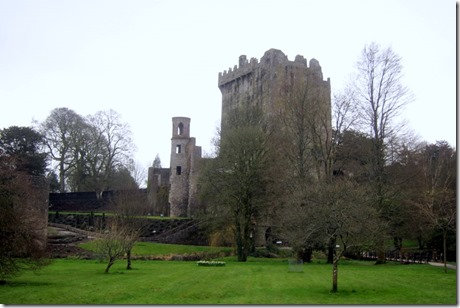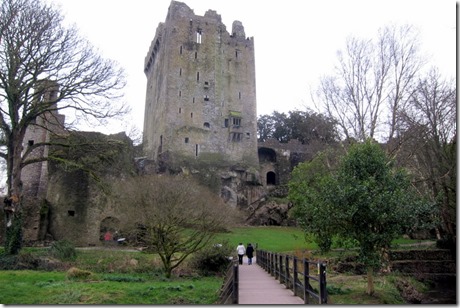 The famous Blarney Castle is on all of the Ireland "must see" lists and while we had a feeling it would be quite touristy, we still wanted to see it because we heard that it really is pretty spectacular.
The cold, rainy weather worked in our favor because it was practically deserted! We didn't wait in any lines and only saw a small handful of people.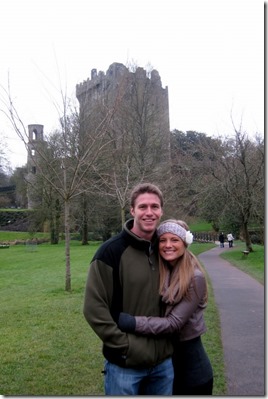 We climbed to the top of the castle (freaky small staircases!) and were in awe of the beautiful view of the castle grounds. Everything was so green and lush.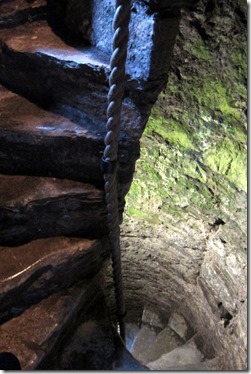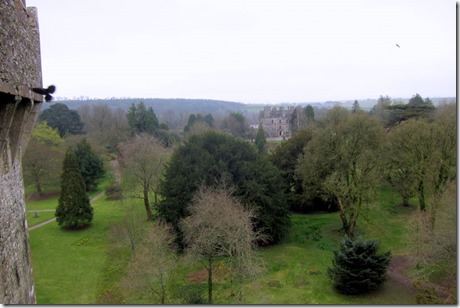 Once we reached the top, we saw a guide waiting to help anyone who wanted to kiss the Blarney Stone which, as legend says, is supposed to bring anyone who kisses it the "gift of eloquence."
Ryan was more than game.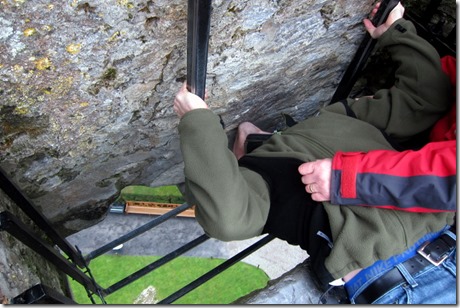 After Ryan kissed it, he turned to me and said, "Your turn!" I laughed and refused and told the guide who helped Ryan kiss the stone that I heard all about what supposedly happens to the Blarney Stone when tourists aren't there. He told me it wasn't true and then showed me a bottle of cleaner that is used on the stone. I still wasn't so sure, but decided to do it anyway… but very lightly and very quickly!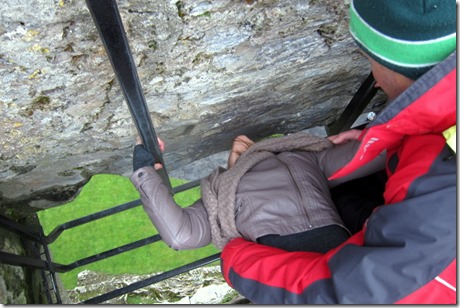 It was pretty darn cool, I must admit.

Now it's time for me to head to bed. Ryan and I have another big day ahead of us tomorrow. We're hoping to see the Cliffs of Moher!

Enjoy the rest of your weekend!!!

Our second day in Ireland was the day of castles!