Ryan and I arrived in Ireland in the early afternoon on Friday. Despite a severe lack of sleep on my flight to London, I felt rather energetic when Ryan met me at the London Gatwick airport. I was so excited to see him and get our vacation rollin'!
We had a couple of hours to kill in the airport before we flew to Dublin together around 10 a.m. and we spent all of that time talking about what we planned to do in Ireland. (I thought it was so interesting that we sat in a common area until our gate was announced just 30 minutes before our flight as opposed to waiting at the gate like we do in America!) Our flight to Dublin wasn't very full and I was able to stretch out and sleep for 45 minutes which felt glorious.
Once we arrived in Ireland, we rented a car and threw our bags in the trunk, ready to make the short 35-minute drive to our hotel.
Or so we thought.
When our GPS told us we were 1.8 kilometers from our exit, we hit traffic. Bad, bad traffic.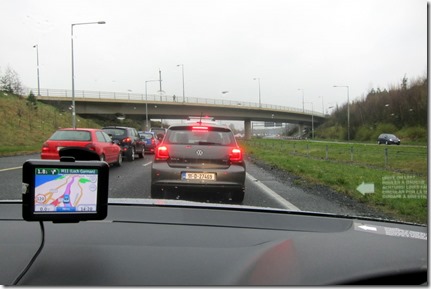 It took us four hours to travel less than four miles to our hotel. An entire section of the N11 highway we were on was completely shut down due to weather and flooding. It was unreal.
People were running out of gas left and right and we didn't move an inch for three of the four hours. At one point Ryan got out to help a man move his car out of the mud and came back to our car absolutely covered in dirt. His fleece, jeans and sneakers were a mess.
When we finally made it to our hotel it was much later than we anticipated (5 p.m.) so the day we had planned at the Powerscourt Gardens and waterfall was a total bust.
Even though it was quite gloomy outside, Ireland was still looking beautiful as we drove up to the hotel and we were once again excited to have our whole vacation ahead of us.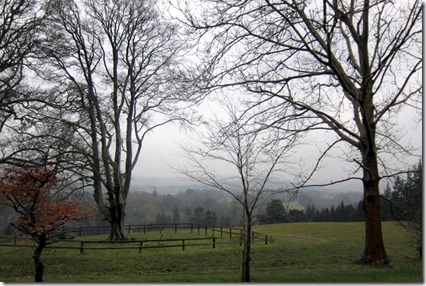 Here is where the fun really began!
We checked into one of the most impressive hotels I've ever seen in my entire life.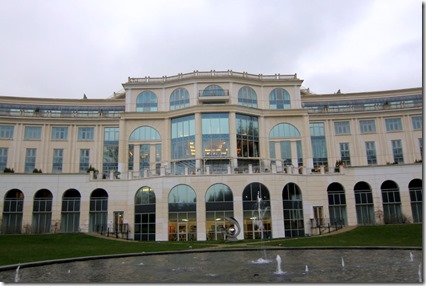 The incredible Ritz Carlton Powerscourt was absolutely breathtaking. I only wish I could've photographed it in the sunlight, but even in the drab weather, the hotel was stunning.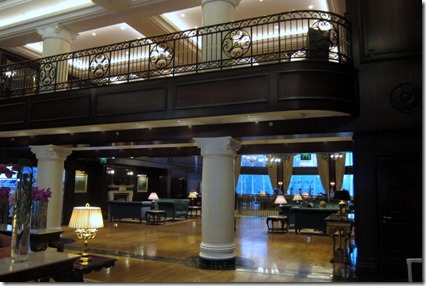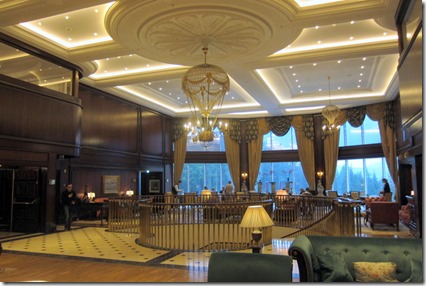 The lobby was luxurious but cozy (there was a fire roaring in the fire place) and it was incredibly elegant. Ryan and I were invited to be guests at the hotel for one night by the public relations manager a week or so ago and we could not have been more grateful and thrilled. I cannot say enough glowing things about the staff we encountered throughout our short stay. When news of the traffic jam surfaced, we were able to correspond with them constantly and receive updates about the progress on the roads. When we arrived and Ryan was all muddy, they took care of his jeans and fleece and returned them to our room the next morning. It was unreal!
And then there was our room!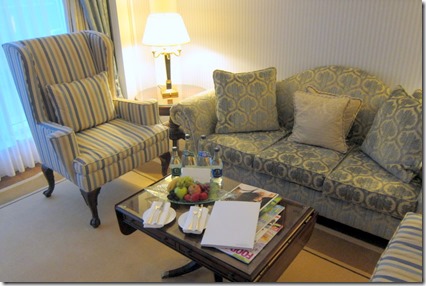 We were greeted with water and a fruit plate which we promptly inhaled. So fresh!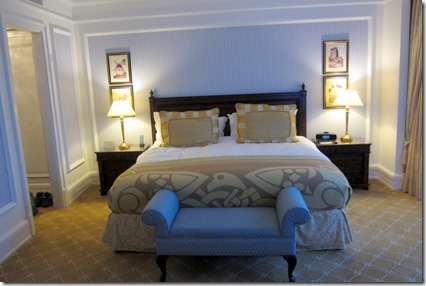 The decor in the bedroom was light and airy while the bathroom was crisp and elegant. Shiny white marble and mirrors everywhere!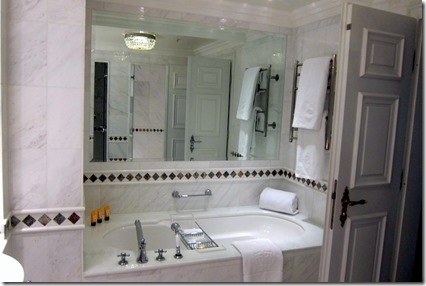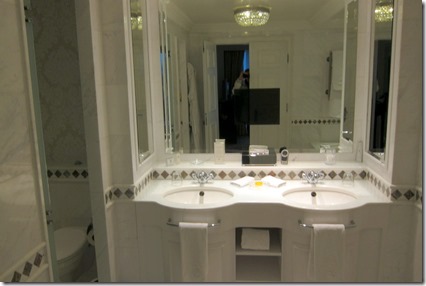 And get this: The bathroom floor was heated. I couldn't get over it! It was such a neat feature and one that wasn't lost on us since it was so cold outside!
Once we put our bags down, we immediately threw open the curtains to check out the scenery. (And when I say "threw open the curtains," I mean we pressed a button to open them because they were remote control curtains. Yes, really. Everything in the room was remote-control operated, including the lights. So cool!)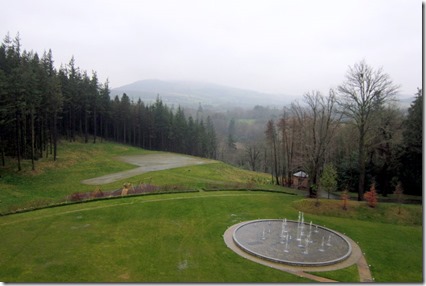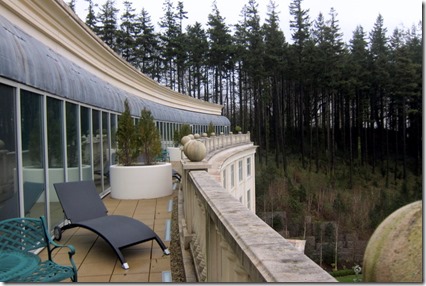 Even with the rain and intense cloud coverage, it was beautiful!
Though our plans for the day were tromped by the traffic and rain, Ryan and I still wanted to get outside and made hot tea in our room before heading out to walk around for a bit.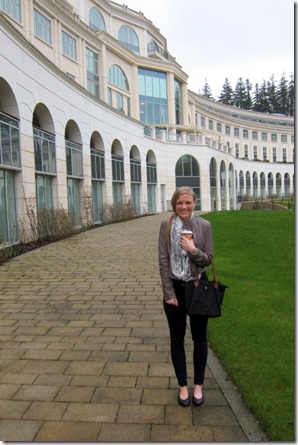 It was so green and I loved looking around at the mountains and talking with Ryan about the days to come and the other towns and sights we plan to see during our vacation.
Eventually we decided it was time to grab a drink at McGills pub.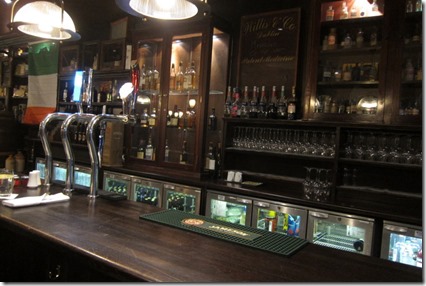 The bartender let me sample a few different Irish beers and I immediately liked Smithwick's.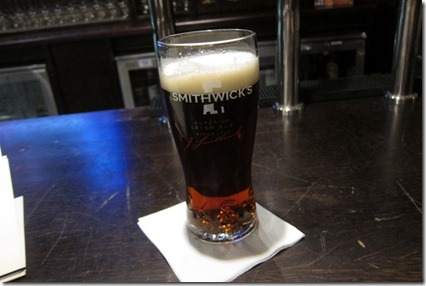 That beer hit the spot!
Once Ryan and I finished off our beers, we went back to our room to change for dinner. We had reservations at Gordon Ramsay's Restaurant and after reading about it in a few of the Ireland guidebooks I got from the library, I must admit I had rather high expectations.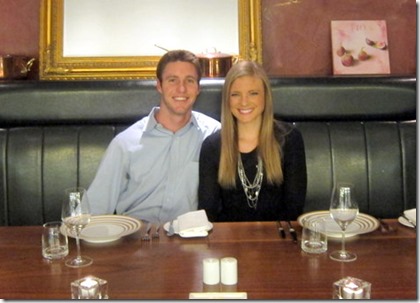 We immediately ordered our drinks and my glass of Bava Barbara d'Asti Libera red wine was perfect.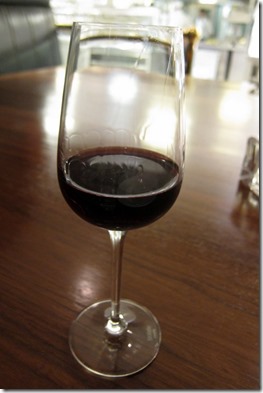 When Ryan tried a sip of my wine, he was immediately sold and ordered a glass as well. It was wonderful!
For an appetizer, Ryan and I decided to share the scallops. Our waiter, Marc, was so friendly and knowledgeable and when he recommended the scallops to us and described the flavorful bacon consommé that was poured over the scallops, our mouths started watering and we placed an order for them immediately.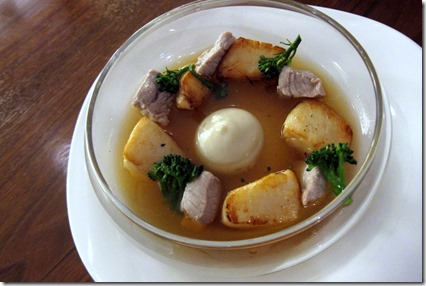 They were fork-tender and perfectly cooked.
For my main course, I selected the John Dory, a white fish that I had never tried before. It sounded great on the menu and the sides that came with it intrigued me (parsnip puree, pearl onions and romanesco).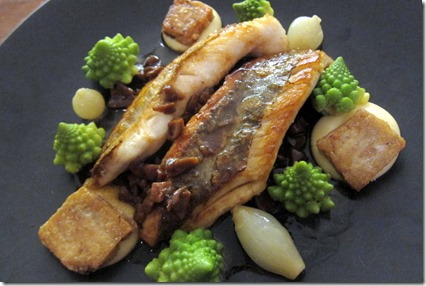 The fish was wonderful, especially when I made sure to dip it in the sauce it was served in.
Ryan got a steak with the most fabulous peppercorn sauce we've ever tried. (Apparently they use green peppers in it!)
When it came time for dessert, we decided to share two sweet dishes. One was rather light and included a fluffy meringue while the other was inspired by "traditional Irish foods."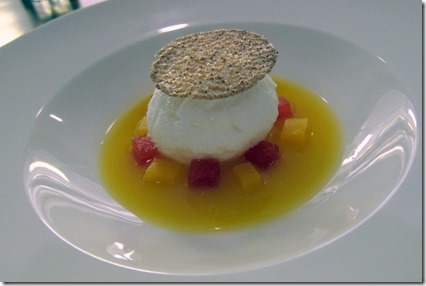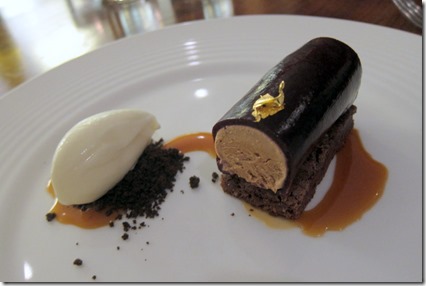 That little white pillow to the left of the above picture was potato ice cream… and it was fabulous! Who would've thought!? It was sweet with a slightly salty aftertaste that somehow totally worked. The chocolate mousse to the right of the ice cream was served atop a brownie and wrapped in Guinness jelly for a little Irish flare! It was a winner.
Though our first day in Ireland began on a rather rocky note with an intense traffic jam, it ended with an incredible dinner and we went to bed feeling incredibly happy and excited about the days to come.
See ya in a bit with a recap of day two!