Right after work yesterday, I drove straight to a Junior League of Ocala meeting. The meeting lasted two hours, but the highlight occurred within the first 15 minutes of the meeting when we learned about Help Agency of the Forest. The organization was founded by David Houck, a charismatic pastor who came to speak at our meeting last night. The Help Agency provides food, mentoring, teen pregnancy help and prevention and operates a summer camp, Camp Sozo, to reach children in rural poverty.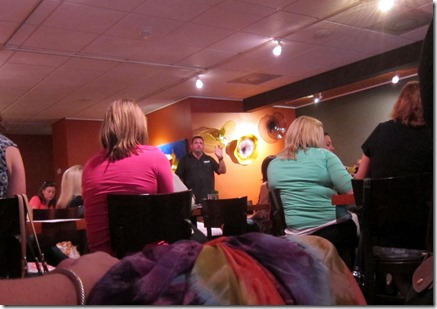 The Junior League of Ocala is working with the Help Agency to collect clothing, toiletries and more and I think we all fell in love with David's organization and and his upbeat and energetic personality.
I didn't get home until a little after 8 p.m., so I was quite hungry by the time I walked through the door.
Ryan had a late night at work, too, and arrived home five minutes after me, so we were all about a dinner that could be prepared in minimal time.
Thank goodness for sloppy joes!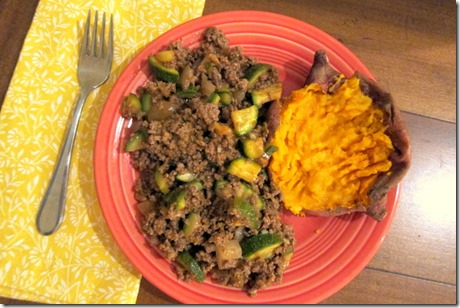 I followed my usual sloppy joe recipe, but added chopped zucchini to the mix for some added vegetables. We didn't have any hamburger buns on hand, so I served the beef with a sweet potato topped with a bit of butter. Still delicious!
Workout
This morning I headed to the gym to begin the day with a workout. To warm up, I completed 10 minutes of cardio on the stair master and 10 minutes of incline walking. Then it was time to hit the weights!
I did Workout C from Tina's Best Body Boot Camp program. I didn't feel like doing the total body workout on the plan today (Workout B), so I decided to do Friday's workout today and focused on upper body strength training. This week Tina has boot camp participants doing a lot of pulses to really make our muscles burn and I'm lovin' it! It reminds me of the bottom halves I used to do all the time in BodyPump that would make my muscles scream.
Breakfast
When Ryan and I arrived home from the gym, all I could think about was an egg sandwich.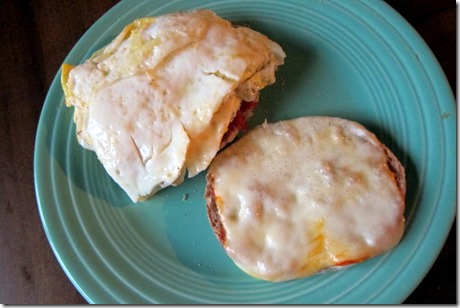 I topped a toasted English muffin with cheese and strawberry jelly because I'm a big fan of combining sweet and salty flavors.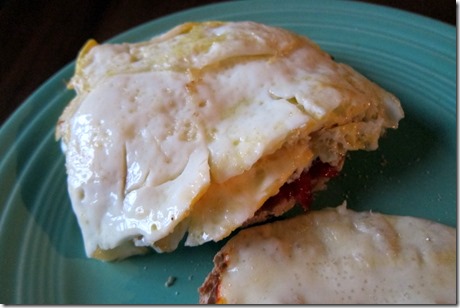 Right after breakfast, I headed back out for a very brief 8:30 a.m. meeting with a freelance client that went well. Now it's time to tackle the day!
See ya after lunch!