If you enjoy running but get bored really easily, I highly recommend trail running.
I have never had a race fly by as fast as the Long Play Trail Race did this morning!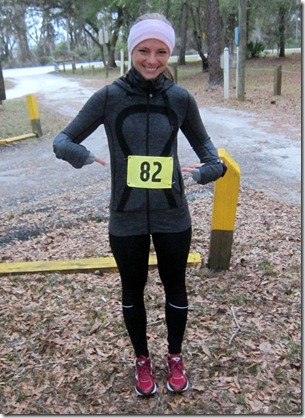 Ryan and I awoke at 5 a.m. and I ate a quick breakfast of overnight oats before we drove an hour or so to Lake Townsend Regional Park in Brooksville, Florida. Since we weren't really familiar with the area, we wanted to give ourselves plenty of time to arrive at the park, check in and pick up our race packets. We arrived with about 40 minutes to spare before the 7 a.m. start.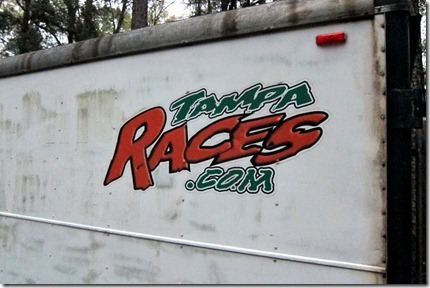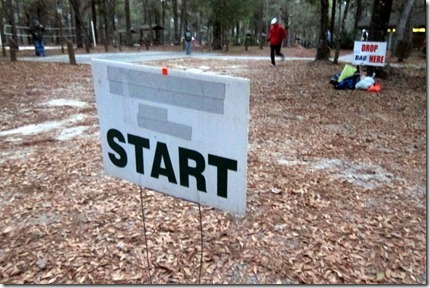 I was actually glad we arrived when we did, because we were able to hang out with some of the runners who were there to run the 33.3 mile loop on the trail before they took off at 6:30 a.m. Talk about amazing!
It was quite a chilly morning (upper 30s/low 40s) and I wore lots of layers.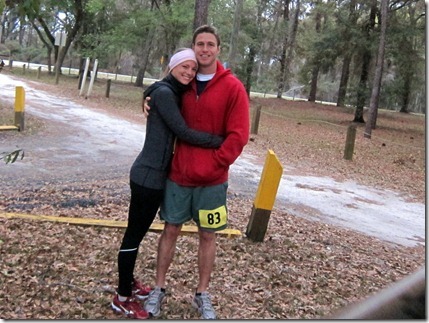 Ryan was smart and left his hoodie in the car, but I wore my jacket and a long-sleeve pullover (the gray Old Navy one I got a few weeks ago) and ended up overheating a bit after two miles. As a Florida girl, I clearly haven't mastered dressing for cold-weather running!
Upon check-in, Ryan and I realized that this race was going to be very laid back. The man running the race said that it was going to start a little late and that the five mile distance we signed up to run was going to run a bit long on the course. He warned us to expect to run closer to 5.5 miles and we appreciated the head's up. It was a chill group of runners and no one seemed to mind the delay or longer-than-anticipated course. 
Ryan and I lined up at the start line with our group of five mile runners and a group of half marathon runners. We started together, but when we hit the first water station, we turned around and headed back while the half marathoners continued on. It was an out-and-back course and ended up being right around 5.3 miles.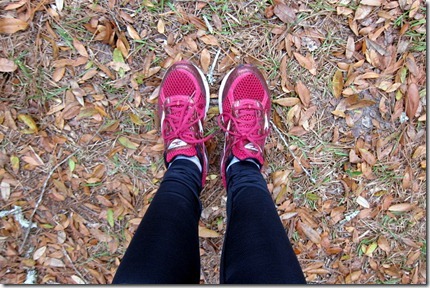 The course has us running in quite a bit of sand, but most of it was hard-packed and not too soft. The soft areas definitely slowed my pace, but the chilly weather had me feeling quite zippy and the entire race absolutely flew by.
When we approached the turnaround, I realized only one woman was heading back to the start at this point, which meant that there was only one female ahead of me. Though I'm typically not a competitive person in the least, once I hit the halfway point and began running back toward the start, a bunch of the runners who were running toward the turnaround started saying things like, "You can catch her" and "Go get her" which made me want to push myself to see if I could.
I caught up to her with about 1.75 miles to go and held onto my lead through the end. The race was quite small and I'm not a super-fast runner by any means, but it still felt pretty cool to be the first female to cross the finish line. That doesn't happen to me often… or ever!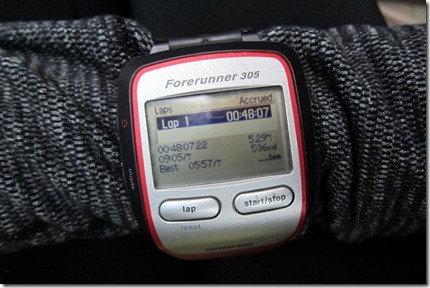 Distance: 5.29 miles Time: 48:07 (9:05/mi)
Ryan also ended up placing first in his age group! We were both awarded some pretty snazzy hats.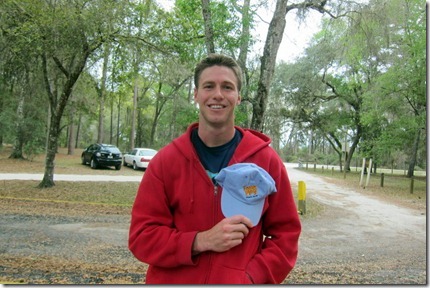 I'm already researching more trail races because we had such a good time this morning. The Long Play Race team sure knows how to put on a fun race!
Trail running is pretty darn awesome.