After a rather carb-heavy breakfast, lunch was protein packed!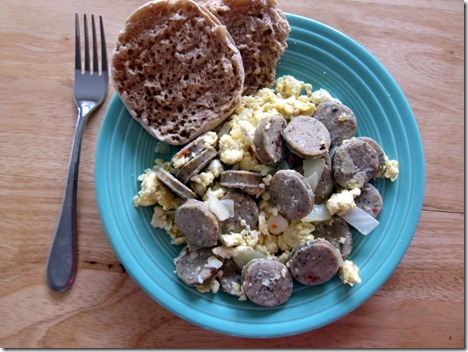 Today's lunch included scrambled eggs with sautéed onions and Italian chicken sausage, served with a toasted whole wheat English muffin, topped with a bit of olive oil and garlic salt.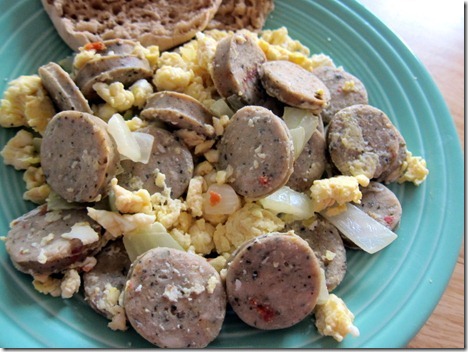 Breakfast for lunch!
Marathon Cheaters
Late this morning, Danielle, a blog reader, emailed me a link to an interesting video about marathon cheaters.
The video mentions that many big marathons now take precautions to thwart cheating, with the New York City marathon requiring electronic tracking chips for all runners.
Earlier this month, I read an article about a marathoner in England who hitched a ride from the 20-mile mark to just before the finish of the race. He then hopped out of the car, hid behind a tree, and rejoined the race, placing third. (His medal was obviously revoked when race officials learned that he cheated.)
All of this marathon cheating talk made me think about how I would feel if I saw a person try to cheat in a race. Since I'm not particularly competitive and never have hopes of actually placing in a race, someone cheating wouldn't take away my medal and affect me directly, but I would be peeved at them for cutting the course and disrespecting other runners, the sport of running, race organizers and volunteers.
I would then suggest to the race organizers that we punish the runner by making them spend an afternoon doing this:
Question of the Afternoon
Have you ever witnessed someone cheating during a race or a sporting event?