If you're in the mood to read sweet and mushy gushy love stories, definitely check out the comments section of this morning's post. Goosebumps!
And speaking of love… guess who's back?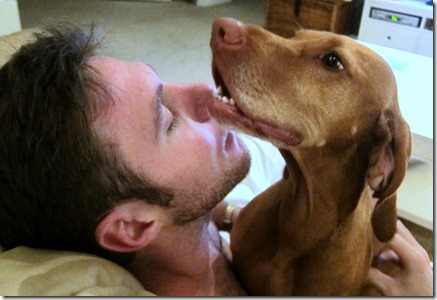 Guess who's back,
Back again,
Sadie's back,
Tell a friend
Holla, Eminem!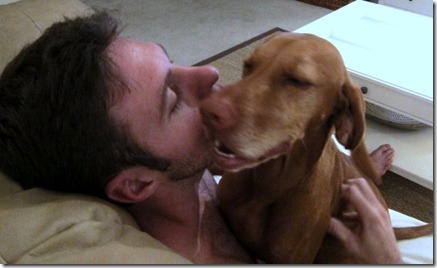 Sadie is clearly soakin' up all the love she can from Ryan right now.
My mom brought Sadie back to Ocala today around 4:30 p.m. (my family watched her while we were in Savannah) and hung out with me for an hour and a half or so before heading back home. I wish she could've stayed longer, but even 90 minutes with my mom is better than nothing. She's the best and just being around her relaxes me and makes me happy.
After my mom left, Ryan and I played with Sadie in the backyard for a little bit before heading inside for dinner.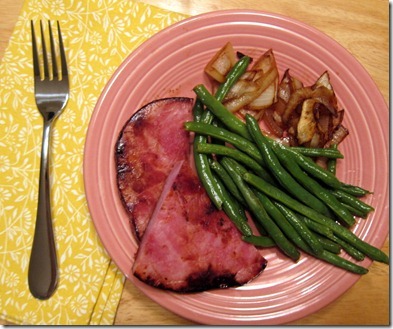 I miss eating dinner in the daylight already!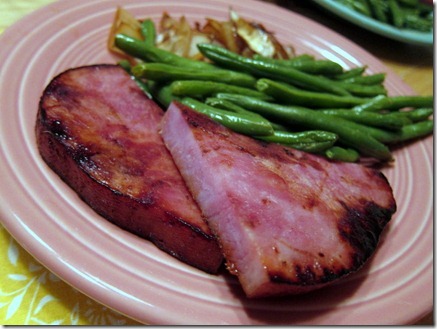 We had ham steak with roasted green beans and caramelized onions. Ryan absolutely loves ham steak which I find oddly humorous. It's just about the easiest thing to make, but he always seems so impressed when a meal involves ham steak.
I just wish I would've thought to make a brown sugar glaze before dinner.
Off to hang with my little family and grab something sweet for dessert. I'm so glad we're all back together again. The house felt so quiet and looked too clean without Sadie rambunctiously running around and throwing toys everywhere.