Saturday
Our Memorial Day weekend included a lot of sunshine and a tiny bit of rain which is pretty much the exact opposite of the weather we experienced in Charlotte last week. I think everyone was ready for some sun because the lake was packed with boats and swimmers all weekend long!
Boating was on our agenda as well but we also wanted to take Chase to see some more animals since our last trip to the North Carolina Zoo was such a hit! One of my girlfriends told me about Zootastic Park, a small zoo located much closer to home in Troutman, North Carolina and we figured Chase would be all about it.
Before we headed up north to the zoo, we popped into Clean Juice for smoothies and played at the splash pad in Birkdale Village… and by "played at the splash pad" I mean Chase walked around the perimeter and occasionally mustered up enough courage to touch some of the exterior spurts of water.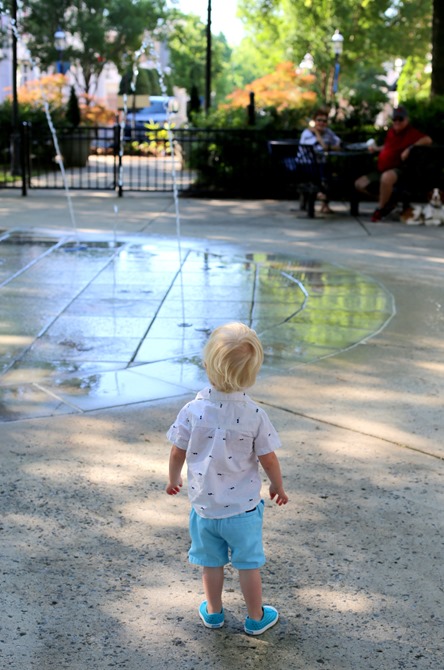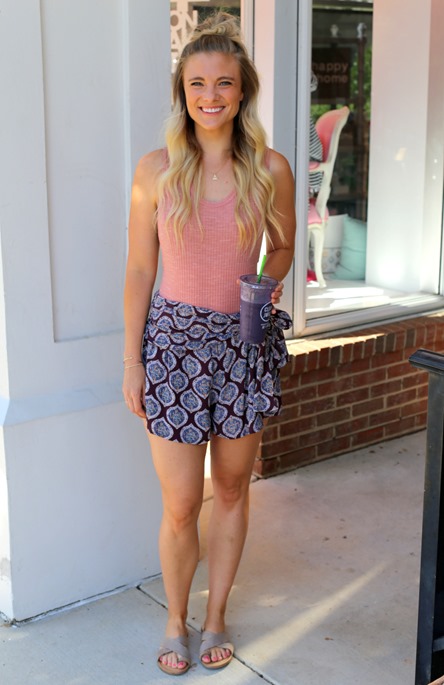 (Top: Free People Bodysuit + Free People Bralette // High-Waisted Shorts: Free People – purchased last year via Nordstrom Rack // Sandals: Dolce Vita via RueLaLa)
We made it to Zootastic around 10 a.m., just in time for a tractor ride!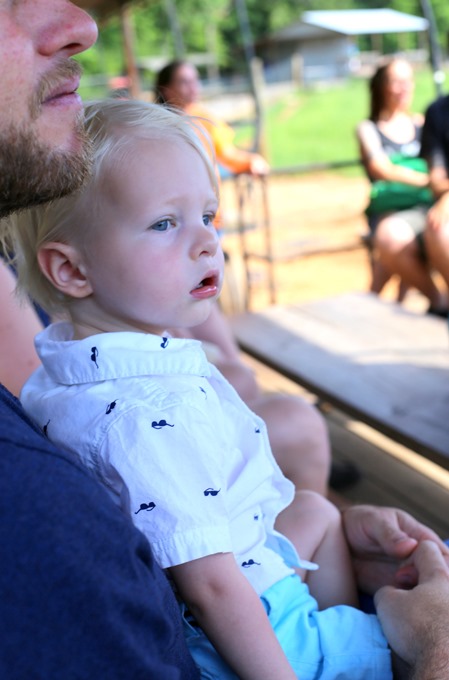 The tractor ride took us along wide dirt paths past a variety of animals, including llamas, alpacas, goats, deer and donkeys. It was definitely one of the highlights of the trip for Chase!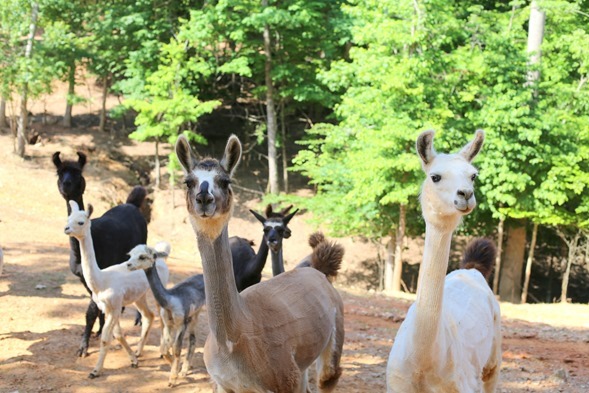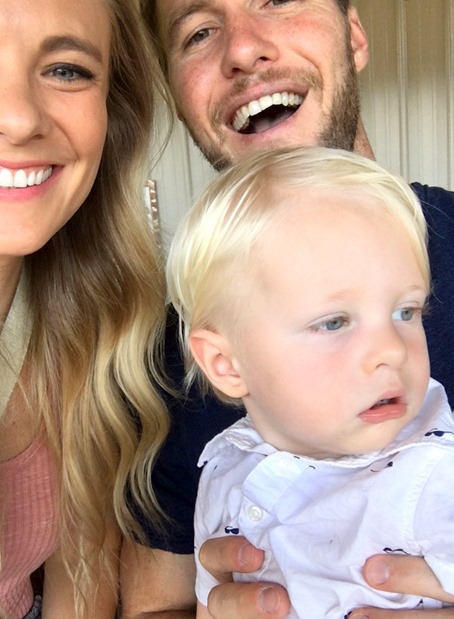 Of everything we saw at Zootastic, I think Chase's favorite thing was feeding the ducks. He loves ducks and geese so the ability to feed a bunch of them was toddler gold for our bird-loving dude!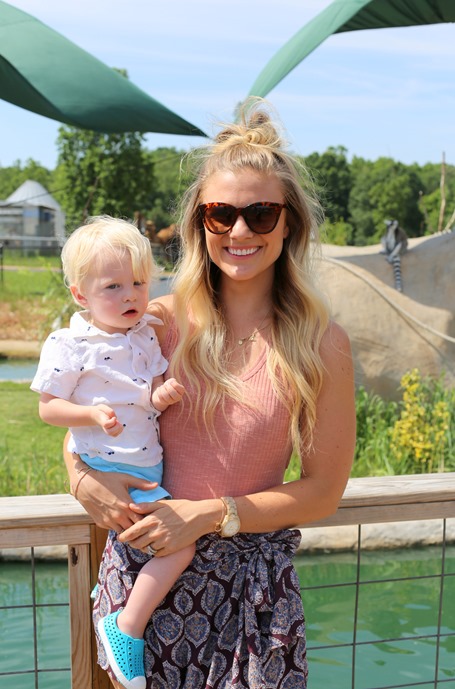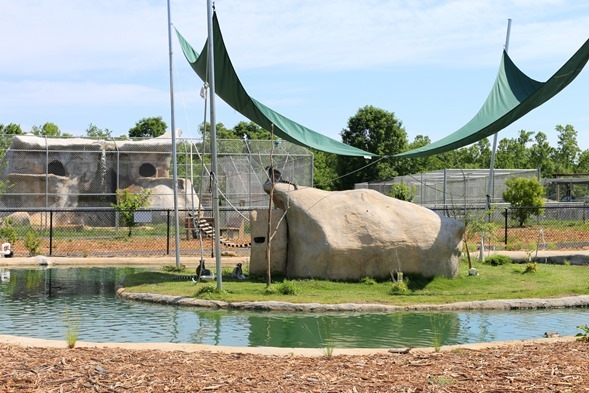 We were at the park for around 90 minutes (it's not very large) and left ready for food just before noon. We made it home with enough time to eat lunch before Chase went down for his nap. I took advantage of a sleeping baby and Ryan's offer to stay with the baby monitor and headed out to do a little shopping!
I ended up buying a birthday present for my sister (I made her promise not to click that link in today's post!) and also picked up a new pair of shorts for myself at lululemon thanks to a gift card I had from my birthday! In the past I've had a hard time finding lulu shorts that fit my body type well (I don't feel like most of them flatter wider hips and a bigger booty) but when I tried on the Tracker Shorts I was instantly smitten! They're longer in length than a lot of their shorts but, like one website reviewer said, a booty + thicker thighs still make them look like short shorts (just not full-on booty shorts the way most of their shorts look on me).
I made it home about 15 minutes before Chase woke up. Perfect timing!! We ended up scrapping our initial plans to take the boat out when we saw some ominous clouds in the sky and decided to get Chase a much-needed haircut instead.
We've had great experiences at Snip-Its in the past and still love it for Chase's haircuts. They have everything from bubbles to toys to distract the kids which works like a charm! The only thing that set Chase off this time was the buzzing of the trimmer at the end but he only shed a few tears before it was time for him to pick out a prize. That cheered him right up!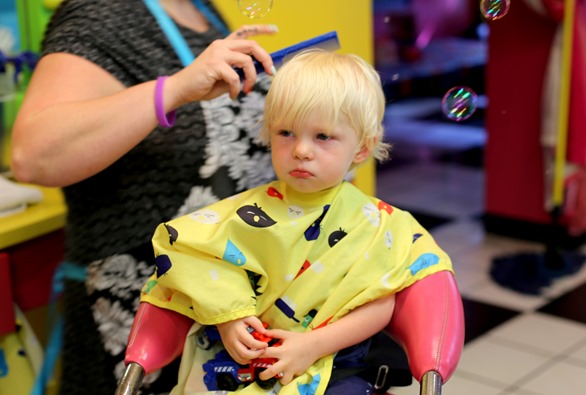 Once Chase was lookin' spiffy, we walked over to Qdoba for burrito bowls for dinner (plus a kid's quesadilla for Chase) and rounded out our evening with ice cream at Kilwin's.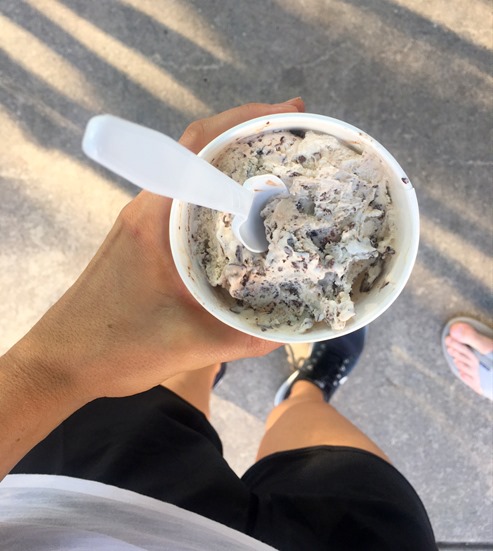 Marshmallow S'mores ice cream = The best!
Chase was ready for bath + bed within 30 minutes of our arrival back home and Ryan and I decided to call it an early night as well. I was anxious to dive into a new book (I just began reading The Kind Worth Killing and it is GOOD) and ended up falling asleep just after 10 p.m.
Sunday
Sunday morning began with a workout! I usually take Sundays off from the gym but flip-flopped my Saturday and Sunday workout plans in favor of a sweaty Orangetheory class on Sunday morning.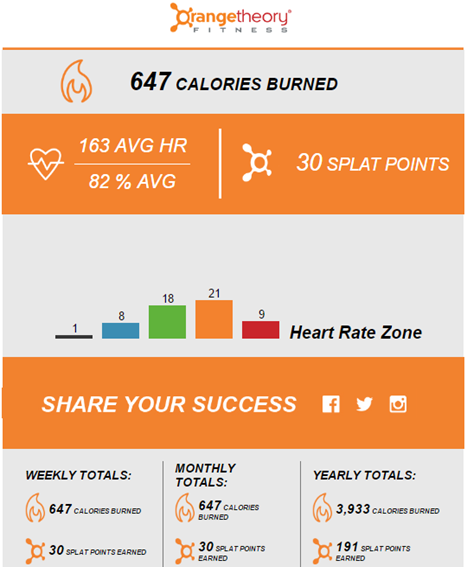 I haven't been to Orangetheory in a long time and really missed it! The workouts are always so hard but so awesome.
Ryan and I had plans to go out on the boat with Chase and Sadie after my workout and once I was back home and we were all sunscreened up, we headed out!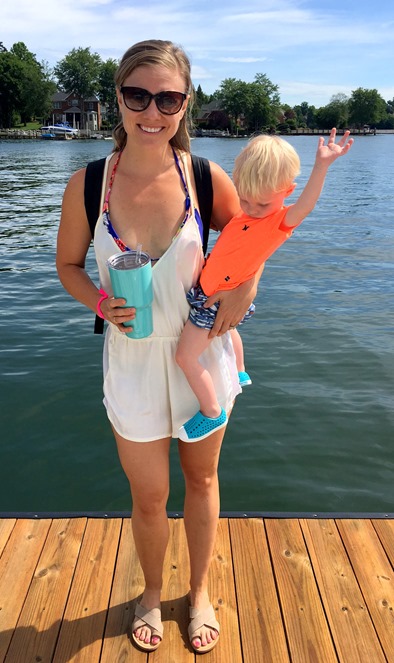 (Romper Cover Up: One Teaspoon via thredUP)
Captain Sadie was in heaven, as always!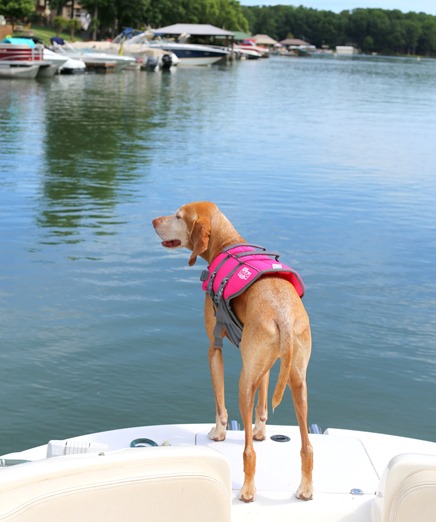 We ended up spending most of the morning on a little beach where Chase played with solo cups and rocks because Mom and Dad forgot to pack any legitimate toys.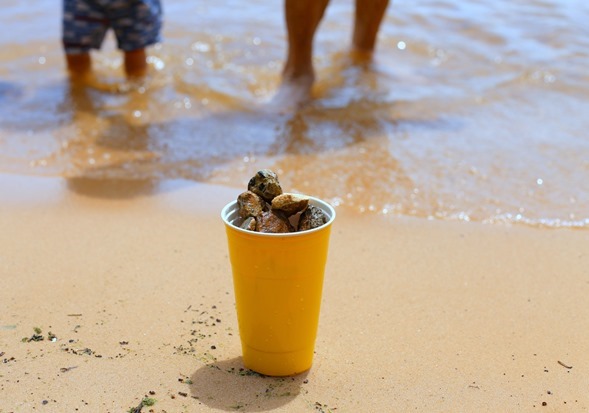 Worked like a charm!
Chase also coerced Ryan and Sadie into searching the waters for Dory but came up empty handed.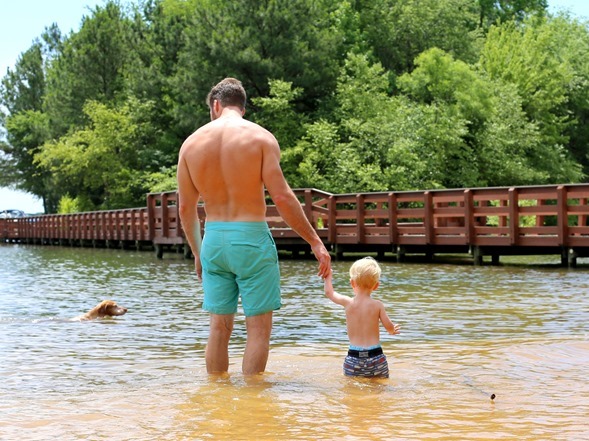 Hungry bellies told us it was time to head home and we dug into sandwiches before Chase went down for his nap. While he slept, I prepped my Black Bean and Brow Rice Salad to bring to my friend Carrie's parents' house for an afternoon cookout and also tried my hand at creating a no bake chocolate protein bar. (It was pretty good but I still need to do some tweaking before the recipe is shareable.)
By the time Chase was up, our kitchen looked like a disaster but we were dressed and ready for the cookout and our side dish was prepared!
We made it to the party just before 4 p.m. and spent the next several hours digging into delicious food, chatting with friends and chasing toddlers.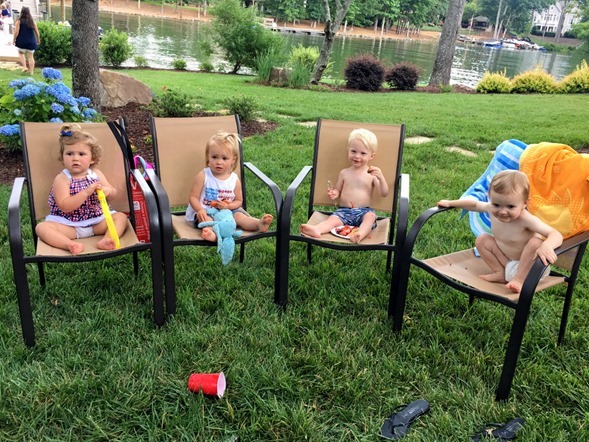 It was so much fun!
We left around 7 p.m. and after a quick bath, Chase went to bed and Ryan and I, yet again, called it an early night. No complaints there!
Monday
Ryan actually had to work on Memorial Day this year so our Monday was fairly similar to most weekdays around here. Chase and I went to the gym and met up with some friends at the pool for some morning fun before I got some work done during Chase's nap. Ryan got off work early and we took the boat out before grilling out for dinner and digging into burgers outside in the backyard. Yum!

I hope you all had a good weekend!

Hi friends! How are you? I hope my American friends out there made the most of the holiday weekend and spent some time with loved ones while we remembered the brave men and women who gave their lives for our country and our freedom. We are so grateful for those who sacrificed everything and those who continue to serve. Thank you.