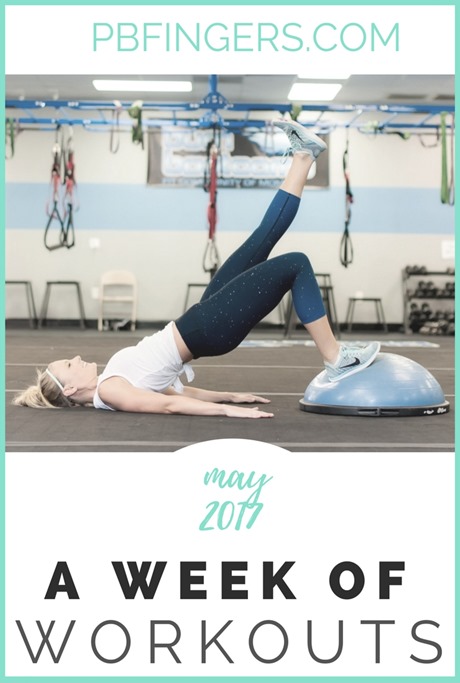 I'm recapping a week of workouts as part of my Weekly Workouts series, featuring a peek into what one week of my workouts looks like every month. You can check out the past recaps here!
Last week's workouts included a mix of running, strength training and boot camp workouts!
Week of Workouts (May 2017)
Saturday: Off
Sundays are usually my rest day but with my extended family in town visiting, I took Saturday off instead to hang out with everyone and enjoy a day on the lake! Lately I've typically been taking at least two rest days a week but this week ended up only including one thanks, in large part, to the fact that Chase's swim lessons take place at my gym twice a week and since I'm already there, it's pretty easy to feel motivated to work out!
Sunday: 5 Miles Outside with Sadie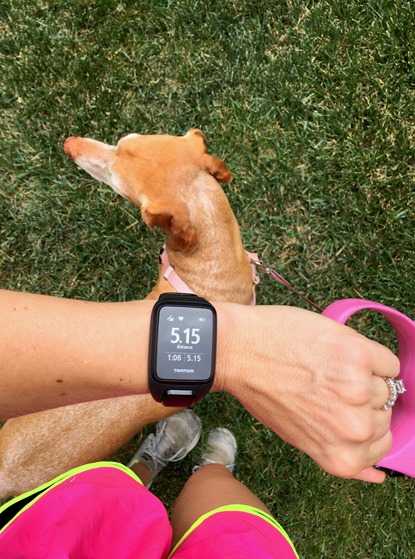 3.5 Mile Run + Walking with Sadie
I threw on my sneakers during Chase's nap and leashed Sadie up for a run/walk around the neighborhood. We ran for the first 3.5 miles (and blasted the Cardio Dance Pandora station <—highly recommended!) and walked the rest. It felt like such a treat to be able to run outside in the middle of the day with Sadie and reminded me of the good ol' days when we used to run miles and miles together! I'm hoping to incorporate some more running with my favorite furry running buddy into my workout routine when timing works out well like it did last Sunday.
Monday: Upper Body + Core Tabata Workout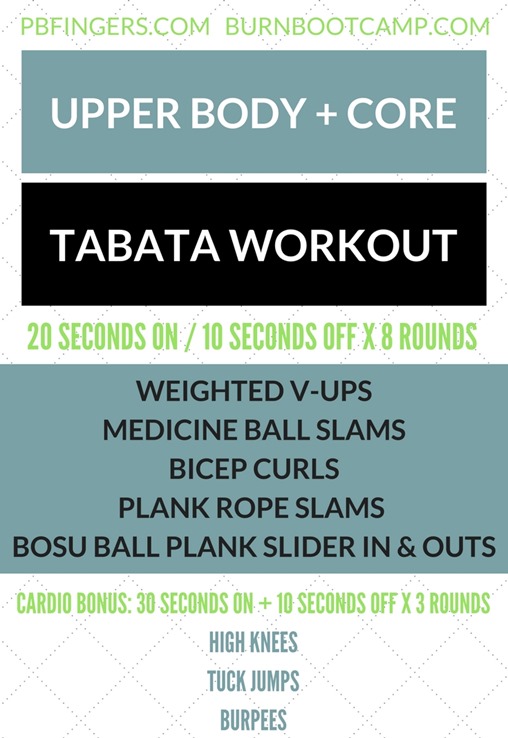 This workout was a serious sweat fest!!! Sometimes I get bored during workouts that are partially dedicated to core work but that was definitely not the case with this one. Tabata workouts are a personal favorite because they keep things moving – 20 seconds seems like such a short spurt of work – and before you know it you're done, out of breath and feelin' awesome.
For the cardio bonus at the bottom of the workout, we completed three rounds of the first cardio exercise (high knees) after we made it through the first two exercises in the tabata, followed by three rounds of the second exercise (tuck jumps) after the third and fourth exercises and the third exercise (burpees) after the final exercise.
Tuesday: Leg Workout
15 Minutes Elliptical + Strength Leg Workout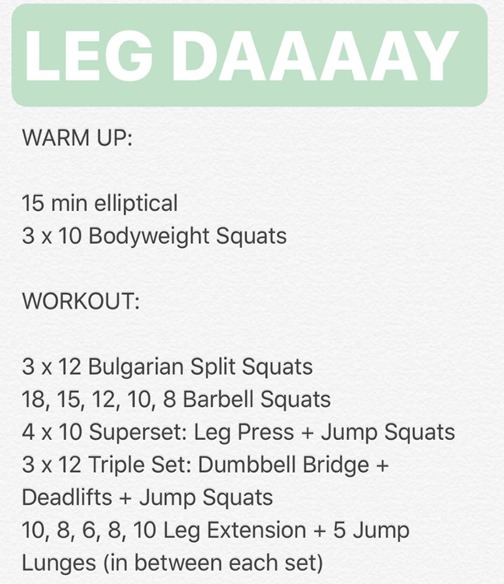 I shared this workout on the blog last week in my Tuesday recap but don't think I highlighted the fact that this workout left me sore for DAYS. We're talking THREE days of sore legs. It was brutal! But the workout was awesome and I saved a screenshot of it to my phone after I shared it on the blog because I want to keep it on hand to reference for a killer leg workout in the future. Loved this one!
Wednesday: Core Conditioning Workout
Burn Boot Camp Core Conditioning Workout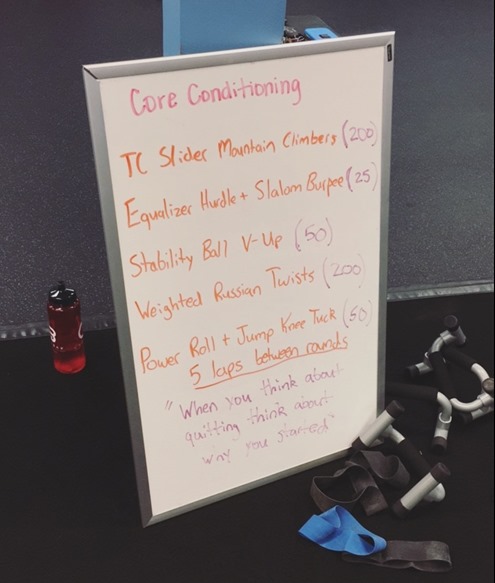 Though the workout schedule at Burn Boot Camp called for a core conditioning workout, this one honestly felt more like a cardio/HIIT workout to me which wasn't a bad thing! It was challenging, especially since the rep count for many of the exercises was so high. (I definitely needed a bunch of breaks during this one!) We completed as many rounds of the white board circuit as possible in 25 minutes.
Thursday: Shoulder Workout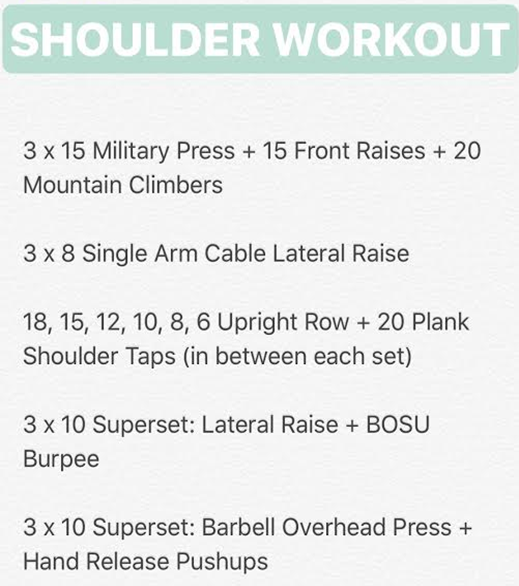 The shoulder workout I completed on Thursday was probably my favorite workout of the week. Shoulders are my favorite muscle group to train and I had fun putting together a challenging strength workout to complete at the gym after Chase's swim lessons.
Friday: Push/Pull Workout
Burn Boot Camp Push/Pull Workout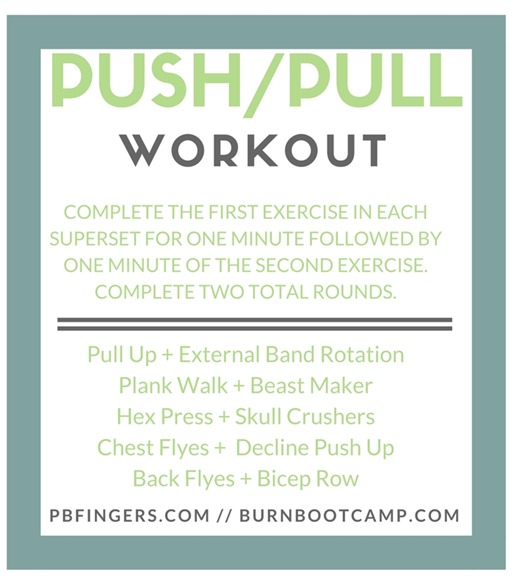 I probably should've looked at the BBC schedule before showing up at boot camp on Friday because I would've done a better job at spacing out my workouts so I didn't work my shoulders two days in a row. Thankfully the push/pull workout seemed to work my back and chest more than anything else so I wasn't too worried about it.
Question of the Day
What was your favorite workout of the week last week?

My favorite workout was Thursday's shoulder workout followed by Monday's tabata workout.

Hi guys! Happy Wednesday to ya! If the middle of the week has you feeling a little bleh and you're on the lookout for some new workouts to try to motivate you at the gym, I hope today's blog post will catch your eye!