This blog post is another throwback PBF-style post from when I used to recap my days through food and fitness. While I sometimes miss the ability to blog multiple times a day, it's unrealistic now with a one-year-old at home. But I still like to share these types of peeks into our everyday life from time to time!
Thank you to my friends at siggi's for partnering with me for this post and giving me the idea to share #mydailysiggis routine!
Let's get to it!
Breakfast + Workout
What better way to begin a Monday than with a cookie?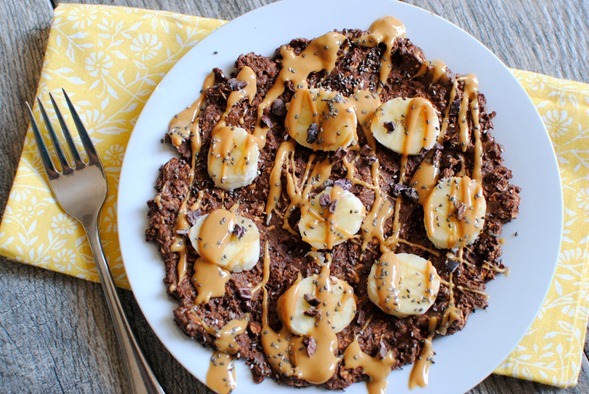 A breakfast cookie!
On Sunday night before bed, I prepped a breakfast cookie by following Gina's recipe and added cocoa powder, peanut butter and chia seeds to the mix. Then, yesterday morning I topped the cookie with half of a sliced banana, a drizzle of melted peanut butter, chia seeds, and cacao nibs. I ate my breakfast cookie while I got a jump start on work before Chase was awake for the day and washed it down with a hot cup of coffee. (Sometimes I'll prep ahead and make two breakfast cookies to save time and love crumbling part of one on top of a cup of siggi's yogurt for an afternoon snack.)
Once Chase was awake, I nursed him, changed him and brought him downstairs for breakfast. His new favorite song is "John Jacob Jingleheimer Schmidt," so we listened to it while he ate, and Chase joined in during all of the "la la la la la la la la" parts which cracked me up! After breakfast, we were off to boot camp for a leg workout. It was a tough one, and I was a sweaty mess by the end!
By the time we got home, Chase was hungry again, so he snacked a bit in his highchair before I settled him into his crib for a nap. Then I headed into the kitchen for another cup of coffee, a sliced apple and peanut butter.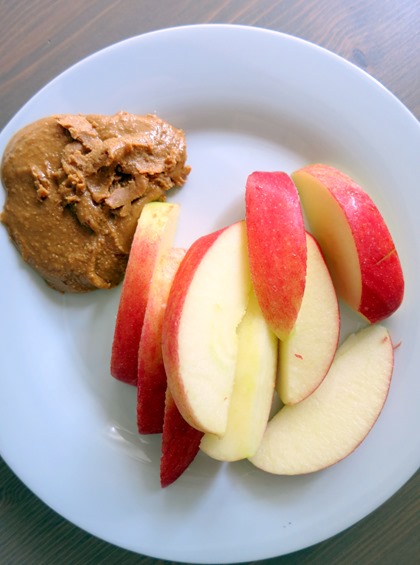 I spent the next two hours working away since Chase's morning nap is almost always my most productive time of the day.
Lunch + Snack
Eventually Chase started to stir, so I headed up to his nursery to greet my smiling little man and give him lots of love. I like to soak up all the cuddles I can while Chase slowly wakes up because I know that once he's fully awake and alert, he'll be on the move!
Once he was up, we moved downstairs for lunch and I assembled a canned salmon mixing bowl salad with a broccoli slaw and roasted marinated veggie base, and drizzled it with ginger dressing. Chase munched on bites of a peanut butter sandwich, chicken, and roasted sweet potato pieces.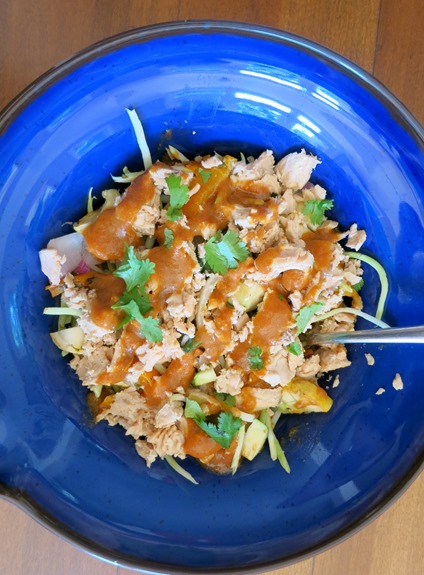 With full bellies, we were ready for some play time and headed out to meet up with friends for a pool play date. I usually try to get Chase out of the house in the afternoon because he seems to get antsy if we're at home for too long and I always say post-pool time naps are the best!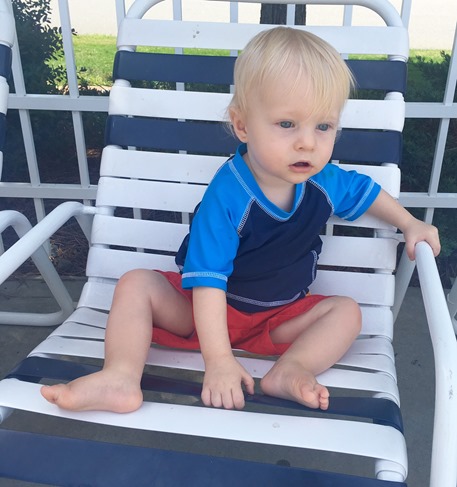 We had a great time splashing around and I could tell Chase was fighting sleep on the car ride home. The sun and water left him ready for some quiet time in his crib!
While Chase slept, I finally grabbed a much-needed shower and a simple snack of raspberry siggi's yogurt with cacao nibs, sliced almonds and blueberries to eat while working away at the computer.
As I'm sure you know if you pop by PBF for my weekly Things I'm Loving Friday feature, siggi's has quickly become a favorite of mine for its high protein content (14-17 grams depending on the flavor for the 5.3 oz. cup), simple ingredients (no artificial preservatives, thickeners, sweeteners, flavors, or colors), and lower sugar (but still delicious) recipe.
While siggi's yogurt is not Greek (it's Icelandic!), the straining process is similar, so the thick, strained yogurt – known as "skyr" – is still very high in protein. It's also lower in sugar than most flavored Greek yogurts, which is always a plus!
My snack fueled me through another two hours of work that I spent typing up the beginning of this blog post, participating in a conference call, and answering some time-sensitive emails.
Dinner
Chase and I spent the late afternoon outside playing fetch with Sadie and snacking on whole wheat muffins until Ryan arrived home from work, just in time to give Chase his bath before bed. Chase always gets so excited when Ryan comes home and crawls around after him, and Chase does a cough-and-tongue-click combo that Ryan taught him. It's the cutest thing and melts my heart!
After bath time, I nursed Chase and put him down for the night before heading downstairs to dive into dinner, which was leftovers from a few months ago! Bless freezer-friendly recipes! I reheated some butternut squash curry chili that I made back when it was cool outside and topped it with fresh cilantro. It was just as tasty as the first time!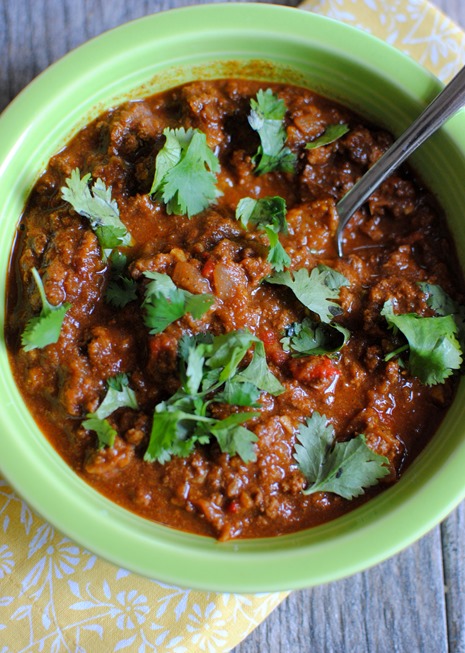 We spent the rest of our Monday night catching up on an old episode of "Big Brother," which is still our current favorite summertime show. And yes, we are fully aware that it is a hot mess of a show. I'm not sure why we decided to start watching this show on season 18 but we are ALL IN and loving it.
And that's a peek into my Monday! Hope you guys had a good one, too!
***
Thank you to siggi's dairy for partnering with me for this blog post!