This recipe for chocolate peanut butter protein fudge is a low-sugar way to enjoy a rich and creamy chocolaty sweet treat. Simple to make and a great way to satisfy your sweet tooth, each piece of fudge contains a punch of protein, too!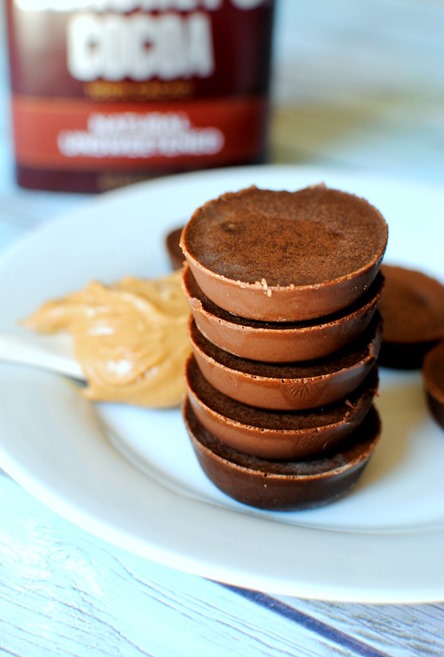 I've been on a homemade coconut oil chocolate kick for a long time. Whenever my sweet tooth hits and there's no sugary treats to be found in the house, I whip up a batch of coconut oil chocolate by combining coconut oil, cocoa powder and a splash of maple syrup. Chocolate in an instant!
Earlier this week, I found myself searching for something sweet and when I went to whip up a batch of coconut oil chocolate, I found myself wondering if including protein powder in the chocolate might be a deliciously easy way to add a little protein to one of my favorite sweet treats. I also added peanut butter to the mix because everything is better with peanut butter!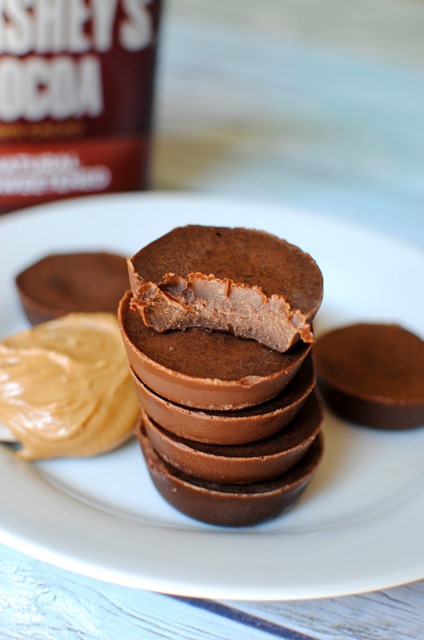 The end result was a delicious chocolate peanut butter protein fudge. It's a melt-in-your-mouth sweet treat packed with a punch of protein (three grams in one small square!) and when I couldn't stop going back for more, I knew I had to share the recipe on the blog.
There are a few important things to remember when making this fudge: If you hate the taste of your protein powder, this fudge isn't going to miraculously make it taste good, so use a protein powder you love! The peanut butter and cocoa powder do a fantastic job of giving the fudge that pure chocolate peanut butter flavor but a great-tasting chocolate protein powder is a necessity. (I've used both Shakeology and SFH Pure Chocolate Protein Powder and loved both.) You can also completely omit the protein powder for a simple chocolate peanut butter fudge if you desire!
This protein fudge can also be customized, so feel free to add chopped nuts, cacao nibs, coconut, dried fruit… Whatever you wish to make it perfect for you and your sweet tooth desires!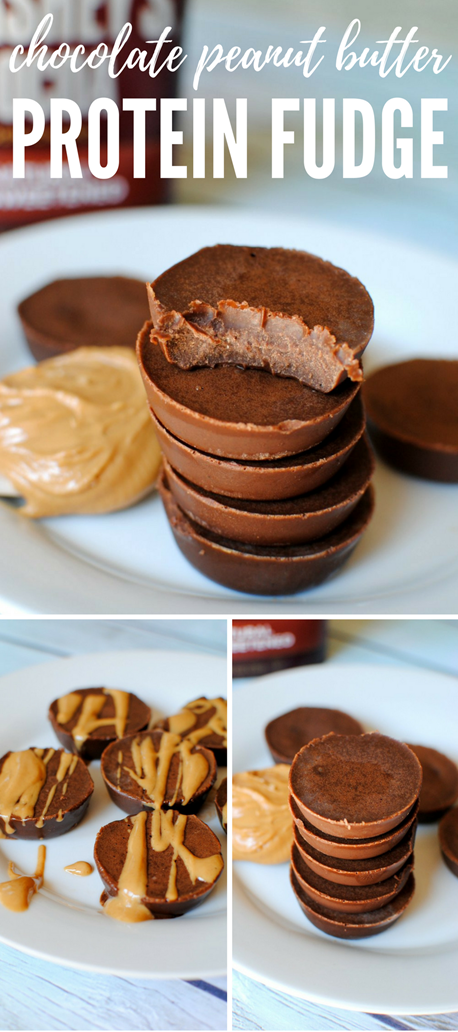 Chocolate Peanut Butter Protein Fudge
Makes 12 pieces of fudge
Ingredients
1/4 cup + 1 tablespoon coconut oil
1/4 cup creamy peanut butter
2 tablespoons cocoa powder
1/4 cup chocolate protein powder
2 teaspoons maple syrup (optional)
Directions
Combine coconut oil and peanut butter in a microwave-safe bowl and microwave until coconut oil and peanut butter melt, approximately 15-20 seconds.
Stir cocoa powder into coconut oil mixture. Add protein powder and stir to combine. Add maple syrup if additional sweetness is desired.
Quickly pour mixture into a mini muffin tin, filling cups about a third of the way to the top.
Freeze until fudge hardens.
Remove from muffin tin and enjoy! Store remaining fudge in the freezer or refrigerator.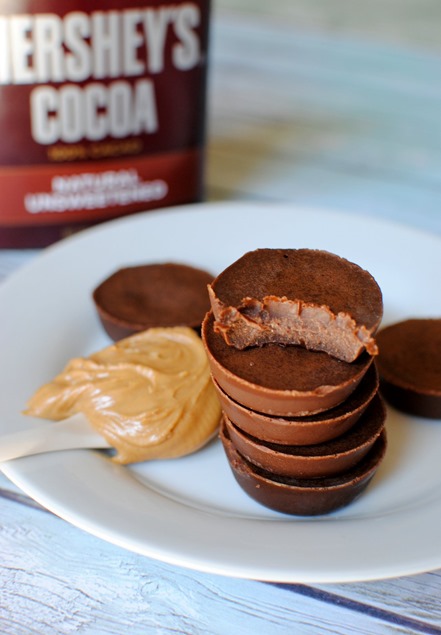 Enjoy!
Nutritional information per fudge bite (made with SFH chocolate protein powder): Calories: 93 // Protein: 3g // Carbs: 2 g // Fat: 9g // Sugar: 1g // Fiber: 1g
***
Love coconut oil chocolate? You may also be interested in this recipe: Coconut Oil Peppermint Bark