Holy hamstrings!
I awoke this morning to hamstrings that were super tight and sore. Apparently yesterday's leg workout was seriously legit. One hundred squats is no joke!
I wasn't sure whether or not I'd even be able to run when Ryan and I got to the gym, so I began my time on the treadmill with some fast walking. Walking fast actually made my hamstrings feel worse, so I picked up my pace and started running. After about five minutes, they loosed up a bit and didn't bother me much for the remainder of my five-mile run.
I made sure to spend a good 10 minutes stretching them out after my run which hurt so good.
And now I am walking like a duck.
Breakfast
Today's breakfast was awesome.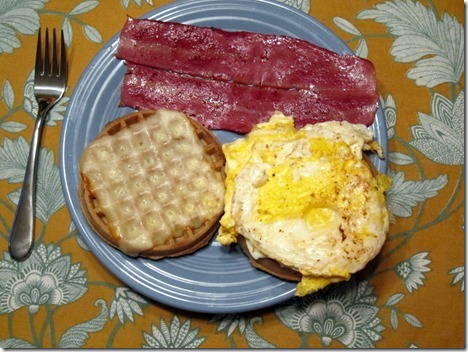 I made myself a wafflewich by topping two toasted whole wheat waffles with muenster cheese and two fried eggs. Turkey bacon rounded out the meal.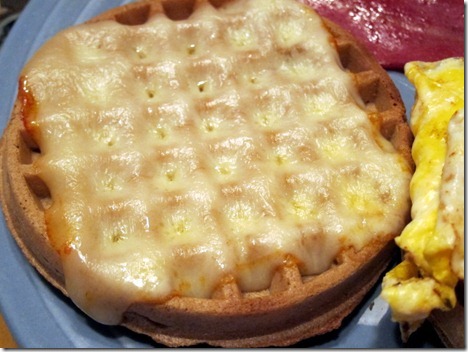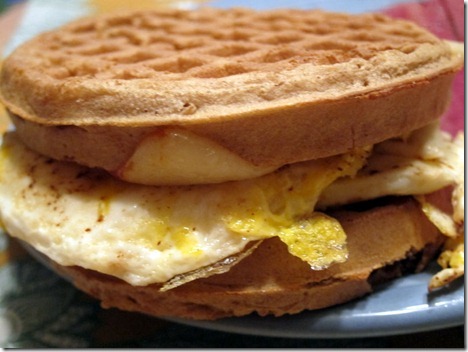 I love using waffles as the bread of a sandwich. For some reason they make breakfast sandwiches much more fun.
Most Walkable Cities
The other day I stumbled upon an article about the most walkable cities in the Unites States.
The article defined "walkability" as the ability to walk to the grocery store, restaurants and other amenities like the post office.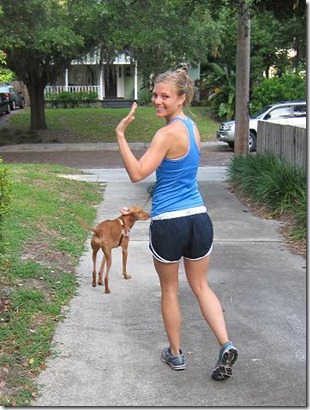 The most walkable cities in America include: 
New York City
San Francisco
Boston
Chicago
Philadelphia
Seattle
Washington, D.C.
Miami
Minneapolis
Oakland
You may search for your city's walkability score on this website.
My former hometown of Orlando pulled in a score of 74 out of 100, earning it the title of "Very Walkable."
When I typed in my current zip code, the location of our new home earned a score of zero, deeming it "Car Dependent."
I definitely miss the conveniences of Orlando. It was so nice to live in such close proximity to everything I needed but Ocala has a lot more trees, greenery and the stars shine extra bright at night. That counts for something, right?
Question of the Morning
What score did your hometown receive on the walkability scale?
Do you think it's important to live somewhere extremely walkable?