Holy hotness.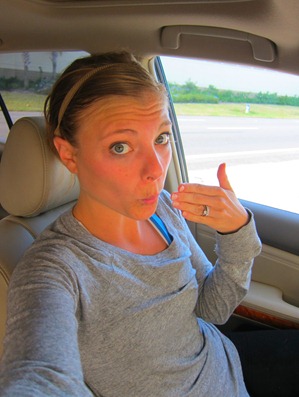 I had sweat dripping into my eyes. My tank top was soaked. My hair went from blonde to brunette.
I have never been so sweaty in my entire life!
My extreme sweating was all thanks to a hot yoga class I took at a local yoga studio this morning.
I've never taken a yoga class anywhere other than a gym, so I was pretty excited to try it out at a real studio. I was quite intimidated as I unrolled my mat and waited for the class to begin, but took solace in the fact that the studio's website said the class was great for beginners as well as advanced students.
To start the class, the instructor wanted us to do partner poses.
Um, what?
I'm hardly comfortable on my own in yoga, let alone working with someone else… Needless to say I wasn't too excited about it.
While keeping my hands and left foot on the ground, I had to kick my right foot up and place it into my partners hip bone. From there, I kicked my left foot up into a handstand while my partner walked my right foot in towards my body. I was actually surprised that I kept my balance, but I was quite flustered to begin a class in that way.
Maybe I'm crazy, but this sure didn't seem like something a beginner would be comfortable doing.
All in all, the entire class was a little too advanced for me. The instructor didn't do any of the poses, but just called out the names. I had to look around at the other class participants to have any idea what to do for about 70 percent of the class.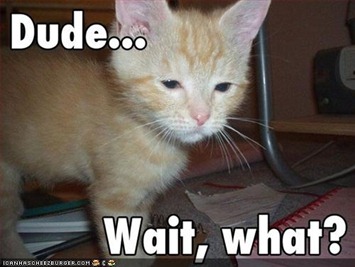 Also, though I was seriously sweaty when I left (the room was unbelievably hot, which I really didn't mind at all), I didn't feel like I got a fantastic workout. I feel like this was likely my own fault since I was scrambling to figure out what to do half  the time and I don't have the skill set to immerse myself into some of the advanced poses like other class participants.
I think I'll be sticking to the more simplistic yoga classes at my gym until I build up a better practice and feel more confident at a real yoga studio.
A yogini, I clearly am not.
Breakfast
After yoga, I came home and spread peanut butter and pecan pumpkin butter on a whole wheat sandwich thin.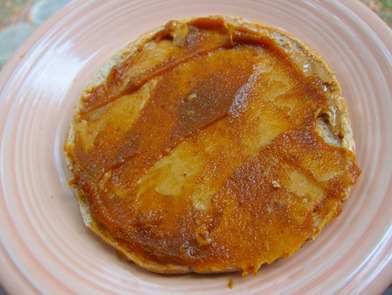 (x2!)
I used the pecan pumpkin butter that we purchased from Williams-Sonoma yesterday and must say that it tastes even better than I thought it would.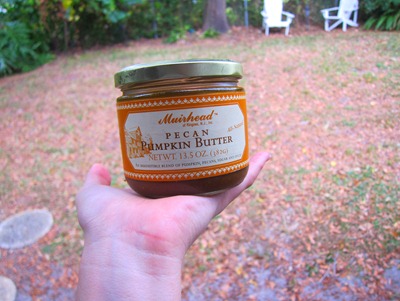 I may have enjoyed a pecan pumpkin butter finger or two as well… 😉
Then Ryan headed off to play in a soccer game while I leashed up Sadie for a walk to the Downtown Orlando Farmers' Market. 
Lucky for me, Sadie found a stick about a mile into our walk, which meant that she spent a good 10 minutes jumping around in front of me with the stick in her mouth, trying to entice me into a game of keep away.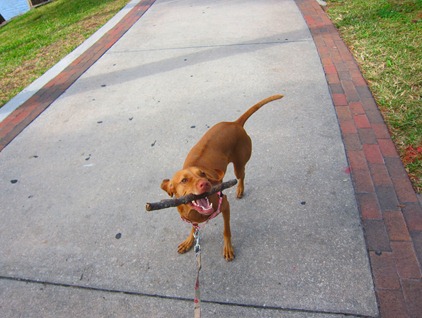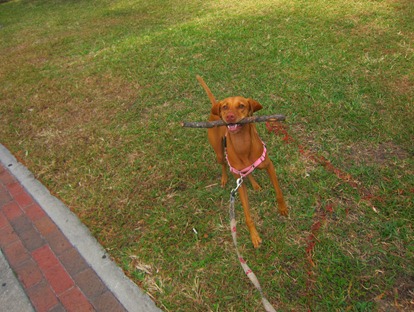 Of course I played along, and of course she won. 
Once we made it to the farmers' market, we spent some time looking at the different handmade goodies and talking with the local vendors.
We walked away with two yummy baked goods.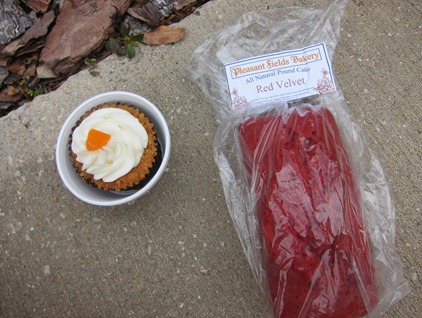 Red velvet pound cake made at 1 a.m. by Pleasant Fields Bakery (I love that their website says "NOT your low-calorie bakery" 😀 ) and a carrot ginger cupcake made the cut.
Sadie and I sat on a nearby bench to split the cupcake before heading home.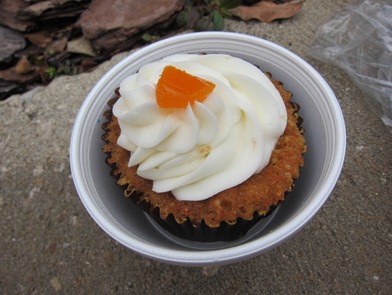 Turns out Sadie takes after me in that she much prefers the cupcake bites with frosting. 
Apparently we agree with Hyperbole and a Half's analysis on the flavor anatomy of cake. ;) 
Now I am off to shower off all the sweat that has now dried on my body. Sexaaaay. 😀
On the agenda for today: Visiting a corn maze!