this series
on the blog and I am digging it. I hope you guys are, too! It's fun for me to snap pics of our dinners all week long without the pressure of food styling or making our meals look fancy. This series is just a real-life peek into what we ate for dinner during one week of every month and today I'm sharing April's roundup!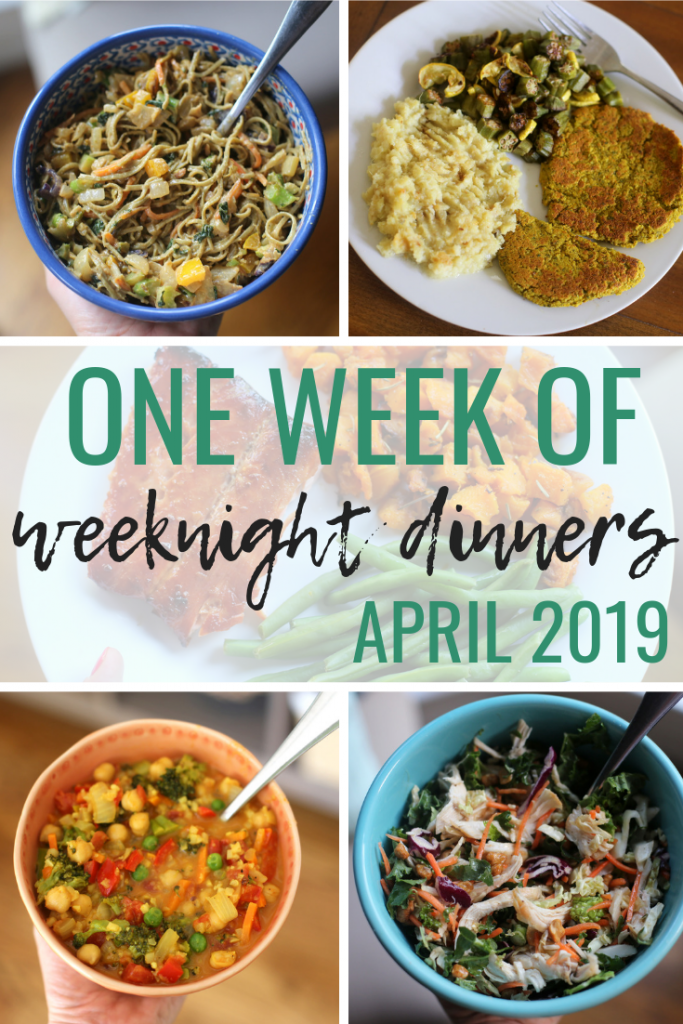 Last week's meals included three vegetarian dishes, a deliciously simple salmon dinner and a meal that involved zero cooking. It was quite the random assortment but everything was tasty!
Week of Weeknight Dinners: April
MONDAY: Marinated Salmon with Roasted Butternut Squash and Green Beans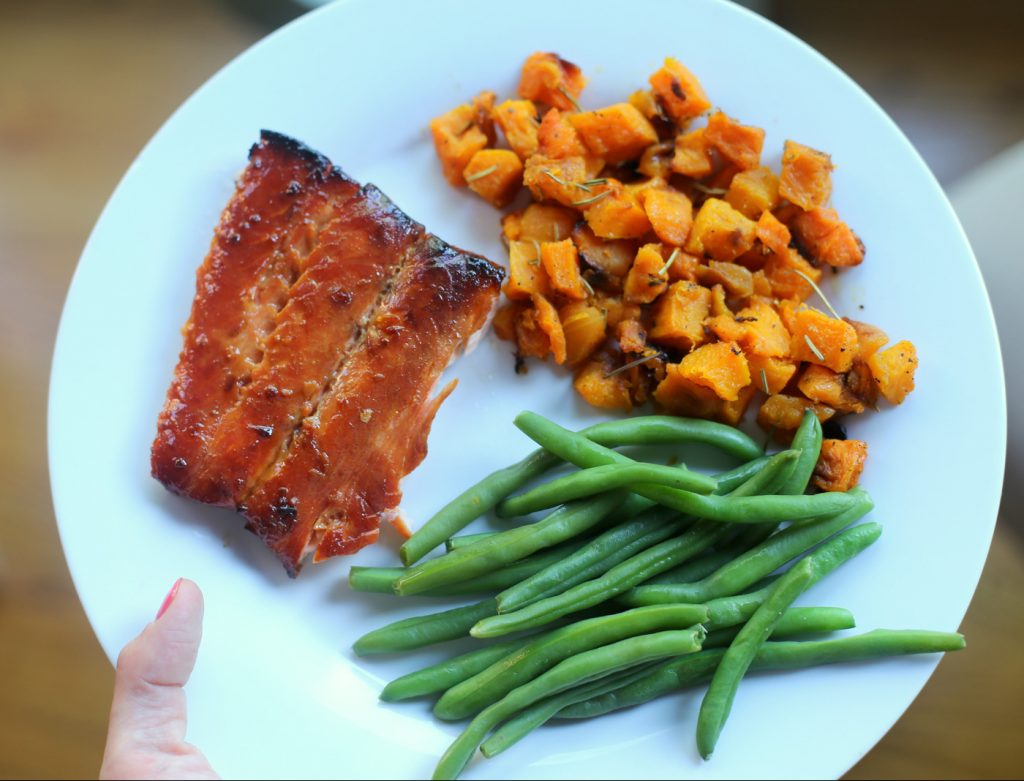 It was back to basics with this dinner! To make the salmon, I followed this maple soy salmon marinade recipe but substituted coconut aminos for the soy sauce and doubled the amount of garlic. It was fantastic and a nice departure from the flavors I usually gravitate toward when I make salmon (dill, lemon, garlic). Ryan gave this dinner rave reviews as well and said it was one of his favorite salmon recipes to date because the marinade took some of the "fishiness" of the fish away. As for the sides, I made a batch of roasted butternut squash by tossing cubed butternut squash in olive oil, garlic salt and rosemary and simply steamed the green beans because that's how Chase like them best!
TUESDAY: Vegetarian Chickpea Curry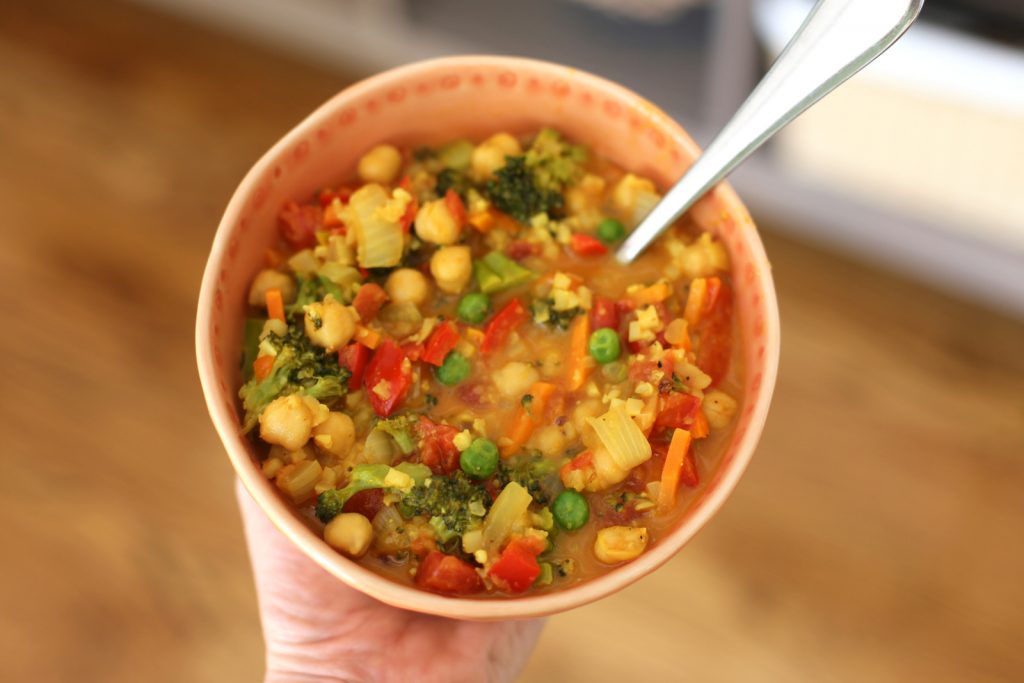 This dinner was my favorite meal of the week! I've been working on tweaking a vegetarian chickpea curry recipe for ages and finally nailed it in early April so I had to make this recipe again for dinner last week! This curry dish is made with lots of vegetables and chickpeas and a base of coconut milk and diced tomatoes and we could not get enough of it. I ate the leftovers over brown rice for lunch the next day and it was fantastic. Stay tuned for this one on the blog soon because it's definitely share-worthy!
WEDNESDAY: Asian Chopped Salads
Not every dinner has to involve cooking to be delicious! This was a throw-it-together dinner and I mean that quite literally. We had two bags of an Asian chopped salad mix in the fridge that I poured together and topped with leftover shredded chicken and we were good to go! The salad kits came with Asian dressing as well as cashews and sesame sticks which added a hearty crunch to the meal.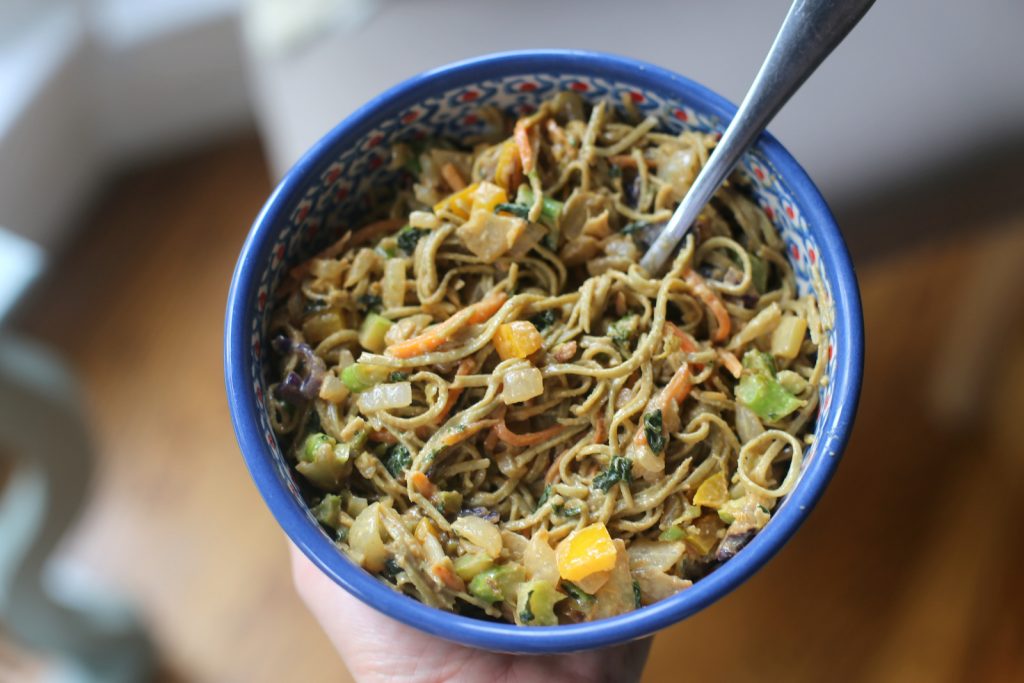 As written this recipe actually isn't vegan (it includes honey) but I substituted maple syrup for the honey in the peanut sauce (so Ryder could also have some) so the recipe actually was vegan in our house. The peanut sauce is simple to whip up and I love how many veggies are included in this dish. The pad Thai is made with a base of edamame noodles which we LOVE. I randomly added edamame noodles to a Thrive Market order a few months ago and have ordered several more boxes since. They're fantastic and a great source of plant-based protein, too!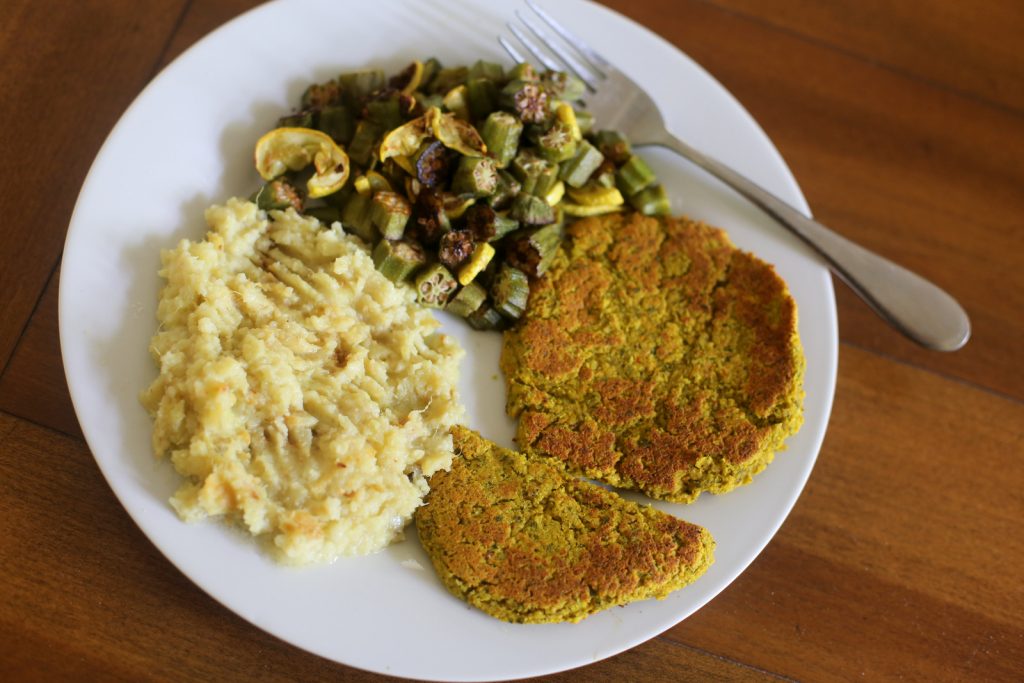 I've been making these Thai Chickpea Burgers on repeat not only because Ryan and I love them but because Ryder gobbles them up like it's his job. (He even loves the uncooked veggie burger "dough.") I like keeping at least one of these veggie-packed burgers on hand in the fridge at all times so I always have a lunch or dinner option for Ryder that I can easily break into tiny pieces for him to grab and shovel into his mouth. (These burgers aren't Chase's thing to the surprise of no one.) On Friday night, Ryan and I ate our veggie burgers with mashed potatoes topped with butter and roasted okra and yellow squash.
Question of the Day
What is one recipe you made last month that blew you away?

We're four months into