But for now, here's a glimpse back into last week's 36 week pregnancy recap!
All previous weekly updates and pregnancy/baby-related blog posts may be found on the Pregnancy/Baby page located at the top of this blog.
Baby Updates
Baby weighs almost 6 pounds and is more than 18 1/2 inches long… About the size of a head of romaine lettuce.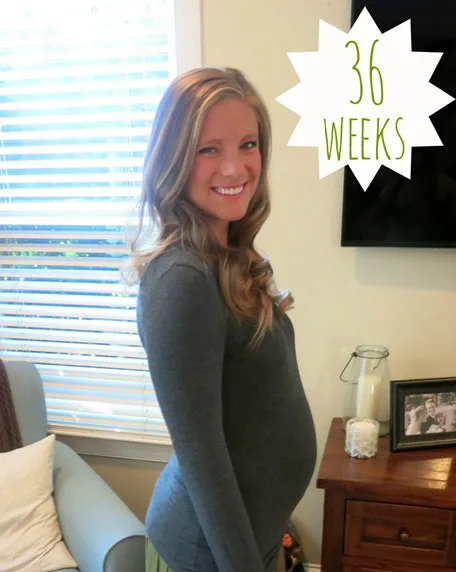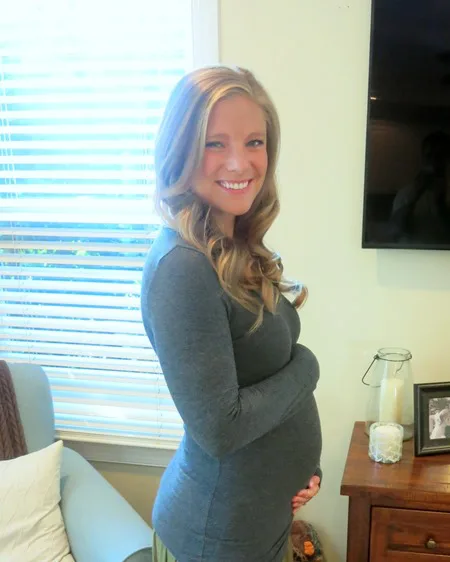 Weight Gained
At my 36-week appointment, I was up 24 pounds.
Workouts
Workouts this week remained lighter. I biked at the gym most days and incorporated some strength training, barre work and bodyweight exercises into my routine as well as one pool workout at the end of the week!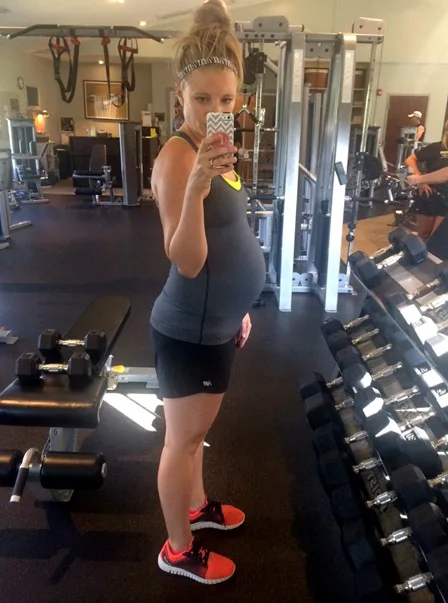 There's something about diving into a pool that makes me so happy. Working out in the pool is nostalgic for me – I was a diver and played water polo in high school and lifeguarded in the summer – and it felt so good to swim laps and take myself through a quality cardio workout that was totally pain-free!
Symptoms
Though my sacroiliac pain seems to be lessening, I am still experiencing some lower back/hip pain that occurs mostly when I walk. I am happy to report that I'm able to walk about a mile now (oh happy day!) before the pain bothers me too much and I have to stop.
Sleep sucks right now. (More on this below.)
I feel like I'm eating a lot and my appetite seems normal, but no food (other than fruit) seems to really call to me right now. I know this is an odd thing to miss, but a lot of my favorite foods have lost their luster and that kind of bums me out! When I find myself feeling hungry, I will end up standing in front of the pantry or fridge waiting for something to call to me and nothing ever does. It's not super fun and I end up just grabbing something easy or bland to satisfy myself. (For some reason nighttime oatmeal after dinner has been my jam lately.) Whenever Ryan asks me what I want for dinner, I'm no help at all, because I just reply "watermelon" and have no real suggestions or strong cravings these days. Fruit and sandwiches on repeat – all day every day!
Food Aversions
Nothing!
Food Cravings
Fruit, bubblegum (<—kind of a weird one, right!?), sandwiches, eggs, oatmeal
Sleep
The other morning, I jokingly said to Ryan, "I can't wait for our baby to get here so I can finally sleep again." Ha! I know that is a pipe dream, but right now my sleep has been horrific. I can usually make myself fall asleep at night fairly easily (reading before bed is the best way for me to make myself sleepy!) but then I wake up a billion times a night for one of two reasons: 1.) I have to pee. 2.) My stomach and boobs are itching like crazy! Perhaps my skin is streeeetching this week or something, but oh my gosh, the itching is miserable! I apply belly butter to my body in the middle of the night which does seem to help a bit, but I definitely won't be mad when the itching decides to go away.
Looking Forward To…
Our Preparing to Parent a Baby class! We're going to the class the day before I hit 38 weeks pregnant… Better late than never, right!?
Any Baby/Pregnancy-Related Purchases?
I'm continuing to work on filling my hospital bag and bought a ridiculously soft sleep shirt to wear post-delivery. I wanted something lightweight with buttons down the front for nursing purposes and think I found a winner! A lot of the button-down sleeps shirts I found were oddly expensive, so I was pleased to stumble upon one at Nordstrom Rack for around $30 that feels so incredibly soft. (I bought the navy and white striped one.) I actually bought a matching robe because I loved the material so much, but I'm not sure whether a terry cloth robe I have will work out okay for the hospital (I'm concerned it may be too heavy?), so we'll see if it actually makes it into my hospital bag or gets returned in the end…
Aaand because I'm crazy, I already ordered our baby's Christmas stocking! I figured prices would only go up as we get closer to the holidays and I found a good deal on Pottery Barn for a $13 stocking that I think will coordinate well with the stockings Ryan and I already have – and yes, I paid an extra $9 to have it embroidered with our baby boy's name. (Let's hope we don't change our minds on that one once he's born!)
Belly Button In Or Out?
Out! But still not overly noticeable through clothing.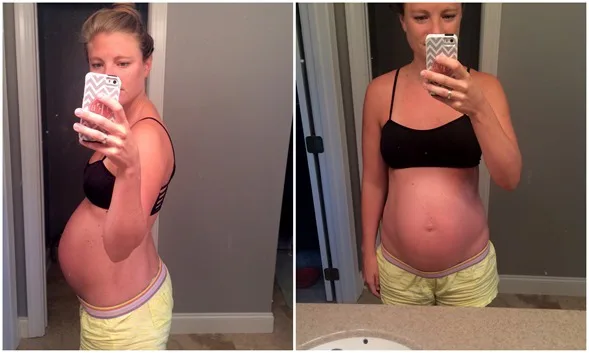 Feeling…

A bit impatient! For a while there I felt like things were trucking along smoothly and I wasn't overly preoccupied by thoughts about childbirth and when our baby would come and then, after our childbirth prep class, it's consuming my mind! Of course I want our little guy to come when he's ready and continue growing healthy and strong, but with each day that passes, I definitely feel myself becoming and more restless and ready to get this show on the road!

I've heard and read about so many birth stories when babies come at 37, 38 and 39 weeks and others when babies don't come for a week (or more!) after their due date, so I cannot help but wonder where we will fall on the spectrum.

I'm also feeling bigger and bigger each day. I know this is probably a weird way to feel, but sometimes I feel like my stomach is the least-pregnant looking part of me. I seriously feel like I'm pregnant in my arms, thighs and face right now! Everything just feels softer. The baby is taking over my whole boooody.

Any Movement?

Yes! Lots of rolling movements that are so fun to watch and feel! It's still so wild to me to look down at my belly and follow our little boy's movements as they seem to travel across my stomach. I think I'm really going to miss feeling him move inside my belly when I'm no longer pregnant, so I am finding myself pausing to really watch, feel and enjoy them more and more!

Any Fun Stories?

I think we finally have a middle name picked out! We've had a first name for months now (I'm not planning to share it publicly until after he is born) and have been struggling with a middle name for a while. Our baby's middle name has become a bit of a joke between me and Ryan – we've laughed about everything from just the letter "O" – as in Baby O'Fagan – to ridiculous celebrity names like Baby David Guetta Fagan. We actually said that after he's born, when the hospital goes to write his name on the whiteboard outside of the delivery room, we want them to write Baby David Guetta Fagan because it cracks us up.

Ryan and I have also talked about what music I'll want to listen to when I'm in labor. I've always been really into music and know the impact is has on my mind and body (music truly has the power to motivate me and change my mood) and when I've read about the music other moms have listened to in the delivery room, I am worried my doctor and nurses are in for a real treat with me. I'm not really into the calming stuff and think we may be pushing a baby out to Dubstep/EDM… Maybe the calming music will be preferred during contractions/when I am trying to get myself to relax? I do love Enya…

Random question for the mamas: If you used music to help distract/calm/motivate you during labor, what music did you listen to? I'm oddly curious!

My due date is quickly approaching (2.5 weeks away!) and now that my prenatal appointments are occurring weekly, early this afternoon I have my 37 week appointment! I'm looking forward to meeting with our doctor and hearing our baby's heartbeat.