I can't believe it's over! My first-ever Healthy Living Summit is officially d-o-n-e.
This weekend has truly been unforgettable. I feel like I could go on and on (and, let's face it, I probably will), but I guess I should step back and tackle covering this conference chronologically.
Breakfast
The day began with an Attune-sponsored breakfast buffet featuring cereal, fruit, milk and hard-boiled eggs.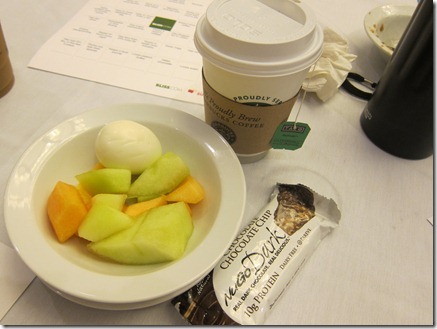 I ate a bowl of fruit with my fingers while outside chatting away (because I'm classy like that), but I refilled it with more fruit and grabbed a hard boiled egg to bring back to my seat at a big, round table in the conference room. I also ate a NuGo dark chocolate chip bar from the HLS swag bag that I loved! It was so, so chocolaty and right up my alley.
I was surprised I wasn't hungrier in the morning, but my stomach was full of butterflies about my presentation, so I think my nerves were messing with my appetite all morning.
The Conference
The conference itself was a lot of fun. The first session I attended was "How to Write a Better Recipe" by Stepfanie Romaine of SparkPeople.com.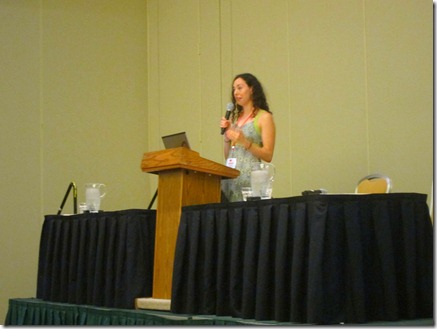 She did a fantastic job and I took notes frantically because I feel like my recipe writing could use some work. I usually get so excited to share something with you guys that I just spew off a recipe and her presentation made me realize I should take time to carefully craft the recipes I post.
I learned every recipe should include the following:
Title
Headnote and tips
Yield (serving size)
Prep and cook times
Ingredient list
Directions
Other takeaways include: Write out measurements and list ingredients in the order you use them!
The next presentation was by Dawn Jackson Blatner, a registered dietitian and author of The Flexitarian Diet, who attended the conference thanks to Quaker Oats.
She did a fantastic job speaking all about the effectiveness of mantras in healthy living. You guys know I am a fan of exercise mantras, so I was quite interested in her healthy living mantras. I think that a whole post about healthy living mantras may pop up on my blog in the near future!
About three quarters of the way through Dawn's presentation I started to get really nervous about my own presentation with fellow bloggers Heather, Courtney and Brittany. The butterflies were kickin'!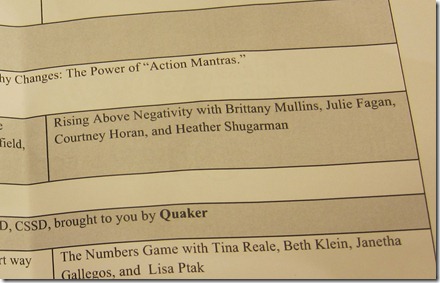 Once I took my seat at the top of the stage with my fellow presenters, I was nervous but also excited to talk about negativity in the blog world. It's honestly something I could speak about for hours.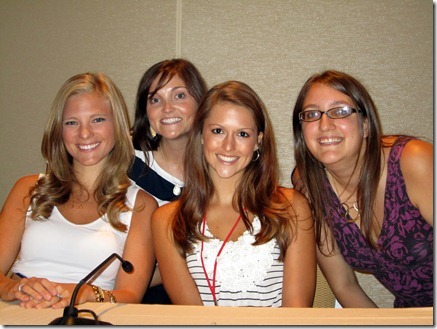 Here's a little preview of our presentation:
Question: How Do You Handle a Negative Comment?
You didn't think I could do a presentation and not include Sadie, did you?

Honestly seeing her crazy little face on the big screen helped calm me a little. Once we all started talking and I got going, I felt like I relaxed a bit and the whole thing went really well. Of course I felt like I talked a mile a minute, but everyone was so kind and complimentary about our presentation afterward. Thanks so much to everyone who came! We had a packed room and it was amazing.
During our talk, I was able to share my experiences handling the negative comments I've received on this blog and we were all able to tell  some of the crazy stories that go along with negative comments. Hearing about the experiences of others and ways to rise above some of the hatred out there was so refreshing. I loved the Q&A portion of our presentation and the advice the attendees shared.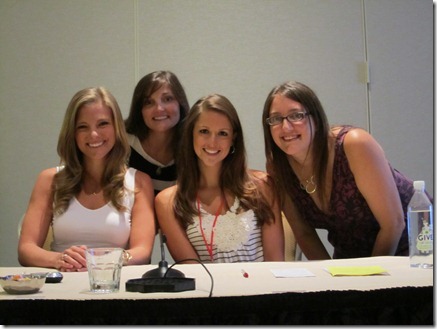 Once our talk was done, I felt like a giant weight was lifted off my shoulders and I could finally relax and enjoy the conference.
Lunch
Lunch at the Healthy Living Summit was as delicious as I expected.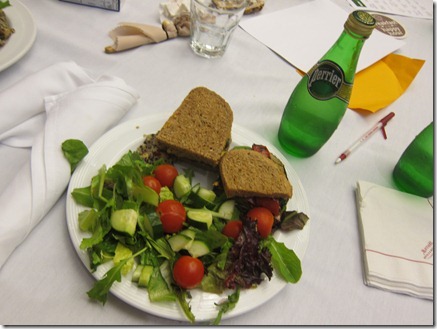 When I heard that lunch was provided by Great Harvest, I was pumped! I've heard so much about Great Harvest bread and it really was great. We learned that the bread was actually in full wheat berry form just one day before we were eating it on our sandwiches. Very cool!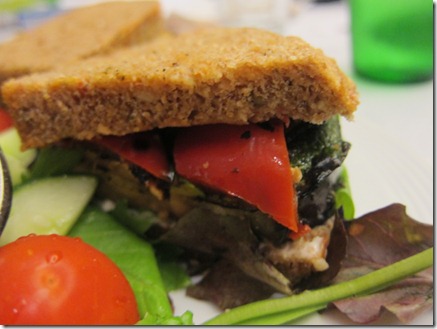 I had the marinated roasted vegetable sandwich and a side salad and loved every bite. I wish we had a Great Harvest in Ocala because I'm pretty sure their bread would become a staple in my diet. 
And now it's time to head to the Philadelphia airport to catch a plane home to see my family, Ryan and Sadie. I miss them so much!
Rumor has it that the airport has free wi-fi, so I hope to be back with another post soon!