honey goat cheese
dip, but this
pumpkin cheesecake dip
is pretty darn easy.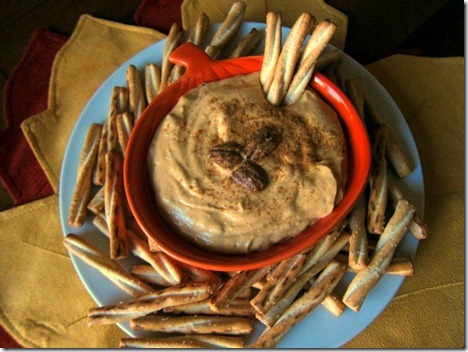 It only requires five ingredients and comes together in less than five minutes.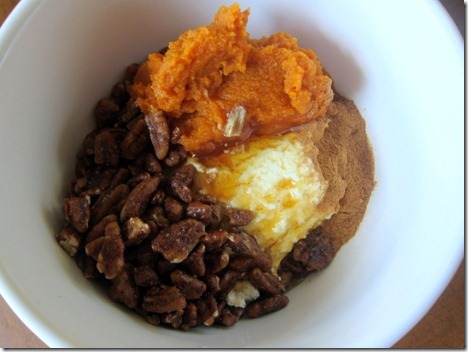 I tested this recipe last night because I am heading to a girlfriend's house this evening for a potluck and said I'd bring a festive dip and sweet potato casserole. I wanted to be sure this dip got the approval of every member of the Fagan household before I made it to bring to a party for others to try. (Sadie isn't exactly a hard sell when it comes to recipe approval, but Ryan always promises to be honest.)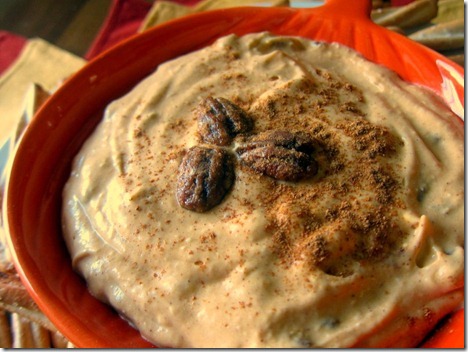 Well, this dip nearly morphed into our dinner last night because Ryan and I could not stop dipping honey wheat pretzel twists into it over and over again as we waited for dinner to finish cooking in the oven. 
I think that's a good sign! 
Pumpkin Cheesecake Dip
Ingredients
1 1/4 cup whipped cream cheese
1/2 cup canned pumpkin
1/4 cup honey
3/4 teaspoon pumpkin pie spice
2/3 cup chopped glazed or candied pecans
Directions
Combine all ingredients in a bowl and stir vigorously until ingredients are combined and a smooth texture is achieved.
Garnish with additional pecans and a sprinkle of pumpkin pie spice if you wish. Serve with apple slices, honey wheat pretzels, graham crackers or cinnamon sugar pita chips.
Don't forget the pecans! They add so much texture and flavor to this dip!
Enjoy!
Question of the Afternoon
What is your all-time favorite dip?
This question is way too hard. If I must choose, I would probably say guacamole or this honey peanut apple dip that my mom makes on occasion.

It's not quite as simple as my favorite two-ingredient