I figured a batch of my butternut squash wheat berry mock risotto would make a fantastic mid-day meal.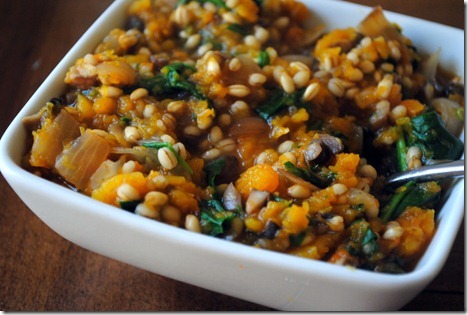 It hit the spot! No doubt about it!
I actually followed my recipe for a butternut squash cauliflower and spinach wheat berry bowl for one since I didn't want to make a huge batch.
I changed the recipe a bit and used mushrooms instead of cauliflower and used half wheat berries and half barley instead of only wheat berries.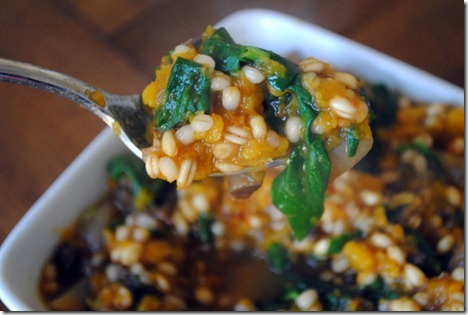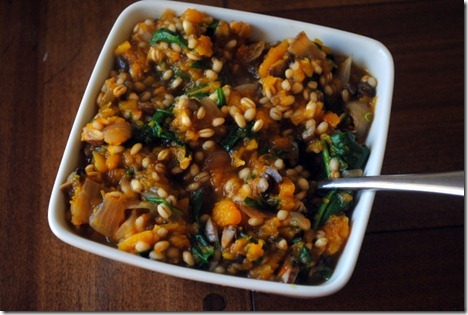 If wheat berries are too chewy for you, using barley or brown rice in the recipe is a great alternative. Both are fantastic and good-for-you options!
Questions of the Month: March
Every so often I notice that I receive a bunch of similar questions from you guys in the comments section of blog posts or through emails within a short timeframe. I thought a monthly roundup feature where I address the most frequently asked questions of the month in a blog post might be of interest!
These answers were taken directly from my responses to some reader emails, so if they look familiar to four of you, that's why!
What heart rate monitor do you use?
The watch you see on the blog a lot is the Garmin Forerunner 305.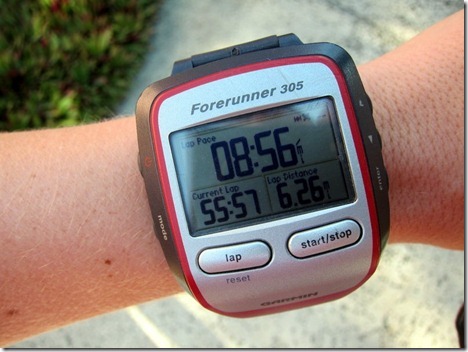 Though I personally don't use the heart rate monitor part of the watch, I wear it to track my pace and distance during outdoor runs. Though the watch itself looks like some kind of an unattractive oversized calculator, it works really well! It looks rather bulky, which made me apprehensive when I first purchased it, but when I run with it, I don't even notice it on my wrist.
You may read more about my thoughts on this watch in this post: My Favorite Running Gear.
When you say you ate "roasted broccoli" or "roasted Brussels sprouts" as a side at dinner, how exactly do you roast your vegetables?
I roast all of my vegetables in nearly the exact same way! First, I place them into a bowl and drizzle them with olive oil and sprinkle them with garlic salt, salt and pepper, seasoned salt, or any other seasonings I'm feeling at the time. (I don't measure how much olive oil or seasonings I use, but I make sure to use enough to coat the vegetables without overwhelming them.) I then toss the vegetables in the olive oil and seasonings and spread them out on a cookie sheet sprayed with cooking spray and roast them in a 400-degree oven for 15 – 20 minutes, flipping them halfway through.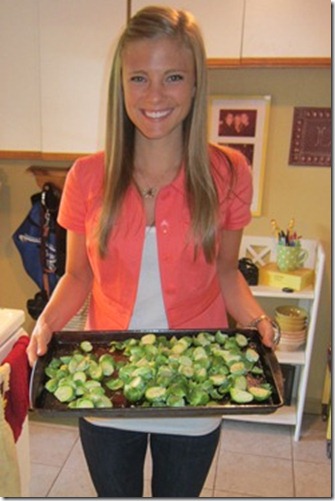 Do you plan out your workouts every week or just go to the gym and wing it?
I rarely have a set plan heading into the week, but in general my goal is to strength train three times a week, do some sort of cardiovascular exercise two days a week and a circuit workout one day a week.
Sometimes my strength training focuses on total-body exercises, while other times I divide up my weight workouts and will focus on upper body one day and lower body another day. For cardio, I typically gravitate toward treadmill workouts or running outside. My workout plan changes all the time (I'm currently participating in a boot camp program), but that's a general overview! You may see a record of my workouts on my Daily Workout Log.
What kind of protein powder do you use?
For the past few months I've been using Optimum Nutrition 100% Whey Gold Standard because that's what Ryan buys for himself and I use whatever we have in the pantry. I like the extreme milk chocolate flavor.

This afternoon I headed into the kitchen ready for a hot meal. I wasn't in the mood for a sandwich or soup, but felt like something creamy.