Roasted vegetables and dippy eggs!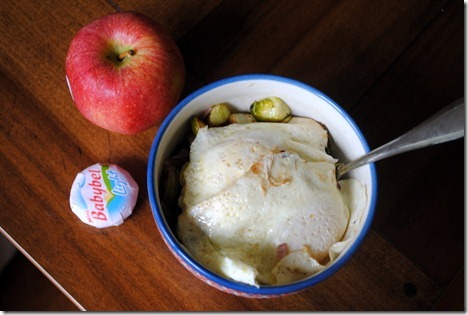 The lunch of champions!
At around noon, I roasted some Brussels sprouts after tossing them in olive oil and garlic salt while I sautéed about a quarter of a chopped red onion.
Once the vegetables were ready, I placed them in a bowl with a handful of walnuts and topped them with two dippy eggs, allowing the yolk to drip all over the vegetables.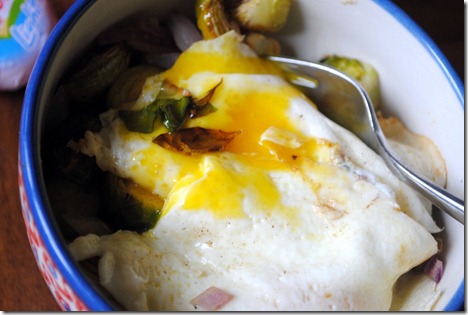 So incredibly good. If you haven't tried using egg yolk as a "sauce," I highly recommend it!
I also had an apple and a Babybel light cheese. Sweet + Salty!
Regret
On my morning walk with Sadie today, I listened to NPR's TED Radio Hour podcast on "The Pursuit of Happiness."
The podcast featured three different speakers with one, Kathryn Schluz, speaking specifically about regret.
Three tidbits I found really interesting (according to Kathryn):
Of all the regretful feelings experienced by people, the most regret surrounded decisions made relating to education (what we studied, lack of education, what we did with the education that we did get)
Regretful feelings surrounding decisions relating to careers, relationships and parenting followed education, but were also strong
People also noted feeling significant financial regret, though these feelings weren't as intense and didn't seem to "stick" like other regretful feelings
The statistic surrounding the regret people feel about education stated that 36 percent of regretful feelings experienced by people pertain to decisions made regarding education.
I found that fascinating.
I'm not sure why it was especially interesting to me, but I cannot help but notice just how many of my peers seem to be changing directions in their careers right now. I did it myself last year!
I turned 27 last month, so I suppose this makes sense. My friends and peers studied one thing, gave it a shot in the "real world"  for a few years and realized it wasn't what they wanted to do for the rest of their life. Off the top of my head I can think about one friend who is currently a news anchor, but is hoping to break into advertising. Another is an editor who wants to study psychology and become a counselor. Big changes!
My bachelor's degree is in advertising and public relations. My minor is in marketing and I learned very quickly that a career in marketing just wasn't for me. (You may read a bit more about this time in my life here.)
While part of me wishes my educational background had something to do with health, nutrition, exercise or wellness, I still feel like my major is beneficial to me in my field (specifically the public relations aspect). I don't have regret about the decisions I made surrounding my education, but I do have a lot of "what if" questions that swim through my head surrounding a bunch of different career paths.
Question of the Afternoon
Do you have any regret surrounding decisions you made regarding your education?