I absolutely love corned beef and cabbage but only seem to make the dish once a year on St. Patrick's Day. Though most people praise the corned beef part of this traditional St. Patrick's Day meal, I actually love cabbage just as much. 
While corned beef was extra pricey at the grocery store this week, cabbage was nice and cheap, as always. Ten points for cheap veggies!
I bought a head of cabbage, promising myself to use it in a new way. I remembered seeing Kalyn roast cabbage on her blog nearly a year ago and searched her blog again this evening to find the recipe.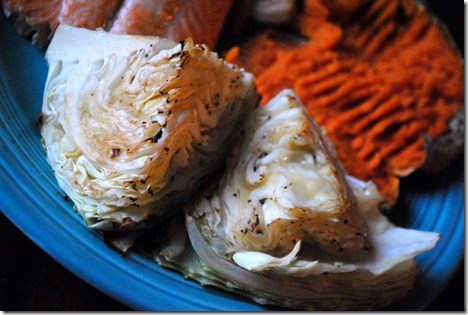 Fortunately her recipe was incredibly easy! I followed her technique, but rather than use two tablespoons of olive oil and lemon juice on top of the cabbage, I opted for two tablespoons of Garlic Gold Meyer Lemon Vinaigrette which ended up being a great decision.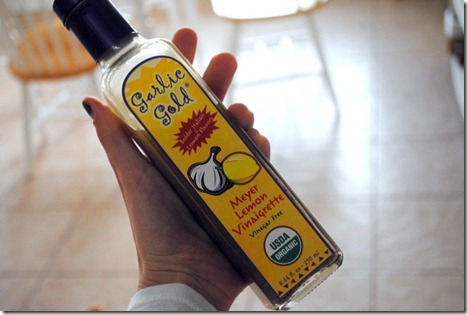 After trimming the cabbage and cutting it up into eight pieces, I brushed the vegetable with the vinaigrette using a pastry brush.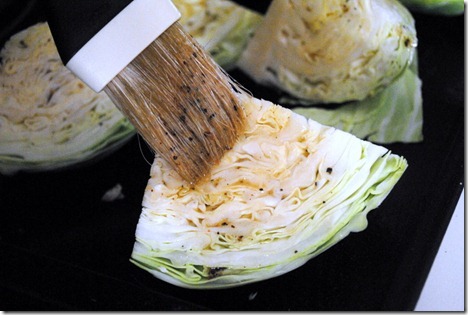 I roasted the cabbage in the oven at 450 degrees for about 25 minutes.
It was fantastic!
Ryan and I ate the cabbage alongside broiled salmon, shrimp sautéed in a bit of butter and Old Spice and a small sweet potato.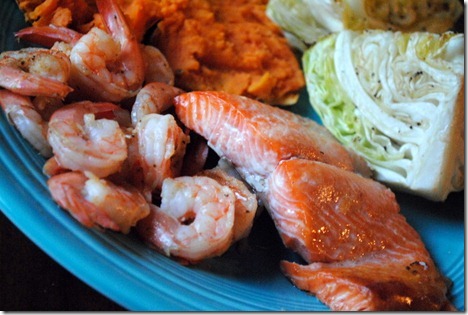 I seriously loved this dinner so much. It combined by love for seafood with my love for delicious vegetables, making me one happy camper. Mmm!
Off to crack open the third book in The Maze Runner trilogy!